Broncos trade Tim Tebow to Jets for fourth- and sixth-round picks
Tim Tebow is headed to the Jets, and New York is sending the Broncos a fourth-round and seventh-round pick in exchange.
• 2 min read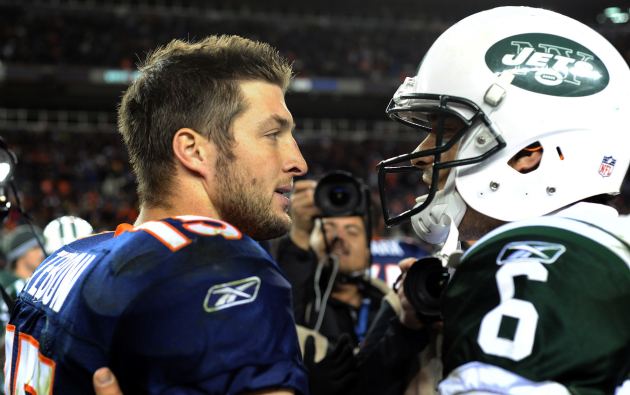 Will Tim Tebow and Mark Sanchez be this close next year when they're fighting for the starting QB job? (Getty)
Tim Tebow is headed to the Jets, and New York is sending the Broncos a fourth-round pick in exchange, the team has announced. Denver also will receive a sixth-round pick in exchange for New York's seventh-round selection.
[UPDATE 3:47 p.m. ET: It's been reported that langauge in Tebow's contract actually could nullify the trade, and though the two sides are trying to work their way through the hangup, the deal still could fall apart.]
It's a bold move by the Jets – both for the sake of fan interest and locker room chemistry – and Tebow gets a chance to be reborn in the most media-frenzied
NFL
city.
So, what does this mean for Mark Sanchez? Well, it means he could lose his starting job to Tebow, though that seems unlikely.* After all, the Jets just gave him a three-year contract extension
worth $40.5 million
, and it seems unlikely that New York would give up on Sanchez so quickly after making such a big commitment to him.
*Of course, it seemed rather unlikely that Tebow would take over for Kyle Orton and then lead the Broncos to the playoffs last year, so really it's not out of the realm of possibilities.
But as
CBSSports.com's
Clark Judge wrote on Tuesday, the move to New York actually makes sense for the Jets.
With Tony Sparano as the new offensive coordinator, the Jets could turn Tebow into the latest edition of the Wildcat quarterback. Though we all roll our eyes at that formation now, it worked for a while when Sparano was the head coach in Miami.
Tebow, as we know, can run the ball effectively, even if his throwing accuracy isn't exaclty his hallmark.
But more than that, as at least
one anonymous Jets player implied
, Sanchez needs to be pushed.
"We have to bring in another quarterback that will make him work at practice," one unnamed player said. "He's lazy and content because he knows he's not going to be benched."
Backup Mark Brunell wasn't going to be the one to push Sanchez to better heights, even if Rex Ryan occasionaly threatened to bench Sanchez.
Now, if Ryan talks about sitting down his starter, Sanchez knows his backup could very well make him the second coming of Kyle Orton.
Still, not every Jets player felt like the team need a shot of Tebow. Antonio Cromartie, your Twitter thoughts?
We don't need Tebow. We sell out every home game let him go to Jacksonville Tampa or Miami. Our (cont) tl.gd/ghgvjl

— Antonio Cromartie (@ACromartie) March 20, 2012
Y bring Tebow in when we need to bring in more Weapons for @Mark_Sanchez let's build the team around him. We already signed to 3 year ext.

— Antonio Cromartie (@ACromartie) March 21, 2012
CBSSports.com's
Pete Prisco likely would agree. And though he was referring to the Jaguars when he wrote the following, he likely would apply it to the Jets' acqusition ofTebow: "If they do make a move on him, the team would go from a pro football team to the second best circus this side of Ringling Bros. Step right up and see the sideshow."
For more NFL news, rumors and analysis, follow

@EyeOnNFL

on Twitter, Like Us on Facebook, and subscribe to our NFL newsletter
.
The Bengals quarterback gives his side of one of the craziest stories of the NFL season

There are many confusing issues when it comes to Ben Roethlisberger's future

Fans were so happy to see the Steelers eliminated from the postseason that they're now donating...
CBS All Access allows viewers to stream every NFL game on CBS in their local market

Tom Brady did not guarantee that the Patriots will win the Super Bowl

McAdoo was fired after only two seasons with the Giants, including a disastrous 2017 campa...