Broncos, unlike the Browns, make sure doors open for all media
Bless you Patrick Smyth and the Broncos organization for getting it.
• 1 min read
More Draft coverage: 2015 Mock Draft | 2015 Top 100 | 2014 Draft Grades | News
Earlier this week, the Browns made the disappointing decision to ban the national media from rookie camp this weekend in order to keep No. 22 overall pick and newly humbled rookie quarterback Johnny Manziel somewhat isolated as he begins his pro career.
As a Browns spokesman told the New York Post, "We don't want this to be a Tebow situation. It's not going to be Johnny Football-Mania out there."
I hated the decision, but because teams are allowed to set their own coverage rules during rookie minicamp, there wasn't anything the league, even if it was so inclined, could do to force the issue.
And then, the Browns did this on Saturday.
#Browns media were prohibited from taking photos of rookies during interviews.

— Tony Grossi (@TonyGrossi) May 17, 2014
While the national media gnashes their teeth at all these silly rules and regulations, that doesn't mean another team couldn't take a subtle shot at Cleveland's decision. From Broncos spokesman Patrick Smyth's Twitter account
(A quick reminder: Since it's Twitter, read from the bottom up.)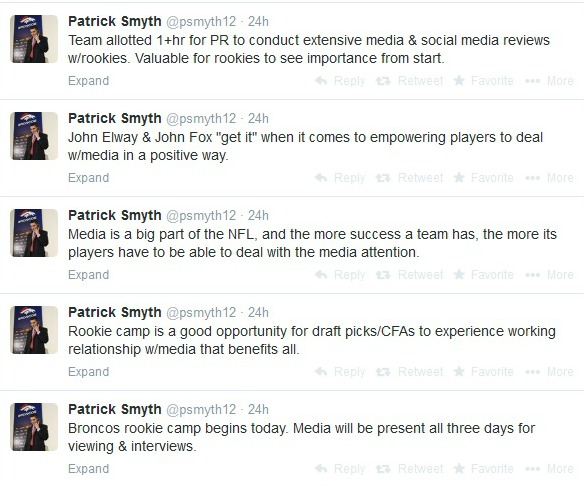 So, bless you, Patrick Smyth and the Broncos organization for getting it. Because, well, this ...
If the Browns didn't want the Johnny Manziel circus, THEN WHY DRAFT THE GUY?

— Bart Hubbuch (@HubbuchNYP) May 13, 2014
Osweiler is being benched in favor of DeShone Kizer

Madden season is almost here again. Here's everything you need to know.

Rob Gronkowski, in an attempt to stay healthy, is turning over a new leaf in 2017
Cyrus Mehri says players have gone backward under Smith's leadership

Preseason Week 3 is go time -- jobs are won and depth charts are solidified

Jonah Keri talks football with NFL writer Lindsay Jones