Broncos WR Eric Decker: My priority is taking care of my family
Broncos wide receiver Eric Decker is set to be a free agent in March.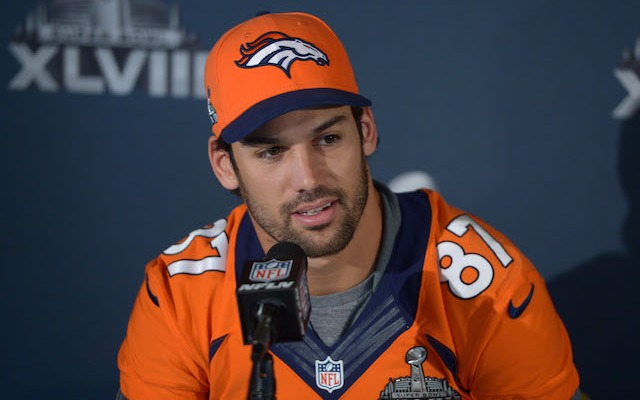 Denver Broncos wide receiver Eric Decker might not be a Denver Broncos wide receiver much longer. Decker will hit the free-agent market on March 11 unless the Broncos lock him up before then, but that doesn't sound like something that's going to happen. 
In an interview with SiriusXM NFL radio on Tuesday, Decker said he wants to stay in Denver, but taking care of his family comes first. "I would like to figure something out and stay here," Decker said. "But at the same time, my priority is taking care of my family. Me and my wife are having a kid mid-March and it's even more difficult because I want to have her be comfortable. Those are kind of the added stresses to this process."
Decker understands the importance of playing with Peyton Manning, but he's not going to let that be the determining factor in his decision.
"Is it easier to play with Peyton Manning? Yes, 100 percent," Decker said. "But you still have to be in the right spot, you still have to find a way to get open, you still have to find a way to make a play. I do feel I'm a pretty good ball player."
Decker ranked in the top 15 in every major receiving category in 2013, catching 87 passes for 1,288 yards and 11 touchdowns, but a lot of that had to do with Manning. Before Manning came to Denver in 2012, the fourth-year receiver totaled 50 catches for 718 yards and nine touchdowns in two seasons combined. 
If Decker wants No. 1 receiver money for those statistics, he's not admitting it -- at least not publicly, "It's not all about the money for me. It's about going to work every day and having fun and enjoying my job," Decker said. "For me it's 'am I going to have fun going to work every day' that doesn't add up to any dollar amount. That's priceless."
Decker did admit that he's looking around though. "It's natural to look at other teams, what their situations are receiver wise, what are their big moves? How much salary cap do they have left? What are some potential organizations that would be good to go to?"
If the Broncos do decide to throw money at Decker, they have to be careful because both Demaryius Thomas and Julius Thomas will be free agents after the 2014 season.
Here's everything you need to know about Super Bowl LII

Philadelphia will try to prevent New England from winning back-to-back Super Bowls

The world is mad at the refs for giving the Patriots calls
Tom Brady had to get 12 stitches on his hand, and here's what it looked like

The Patriots coach didn't seem that impressed with his quarterback's heroics

The Patriots coach doesn't have time to waste on the Lamar Hunt Trophy