Browns coach Mike Pettine questions Josh Gordon's effort
After watching film of the Browns 24-23 loss to Washington, coach Mike Pettine said he saw a few players where he thought Josh Gordon should have given 'better effort.'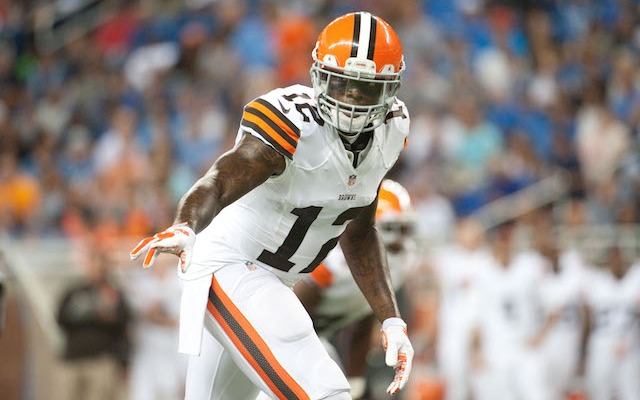 The quarterback competition in Cleveland isn't the only thing that Browns coach Mike Pettine has had to deal with since the Browns 24-23 loss to the Redskins on Monday. Pettine's also dealing with the problem of Josh Gordon's perceived lack of effort. 
Pettine put the quarterback competition behind him on Wedneday by naming Brian Hoyer the starter. Now the Browns coach can focus on getting maximum effort out of the team's best wide receiver, something that didn't happen against the Redskins, according to Pettine. 
"There were a couple plays where I think that we would definitely want -- that we would have wanted better effort," Pettine said.
Gordon played into the fourth quarter on Monday -- a point in the game when starters are usually long gone. However, the extended playing time was by design. "It was not a mistake to play him late," Pettine said. "He needs the work learning a new system."
Unlike most players, Gordon has a possible one-year suspension looming, but Pettine wasn't willing to use that as an excuse for why Gordon might have been loafing.
"We would want regular season effort to match preseason effort," Pettine said. "I think that's important for all of our guys."
Gordon finished the game with one catch for eight yards on a night where Johnny Manziel and Hoyer were both erratic. 
"It's something that we've talked about this before that we want him to finish plays better," Pettine said. "There were a couple balls there behind him that he made an effort to catch -- they were tough to catch -- but we would want regular season effort to match preseason effort."
As for Gordon's suspension, he should hear something soon. The receiver's appeal hearing wrapped up on Aug. 4 and his camp expected to hear something within 1-3 weeks from that date. Under that timeline, the NFL would be expected to announce something by Aug. 25. 
After an injury to Trevor Siemian, Brock Osweiler entered the game and helped the Broncos to...

The 32-year-old running back is done for the year

Brandon Williams was involved in a scary situation in the first half against Denver
The Broncos are turning back to Osweiler after an injury to Siemian

The Cowboys legend admits he's not on 'great' terms with the Cowboys suspended running bac...

Here's the latest information on injured Steelers linebacker Ryan Shazier