Browns coaching update: First request was to Broncos' Adam Gase
While the Browns' first interview request was to Broncos OC Adam Gase, there's a good chance the team ends up with a college coach as its next head coach. Jason La Canfora reports.
• 1 min read
For more news and notes from Jason La Canfora, tune into The NFL Today Sunday at noon ET on CBS.
The Browns surprised many in the NFL by firing coach Rob Chudzinski last week after just one season on the job, and, their immediate move upon letting him go was to reach out to Adam Gase, Denver's offensive coordinator, according to sources. Browns team president Joe Banner has referenced several times his hope of finding the next Andy Reid -- who he long worked with in Philadelphia -- and Gase was at the top of the Browns' wish list, sources said.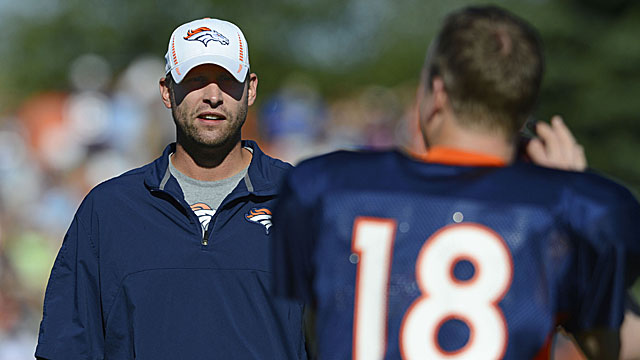 However, as we reported earlier, despite Gase expecting to be a hot name for coaching jobs, he prized the chance to continue working with Peyton Manning for another season, even with all they accomplished in 2013, and was likely to wait until 2015 to explore head coaching jobs. Gase, indeed, decided to focus on the playoff run with the Broncos and not explore any head coaching interviews, if at all, until after his season is complete -- which could run into next month. The Browns also had Patriots coordinator Josh McDaniels on a short list, and his interview was conducted on Saturday, while several league sources said the Browns have also done research on Vanderbilt's James Franklin and Auburn's Gus Malzahn, and could well end up hiring one of them.
Team sources believe it will be difficult to get Malzahn out of Auburn, in particular, and he is coaching for a national championship this week. Franklin, however, is ready to make a move up if possible, and he did spend time in the NFL on the Eagles staff as an intern, back when Banner was team president there. Franklin was also a position coach, for one year, with Green Bay, coaching wide receivers (Reid was hired to coach the Eagles by Banner back when he was an unknown assistant with Green Bay).
The Dolphins also donated $100,000 to the victims' fund after the school shooting that killed...

The Cardinals GM explains his process for finding Carson Palmer's successor

Stefen Wisniewski narrowly missed out on a chance to earn $250K, but the Eagles gave it to...
Shazier heads into the Steelers' facility every day and helps with 'personnel stuff'

Foles's life has completely changed by leading the Eagles to a win over the Patriots in Super...

For all of the attention Patrick Mahomes will receive, fixing the defense has to be Kansas...