Browns embrace grand experiment with hire of Paul DePodesta
In retrospect, the Browns hiring a brilliant baseball mind could go down as one of the most revolutionary decisions in NFL history. Or it could be another footnote in the endless misery of the franchise.
• 7 min read
The Cleveland Browns may be the most fascinating team in the NFL.
And it has nothing to do with dysfunction or in-fighting or a troubled quarterback or a first-round defensive back who is perpetually late or an owner with an itchy trigger finger. None of that seems particularly interesting to me right now (I'd expect that two of the culprits, Johnny Manziel and Justin Gilbert, aren't long for Cleveland, by the way), and anyway, the narrative changed on Tuesday. The hiring of baseball analytics mastermind Paul DePodesta as their Chief Strategy Officer may go down as one of the more revolutionary decisions in recent NFL history. Or, it might be a footnote in the endless chapters of distress that Browns fans have been crying their way through for several decades now.
Either way, it's going to be incredibly intriguing watching it all unfold. Haslam has empowered DePodesta, the trusted assistant to Oakland A's iconoclastic general manager Billy Beane and one of the key figures in the "Moneyball" movement that has swept baseball, to essentially put in place the infrastructure of what should be a front office and management approach unlike anything we've seen in the NFL before. He's brought in a Harvard analytics wunderkind to take the Browns over the top in terms of commitment to advanced metrics and strategic thinking through the organization at a time when many NFL clubs dabble with it, but where it's been viewed largely as an outpost for non-playing nerds, with neither the coaching side nor football operations truly embracing it or really knowing what to do with it.
The Browns have now created a structure in which there are four prongs to the organization -- four franchise chiefs who report directly to Haslam -- unlike anything I've heard of before in this sport. DePodesta, who perhaps is best described as an efficiency expert looking to find ways to maximize value, oversees analytics. Sashi Brown, a lawyer by trade, was promoted to head of football operations on Sunday and has full control of the roster and transactions. Alec Scheiner, who did a lot of the heavy lifting bringing DePodesta to Cleveland, continues to oversee the business operations. The new head coach makes four. And that's it.
That's about as empowered as I could ever imagine anyone with an analytics forte being in any NFL club, in a sport where you usually can't even find a list of their analytics guys on the team website. For someone with no prior NFL experience to be in that role, with something of a free-flowing opportunity to probe at how and why certain decisions are made from scouting or coaching, will be hard for some to grasp. I wouldn't call it trying to reinvent the wheel -- and many of the traditional roles for a football franchise remain the same -- but Haslam has certainly added another spoke to the wheel, and a large one at that.
Think about it: In Week 1, the cameras will invariably pan to Haslam kicking off another season with a new braintrust in place, and he'll be seated in his suite flanked by Brown and DePodesta. He will have access and he will have currency, and time will tell if he will have a significant positive impact on the organization, though I'll certainly applaud the effort to give it a go. Perhaps the Browns have finally hit rock bottom and there's nowhere to go but up. I'm enthralled to see how this all plays out.
There are skeptics everywhere. And frankly, I have concerns. This a league of considerable groupthink, and this hiring and structure will engender considerable disdain. The idea that you have be "A Football Man" to truly understand football, and all of that stuff. And make no mistake, this hiring adds even yet another layer of awkwardness to a coaching search that had already created lots of puzzled looks and concerns in that community. Now the analytics guy has as direct a route to ownership as the new head coach, on top of the questions that Brown's shocking promotion initially created. This job was already difficult enough to fill in the past before this radical departure from the norm.
DePodesta's presence might scare some or intimidate others, and there will be shortage of detractors. And asking these long-suffering fans to suspend disbelief and remain patient and embrace yet another change in team structure may be a bit much to ask. But it also takes some doing to be a generational loser to the degree the Browns have been in a league where the draft and schedule are devised to subsidize the weak, and someone as bright as DePodesta might be able to help break that rut. If you could imagine a company like Google or Amazon would be interested in his mind, well, is it really that crazy to think a professional franchise in another sports league would?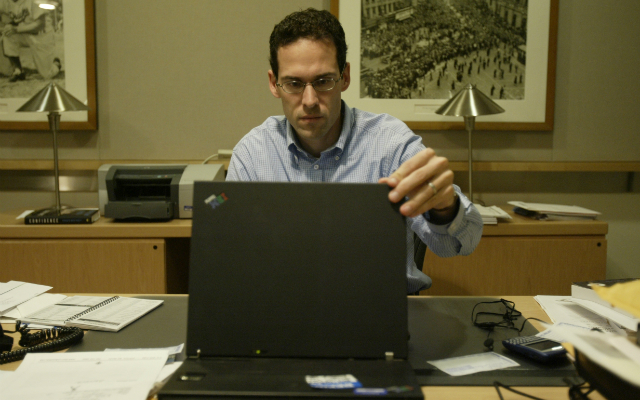 I sincerely hope in the coming days or weeks the Browns interview -- for huge positions, head coach even -- people I have never really heard of or ever considered for the position. I hope they make us gasp a time or two by bucking the norms. I give Haslam kudos for having the fortitude to take this grand experiment to these lengths already -- you can win three games a year with any former coordinator/overmatched head coach; why not truly try something completely different and dare to challenge conventional wisdom? -- and if the Browns are really going to see this through, then we should all be stunned by some of the moves they make both in terms of hires and transactions.
It's going to take time for DePodesta to learn his organization, much less the league, and within that franchise I'm not sure anyone knows exactly when his first impactful decision will come. It's not going to happen overnight. But if they truly are on to something here, and believe that their model -- now in the hands of a maven like DePodesta -- is ahead of the curve, then I'd anticipate his hand is felt in the coming weeks.
One would imagine, over time, he would see inefficiencies everywhere. In how coaches are selected. In how much authority and autonomy a head coach should command and what exactly the roles of coach and general manager should constitute. In the draft, and what constitutes a "fair" move up and down the board. In how players are graded. In how salary cap money is spent.
If they are willing to go this far, in already promoting a lawyer to the top of the football operations food chain (Brown) and in hiring a total football outsider to essentially implement a strategy others wouldn't even feign to consider (though DePodesta did play football at Harvard and cut his teeth in the CFL's Baltimore franchise in the mid-1990s), then why stop now? The Brown promotion -- shocking on the surface - already told me the paradigm had shifted in Cleveland and even more influence would be coming from the analytics part of the building.
It was clear a shift had taken place -- potentially seismic -- but I couldn't quite buy in. I didn't understand where the first-hand acumen would come in; Brown's background wasn't steep in statistical analysis, and as much as he could champion its rise it wasn't in his blood. Something was missing. Sure, the Browns had bolstered their in-house team of number crunchers and yes, Haslam had spent considerable money on an outside study to help guide the selection of a quarterback in 2014 (the report said take Bridgewater; he chose Johnny Football). But I didn't see who had the chops to really see that vision through, to put it in place and oversee decisions. Surely, it wasn't going to be the new head coach or general manager.
Now I get it. DePodesta was the missing link. That makes more sense.
I don't know if it will work. It might fail miserably. But I will be captivated either way, and we might finally get some real answers as to how far the numbers can take a team and which team structures can work and what precisely is the role of analytics. This is a wild test tube, and while I understand the rampant skepticism it provokes in a sport as insular as football, and while I am sure Browns fans are dreading it after their building was just blown up, again, at least this time the approach is truly unique and interesting.
If it works, even to a small degree, copycats will abound. And should it not, well, it may be the death of analytics in football forevermore. It's certainly not your average hire, for a team where even being average would amount to a significant improvement.
Ivory averaged just 3.6 yards per carry in two years with Jacksonville

Bryant reportedly requested a trade last season but the Steelers elected to hang onto him

The Cowboys have sounded increasingly willing to cut ties with Bryant throughout the offse...
These prospects should star in the events at the combine this upcoming week

It turns out the Eagles center's epic parade speech is just the gift that keeps on giving

Fisher went on the non-football illness list last November but is now cleared to return