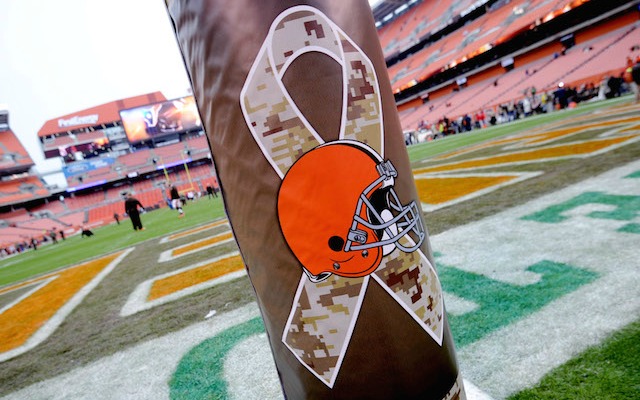 Is orange the new Brown? It looks like we'll find out next week when the the Cleveland Browns are expected to unveil a new logo. 
The Browns sent an email to their fans on Tuesday saying that the new logo will be unveiled on Feb. 24. The team also hinted at the change on Twitter. 
The #BrownsLogos are evolving. Sign up to see them: http://t.co/TJETfsifVS https://t.co/2iMXXzQd2e

— Cleveland Browns (@Browns) February 18, 2015
So what will the new logo look like? The team's aren't telling.
If you're a Browns fan, don't get your hopes up that Brownie the Elf will be returning. Daryl Ruiter of 92.3 the Fan in Cleveland tweeted on Tuesday that Brownie's not coming back.
Also old school #Browns fans will be disappointed to learn Brownie is not returning whole or in part of the new logo

— Daryl Ruiter (@RuiterWrongFAN) February 18, 2015
Brownie was the team's primary logo from 1948-1969. In 1970, the Browns switched their primary logo to the orange helmet you still see today. Although the helmet has undergone several modifications over the past 45 years, it's mostly stayed the same. 
The current Browns logo is basically the same as the logo on the far right in the picture below, except the current logo, which has been used since 2006, has a darker facemask (graphic via sportslogos.net).

Yes, new logos are exciting, but new uniforms are way more exciting and the Browns will be getting those, too. 
Browns president Alec Scheiner said last year that the team will be getting "cutting-edge" new uniforms for 2015.
How do you make the color brown cutting-edge? I have no idea, but we'll find out in April when the new uniforms are expected to be unveiled. 
Although the Browns logo and uniform will be new for 2015, one thing won't be: The team's actual helmet. The team will reportedly be sticking with the orange helmet and won't be putting their new logo on it -- or any logo at all.