Browns improving, but booted decision to let kicker Dawson go
It was one thing to let solid veteran kicker Phil Dawson go. But with no solid replacement on board, the Browns have booted themselves into a corner.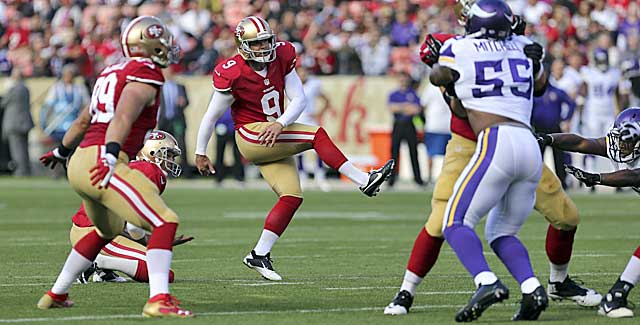 While NFL personnel decisions are always a risky, it's hard to explain what is going on with the Cleveland Browns' kicking situation, where they let proven veteran Phil Dawson go and have backed themselves into a bit of a kicking mess.
During my summer camp tour, I sat down with Dawson, who now kicks for the San Francisco 49ers. We discussed the upcoming season -- but more importantly why he wasn't still in Cleveland, where he spent 14 seasons. He said the team wanted to go in a different direction. Well, the Browns certainly have gone in a different direction.
After spending the summer deciding between veteran Shayne Graham and college free agent Brandon Bogotay from Georgia, the Browns released Graham and found themselves with Bogotay on injured reserve. Enter veteran journeyman kicker Billy Cundiff.
The Browns are improving, with a solid core of youngsters. But many NFL games are decided by three or fewer points. Letting Dawson go in favor of, ultimately, Cundiff doesn't give the Browns the best chance to win those games.
Keep in mind the Browns have well over $20 million of salary cap space, so they could have simply kept Dawson. Granted he's 38 years old, but there was nothing in his 2012 performance to indicate he's anything but one of the NFL's best kickers. Last season, Dawson was money from 30 yards and out (making 21 of 22 -- and from 40-plus yards he was 13 or 13). Does age really matter when a guy goes 7 of 7 from 50-plus yards?. By comparison, Graham was 4 of 9 from 50-plus and Cundiff was 0 of 2 last season.
Kicking in Cleveland's FirstEnergy Stadium is no joke, and the trip down to rival Pittsburgh's Heinz Field is just as challenging as a notorious kicking venue. Dawson knows what is now his former home stadium and its winds -- he is 7 of 8 from 50-plus lifetime and last season went 11 of 11 from 30-plus in Cleveland.
Phil Dawson in 2012
FG yards
Made
Attempts
20-20
8
9
30-39
8
9
40-49
6
6
50-+
7
7
Totals
29
31
Cundiff has only five career attempts in Cleveland, and is 1 of 3 from 30-plus. He has no attempts from 50-plus. He has kicked off 10 times in Cleveland and has one touchback. Down the road in Pittsburgh, he's a little better -- going 4 for 6 from 30-plus -- but hasn't kicked there since 2011.
Last season, Cundiff kicked in five games, and three of those were indoors. His two outdoor games were in September, when the weather's better, and he was only 2 of 5 outside. The Browns only have one indoor game this season (Minnesota) and their final four games are at New England, at home vs. Chicago, at the New York Jets and at Pittsburgh. That stretch would be a brutal finish for any kicker.
Graham has played for eight teams since his NFL career started in 2001, and he has kicked in Cleveland in eight games. He's 5 of 8 from 30-plus, has no attempts of 50-plus and has only three touchbacks in 36 kickoffs.
When you look at the one-year, $2.35 million deal Dawson got from San Francisco, and go back to the salary cap space the Browns have right now, it looks like a critical error in building the roster for 2013. Dawson was the eighth-best kicker in average yards for made field goals last year and only had one game indoors. Graham kicked indoors for 10 games and was 19th in average yards for made FGs. Cundiff was a non-qualifier because he didn't have enough attempts.
It would be a shame to see the Browns lose, say, three or four games because of their kicking situation this season -- there are so many good things are going on with this club. Because of that and their current kicking situation, it wouldn't surprise me to see three or four kickers get a chance to play for the Browns before this season is over.
Everything you need to know for Week 7 of the 2017 NFL season is here

Discovery process in grievance will include request for certain owners/GMs to turn over cell...

Rodgers could try and make a return as early as Week 15 if the Packers are in the playoff...
The Texans quarterback has been one of the league's best players through six weeks

Galynn Brady explains what her life has been like for the past 18 months

The NFL is prepared to put its full marketing weight behind a formal initiative starting Week...