Browns' Lombardi: Tim Tebow 'not the vision of where we're headed'
Browns GM Mike Lombardi said that Tim Tebow is 'not the vision of where we're headed' in recent comments, ruling the quarterback out from another team.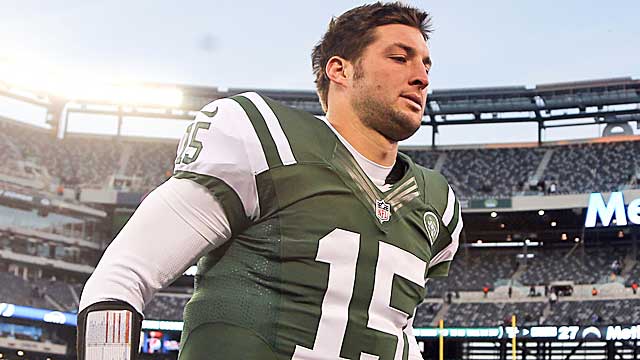 Tim Tebow has all the time in the world to find a place to play football. The problem is finding someone who will take him. And the list of potential NFL teams is a little bit smaller today, with the Browns officially being taken off the list.
At least that's the case based on Mike Lombardi's comments to the media following a luncheon at the Pro Football Hall of Fame Club. The Browns GM was pretty harsh, pointing out that Tebow needs to go "somewhere where he can develop as a passer."
"I think Tim Tebow's a great kid. Unfortunately, I think Tim has to get somewhere where he can develop as a passer. It's a passing league," Lombardi said. "Last year there was only one team in the NFL that ran the ball in the first half more than it threw. One."
Lombardi continued to (correctly) point out the importance of passing in the NFL and said that "Tim's got to be able to develop that skill" before noting that the "style of play" involved with having Tebow on your roster is "not the vision" for that team.
"When you commit to Tim, like Denver did the last eight games of the 2011 season, you're committing to that whole style of play," Lombardi said. "It's all or nothing. And that becomes very difficult.
"That's kind of not the vision of where we're headed."
A vision involving Tebow is something that a lot of teams don't seem interested in at the moment. Even a club like the Patriots or Packers, who would present a quality scenario for Tebow to sit and improve with a locked-in starter, probably won't want to deal with the circus that comes along with Tebow. (Or maybe they "hate" him.)
Which means there's a very real chance we might not see him in the NFL when the 2013 season begins. But, hey, there's always the Beef.
Here's every official injury designation for each NFL team for Week 15

Foles replaced Vick during his previous tenure in Philadelphia, appearing in the 2013 play...

Mike Tierney has owned NFL totals and has a strong play for Chargers-Chiefs on Saturday
Dorsey didn't guarantee Jackson would return as coach in 2018

Everything you need to know about the Packers-Panthers game on Sunday afternoon

The Lions will be wearing their Color Rush uniforms for the first time on Thursday