Browns 'lucky to be alive' after flight home from Cincinnati
The Browns experienced a rough landing at Cleveland's Hopkins Airport on Sunday night. Offensive Jared Pinkson said the team is 'lucky to be alive.'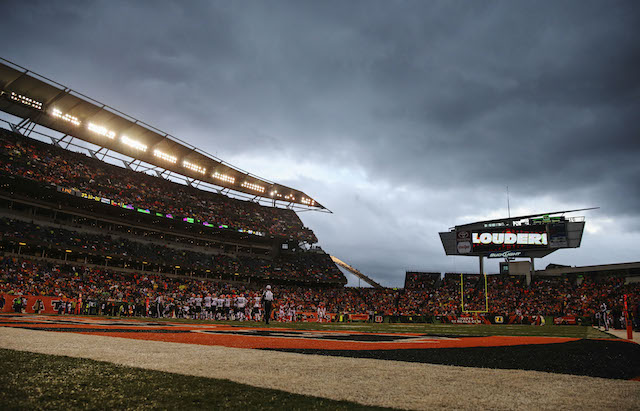 The Browns lost to the Bengals 41-20 on Sunday, which is bad, but that wasn't the worst part of the day for Cleveland. That honor belongs to the Browns plane ride home. Despite heavy rain and 50 mph wind gusts, the Browns decided to fly home and according to several players, the plane's left wing almost hit the ground as it landed. 
After the team finally did land in Cleveland, offensive lineman Jason Pinkston said the Browns were 'lucky to be alive.'  
"It was terrifying," Pinkston said, via Cleveland.com. "It was the real thing. The weather was so bad. We were coming in to land and (the pilot) had to go kind of fast to balance it out and we came down and we hit on two wheels. The (left) wing was literally three feet from hitting the ground. We're actually pretty lucky to be alive right now, to be honest. We really escaped one. We got away with one last night."
Due to the inclement weather, the Browns had made contingency plans to make the four-hour bus ride back to Cleveland if the team thought it was necessary. However, the team conferred with United Airlines and Cleveland Hopkins Airport and all parties felt it was OK to fly. 
Hopkins airport ended up grounding all flights at 6:25 p.m., the Browns landed in Cleveland at 6:30 p.m. ET. "It's important to note that neither our team nor United Airlines would've given us clearance to depart if our safety was in jeopardy," team spokesman Zak Gilbert said. "The airport also gave us clearance to land."
It might have been safe, but the players were clearly worried, "There were a bunch of screams," said Pinkston. "You could hear everyone screaming on the plane. It was pretty real. I screamed, because I was sitting right over (the left) wing. My window was open and I saw the whole thing."
Here's how defensive lineman Billy Winn described the landing, "I swear the wing was a couple feet from the ground," Winn said. "At the last second it was dead quiet right before the landing. We're going to land and it got real quiet and I heard this big gust of wind and it went like that (a tilting motion with his hand) and came back and we recovered. We had a great pilot... Bless his heart for getting here safely."
Although some players screamed, tight end Jordan Cameron had a different take on the landing, "I didn't think it was that bad." Gilbert also said he's been apart of worse landings. 
Some Browns players will probably be relieved to hear that the team doesn't have to get on a plane again for another two weeks. Cleveland plays its next two games at home before traveling to New England for a Dec. 8 game against the Patriots. 
The Giants got a scare in the second quarter against the Browns

Welcome to the NFL's version of a dress rehearsal

The Browns protested the anthem on national television
Beckham passed tests for a concussion but the Giants will do more tests on his ankle

The president has something in common with Vladimir Putin

The Seahawks are trying to beef up their offensive line with George Fant out