Browns name QB Brian Hoyer starter for Thursday's game against Bills
Brian Hoyer has been named the Cleveland Browns starting quarterback for Week 5, but coach Rob Chudzinski isn't committing to him beyond that.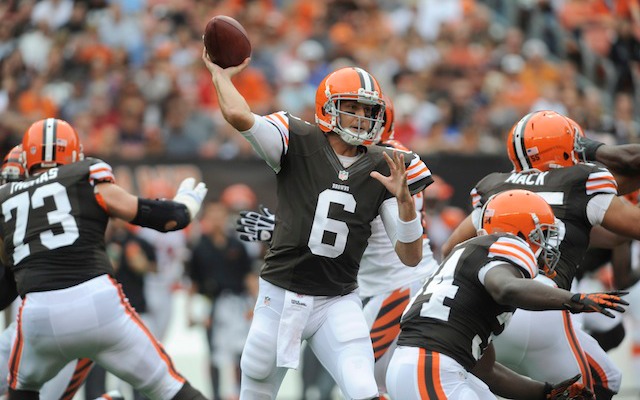 Cleveland Browns coach Rob Chudzinski likes what he's seen from Brian Hoyer, but not enough to name Hoyer the Browns starting quarterback for the rest of the season.
Chudzinski announced on Monday that Hoyer would be the starter in Cleveland's Week 5 game against Buffalo on Thursday. However Chudzinski refused to commit to Hoyer beyond Week 5. "I think it's week-to-week," Chudzinski said. "Where we're at, I'm comfortable with." 
The reason Chudzinski's comfortable is because he has a starting quarterback who's 2-0 in his only two starts with the Browns. Hoyer has reinvigorated the Browns offense: Cleveland has averaged 24 points per game since Hoyer took over for an injured Brandon Weeden before Week 3. Under Weeden, the Browns went 0-2 and were only scoring eight points per game. 
Weeden threw one touchdown pass and three interceptions in Cleveland losses to Miami and Baltimore in Weeks 1 and 2. Hoyer's been on fire since taking over, throwing five touchdown passes and three interceptions in wins over the Vikings and Bengals. Hoyer also has a better completion percentage (59.8-54.7) and has thrown for more yards (590-516) than Weeden did in his two games as the Browns starter.
As long as Weeden's out with his injured thumb, Chudzinski can name Hoyer his starter week-to-week, but once Weeden is healthy, it will probably make everyone in Cleveland feel a lot better if Chudzinski just commits to Hoyer for the season. 
Can Aaron Rodgers get the Packers to the postseason? Even if they win out, they'll need he...

The NFL is going to have to look for a new commissioner

The Washington Redhawks are not an actual thing
CBS All Access allows viewers to stream every NFL game on CBS in their local market

CBS All Access allows viewers to stream every NFL game on CBS in their local market

CBS All Access allows viewers to stream every NFL game on CBS game in their local market