Browns' odd firings leave one man (Stooge) left to blame: Haslam
If the Browns were weird under Jimmy Haslam before, it was nothing compared to the bizarre firings of his GM and CEO. But one thing is for sure. The buck (and ire) stop with Haslam.
• 11 min read
Two Stooges down, one still standing.
That's the scorecard in Cleveland on Tuesday after Jimmy Haslam, whose trigger finger as a novice owner already rivals vintage Al Davis, once again fired some of the most important people in his organization. Haslam parted with general manager Mike Lombardi and CEO Joe Banner (Banner won't officially be gone for several months, but he was stripped of all power).
Haslam, Lombardi and Banner had been dubbed "The Three Stooges" by the Cleveland media for an awkward and meandering coaching search, one that ended up with Bills defensive coordinator Mike Pettine, a man they could have hired within days of the surprising firing of coach Rob Chudzinski after only one season. However, it required almost the entire month of January to eventually hire (settle for?) him.
But make no mistake, in this pantheon, the Stooge still standing always reigns supreme, and he's the man who ultimately has final say over everything, the man who signs the checks. It's all on Haslam, and this mess he has created -- an organization that he refuses to acknowledge looks as backward as anything we've seen in the NFL for quite some time -- is all his own making.
For all of the Browns' struggles, no one saw Tuesday's developments coming; not the men he let go and not anyone around the league. Certainly not now, so soon after hiring a new coach and less than a week before the combine.
Thus, the sharp focus of criticism is solely on Haslam, and the pointed questions came fast and furious when he met the media Tuesday afternoon.
This is a supremely successful businessman, although one whose company (Pilot Flying J) is under federal investigation, with Haslam himself part of the criminal probe. Haslam was fully vetted by the league office (if Browns fans want to throw stones, you could chuck a couple in the direction of 345 Park Ave., as Haslam did by deflecting all inquiries into his federal investigation). And it was Haslam who chose Banner, a longtime exec with the Eagles, as the man to put his new organization in place.
This was a man who, upon buying the team from Randy Lerner, decided he was going to wipe out the previous regime put in place by former team president Mike Holmgren -- entirely his prerogative and certainly the norm when a team changes hands -- and put his own staff in place early in the 2012 season, led by Banner. He gave Banner final say over all football matters, and above all else, Tuesday's firings point to the fact that Haslam wants no intermediary between him and his top employees. So a structure led by Banner that he said had become "cumbersome," is now streamlined: Haslam is the boss, period. Except, well, he always has been.
So now, Pettine, Ray Farmer, who was elevated to general manager, and team president Alec Scheiner, who has become a rock star in Haslam's eyes and a very strong figure in that organization, report directly to Haslam. The owner referred to that as the organizational chart "that I'm used to," which seemed to be a reference to the Steelers, the franchise where he was formerly a minority owner, and where the coach and GM both report directly to the Rooneys. But that's where the comparisons stop.
In fact, I need to do a complete mea culpa here. When Haslam assumed control of the Browns, I could not have said more positive things about him, projecting a turnaround for the franchise based on what I had heard about their new owners. He seemed like the perfect fit for the long-troubled Browns, a man with a passion for football who had run a successful family business, who had already seen the inner workings of a superior franchise right within the AFC North, and who had the stamp of approval from the Rooney family and the Manning family -- football royalty. I thought it was a can't miss ... only through two seasons it has turned out that Haslam can't hit.
I assumed, as did many who knew him in Pittsburgh, that Haslam would abide by the principles that make the Steelers a model franchise and the ultimate family business in pro sports: pragmatism, cohesion, consistency, incremental team building and avoiding knee-jerk responses. Shame on me. It's been just the opposite.
Now, in two seasons, Haslam has essentially blown out two entire regimes, hit the reset button a few times while making virtually no gains, and defied conventional football wisdom repeatedly. He asserts that "it was a normal time" to wipe out his front office, and he cited repeatedly that his buddies around the league in owner's suites keep telling him he has a "great franchise" that anyone would want to work for. If it wasn't for that meddling Cleveland media and the false "perceptions" about his team they keep spreading, everyone else would get it too, Haslam protests. Oh, boo-hoo. Sounds like a trite episode of Scooby Doo. I kept waiting for a local columnist to pull off a mask and rush the microphone during the at-times awkward press conference.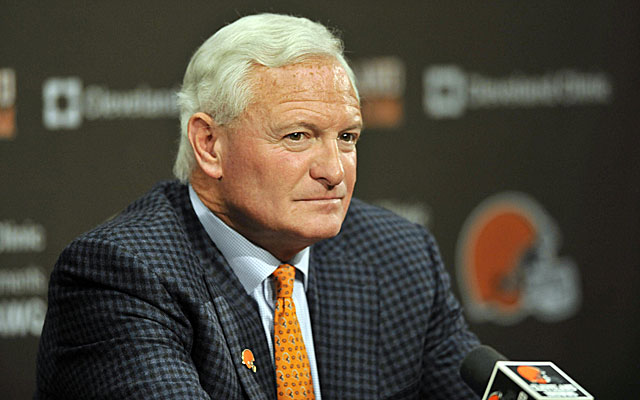 Here's the reality: People across the league are stunned, again, at Haslam's total reversal. They were stunned when the Browns ended up with Chudzinski in the first place. (Had Haslam not given full say of the organization to Banner, he may have been able to land Chip Kelly in 2013, but, again, that was his decision, his call). Then, when they fired Chudzinski after only one year, going 4-12 while enduring a rash of quarterback injuries (and letting esteemed coordinators Norv Turner and Ray Horton go as well), jaws dropped again. If you are hiring a young coach, you give him more than a year. That move isn't made without Haslam being on board.
And then, after a circuitous coaching search in which several candidates did not want to talk to the Browns (something Haslam denied, seemingly halfheartedly, on Tuesday), he ended up with Pettine (though some, like Banner, would have been content to wait for Seattle defensive coordinator Dan Quinn to get a second interview). Haslam has become the biggest pro-Pettine guy out there -- "I was really committed to Mike Pettine," he said when probed about Quinn on Tuesday.
Well, he'd better be because if this latest rethink doesn't work, they're going to run him out of Cleveland, Simpsons-style, with someone dressed like Groundskeeper Willie leading the charge with a pitchfork.
While Haslam won't admit it, clearly he started thinking about changing his front office during that search when he couldn't get an audience with guys like (Broncos assistant) Adam Gase and (Auburn coach) Guz Malzahn, and many believe he started to attribute some of that to the front-office structure he had in place.
According to sources, about a week before Pettine was hired, Haslam reached out to confidants in the league, people like the Rooneys, talking about possibly going with a clean slate in coaching and the front office. He ultimately thought better of it. Haslam maintains, however, "I wouldn't have done one thing different with the [coaching] search," once again asking his fans and the media to suspend disbelief.
Haslam also said Farmer's promotion had nothing to do with the exec recently turning down an offer to be Miami's general manager -- something of a trend as several others declined that dubious position. But the timing of Tuesday's moves has people in other organizations believing that the sentiment to boost Farmer's role may in fact have come out of the discussions for him to stay in Cleveland over Miami. The timing of whacking your two top football operations guys just before everyone leaves for for the NFL Scouting Combine in Indianapolis strikes people as beyond bizarre.
If Farmer was the guy to run your organization, you could have made these changes the same day you fired Chudzinski at the end of the season. Go for your clean slate then. Or, if at some point in, say, the third week of your coaching search, you get the sense Banner and/or Lombardi are holding you back, well, go promote Farmer then and let him have a role in actually hiring the new coach. Only, well, as much as Haslam can talk now about the "research" Farmer did during the coaching search, it was the owner and Banner and Scheiner and Lombardi interviewing the candidates and doing the real work. Now there are only two of those men standing.
And one thing all of us can agree upon -- even Haslam -- is the fact that this 2014 Browns draft is absolutely vital for the organization. They have to kill it (Farmer's background is primarily on the pro side, though his focus had shifted some to college with the Browns and he was at the Senior Bowl for them). They need a quarterback and pretty much a totally new offense outside of a center, a left tackle, one receiver and a tight end. And now, after Haslam's haste in sacking those around him, there is no time to spare. This team has set an expectation of immediate, substantial improvement.
Except, well, Lombardi was the guy who was leading the charge in the draft, spending much of the season on the road, focused on every aspect of the quarterback position, he and Banner charting a plan where they dealt several 2013 picks to load up for 2014, a deeper draft at many key positions for them. They also landed a first-round pick for suspect running back Trent Richardson along the way, as savvy a trade as you'll find in quite some time. Had quarterback Brian Hoyer (someone Lombardi has long championed) not suffered an injury, in what was a down year in the AFC, who is to say the Browns, once at 4-5 and in the AFC North hunt, would not have been playing meaningful football in December instead of finishing with seven straight defeats.
Several of their free-agent moves haven't panned out -- pass rusher Paul Kruger for $20 million guaranteed, for one -- but given the vortex of losing Cleveland has been since coming back in the league, you're going to have to overspend to get talent on the open market. The bottom line is Lombardi was barely on the job for a year, which is precious little time for any general manager to make a mark or to truly evaluate him. So Tuesday's verdicts appear like what has become the signature, defining axiom for Haslam's brief reign: Fire now, and ask questions later.
(Let me make a personal disclaimer here as well: I worked with Mike for three years at the NFL Network, and he was someone I came to consider a friend as well as a co-worker. I cannot quantify how much I learned about football from him during that time, and I value his football IQ very highly. However, in his year on the job in Cleveland, we spoke, maybe a half dozen times total, and rarely if ever about his team. He pretty much had zero media presence, in a public or private capacity, literally from the time he took the job until now. He was not a source for me -- or darn near anyone else as best I can tell -- as he essentially went underground and focused on scouting, and at one point at least four months passed between even a casual conversation with him during the season.)
So my opinion on the state of the Browns, or what has become of them under Haslam, isn't related to me losing a source, or to defend Lombardi or Banner. They made plenty of mistakes there. Firing Chudzinski after one year didn't make sense to me, and you can debate the merits of their hiring if you like. But the timing of this stuff is odd, period. And bottom line is, Haslam green-lighted all of it in the first place, endorsed it publicly and with his wallet, and any dissection of this club needs to start with him, and, from here on out, end with him as well.
I don't care who the GM is, especially one who does not have final say in football operations. A year isn't enough time to form a judgment, and I'd have a hard time believing Lombardi's strained relationship with the Cleveland media from his former tenure there as part of Bill Belichick's staff didn't have something to do with Haslam letting him go so quickly.
For his part, Haslam vows he's done firing key figures for a while, and claims he only plans to "tinker with the organization" this offseason, while also making it clear he plans to bunker down more at the team headquarters in Berea, Ohio. Only time will tell how long he actually can resist the urge for more sweeping change, and in the meantime, despite already paying so much money to people long gone or just now departing, he'd do well to continue investing in the infrastructure of his organization, giving Farmer the resources to bolster some staff now, and more after the draft.
Because given his track record to this point, if the Browns endure another typical season in 2014, how could anyone not ponder the job security of the very men Haslam has just empowered these past few weeks come next January, if not sooner?
The Fins wide receiver took a shot at the Pats with his touchdown celebration

Former Atlanta sportswriter Larry Hartstein knows the Falcons and locked in a pick for 'Monday...

The Patriots losing might be bad for New England but its great for watching Bill Belichick
The league-owned network suspended Marshall Faulk, Ike Taylor and Heath Evans as it investigates...

R.J. White has his finger on the pulse of Indy and made a strong play for 'Thursday Night...

Wondering which NFL teams are going to win in Week 15? You've come to the right place to find...