Browns pass rush looks improved with rookie Mingo in mix
Barkevious Mingo is impressing at Browns camp, and the new staff wants to see what QB Brandon Weeden can do.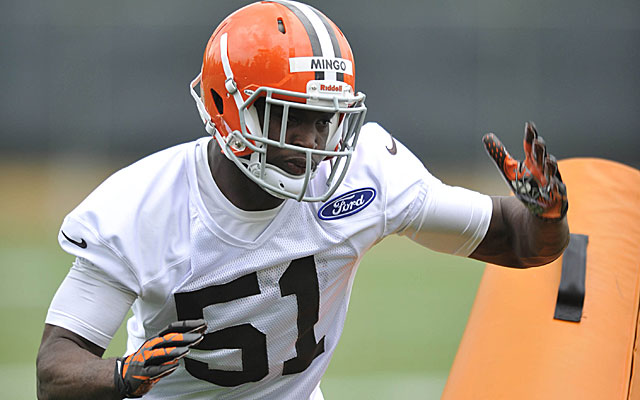 There's no fan more loyal than a Browns fan in the NFL. Granted they are frustrated by all the losing and the constant turnover on the coaching staff, but as usual they come to camp in droves excited that this could be the year things get turned around.
I sat down with CEO Joe Banner, head coach Rob Chudzinski, QB Brandon Weeden, LB D'Qwell Jackson, rookie LB Barkevious Mingo, OT Joe Thomas and NFL commissioner Roger Goodell, who was visiting camp at the same time.
Things I saw or heard at practice
1. Mingo regularly beat the offensive tackles in the one-on-one pass rush drills and he has multiple moves. Mingo said he is working on his hand usage. Joe Thomas is really challenging him in every practice and said that Mingo has what it takes to be good right away.
2. Dion Lewis, the 5-foot-8 running back formerly of the Eagles, is a bright spot in this offense and should be a factor in the third-down package.
3. Weeden looks great in the shotgun and was impressive distributing the ball to all the receivers. WR Greg Little looked a lot better.
4. The defense is a few weeks ahead of the offense with all the pressure calls Ray Horton has in already.
5. Thomas had his hands full with Jabaal Sheard in pass rush and said, "He's a natural two-point stance rush guy."
6. Last year the Browns used pressure calls 14 percent of the time on third downs, according to Jackson and he expects that number to be flipped to 41 percent this season.
7. The Browns hit a home run with two of their veteran personnel moves. DE Desmond Bryant from the Raiders has excellent hand technique and made excellent penetration into the backfield. After watching practice I felt like the Browns stole Davone Bess from the Dolphins. He was open all practice long and as usual moving the chains.
8. Spent some time with Banner talking about their priorities when he took over and pass rushers topped the list. Banner was pleased to see Paul Kruger, Sheard and Mingo on the field together and getting after the passer.
9. DT Phil Taylor was almost impossible to pass block during the drills and team period. What was interesting was a comment made to me before practice by a local reporter, who said Taylor wasn't very good and the team should release him. There was nothing at practice to indicate that was a sound idea.
10. I asked Goodell about the Riley Cooper situation among other topics.  He was satisfied with the reaction the Eagles had to the Cooper problem and was proud of the way Michael Vick handled the Cooper situation. In fact Goodell sent Vick a note this morning saying he was pleased with him for taking a leadership role in the situation.
11. Jackson is one of the most visible Brown leaders and I asked him what would his response be if the Browns had a Riley Cooper situation. Jackson said the team and the locker room would judge the player, probably accept his apology and try and keep the team from being divided.
Top camp storylines
1. The quarterback situation. The Browns passed on a quarterback in the draft, which surprised some people. But Banner said Chudzinski and Norv Turner wanted the opportunity to coach Weeden, who is a good fit for the new offense with all the shotgun in the package. Weeden told me he feels comfortable being coached by Turner. I expect him to throw for 20-plus touchdowns and 3,000 yards.
2. Replacing Ben Watson. The loss of Watson is not a hot topic among the fans but it should be when considering the fact he caught 49 passes last year and 154 over his three years in Cleveland. Jordan Cameron looks like the replacement, but he's only been active for 22 games in two years and has 26 receptions and one touchdown. One coach said, "Jordan has the talent and we need a good tight end in this offense (Norv Turner had Antonio Gates in San Diego) but Cameron has to stay healthy."
3. The kicking game. The Browns aren't going to dominate opponents. They are going to have to fight for every inch every week and they don't have their kicker, punter and return man from last year. Phil Dawson has been a money kicker for 15 years and is replaced by Shayne Graham. The Browns can't afford to have too many games come down to a field goal especially in Cleveland Stadium. Graham has kicked in Cleveland eight times in his career. He is 8-for-13 in field goals, never attempted a kick of 50 yards or more and only had three touchbacks in 44 kickoffs. Josh Cribbs was a very exciting return man and is supposed to be replaced by Travis Benjamin. Benjamin probably has to replace WR Josh Gordon while he serves a two-game suspension.
4. The pass rushers. Banner said building a pass rush was a top priority in the offseason. They hired Ray Horton to install an aggressive pressure defense, acquired Paul Kruger from division opponent Baltimore, drafted Mingo and stood Sheard up in a two-point stance. I will be disappointed if these three men don't generate more than 20 sacks between them.
5. Josh Gordon out first two weeks. Gordon returned to practice while I was in Cleveland and he is simply a beast on offense. He is developing quickly as a premier receiver and reminds me of Brandon Marshall. He caught 50 passes last year in 16 games and with Turner's offense I expect him to catch 65 passes in 14 games this year. He will be used the same way Turner used Michael Irvin in Dallas. While he's serving his suspension look for speedy Travis Benjamin to get the work load.
6. Pressure defense. Jackson is so excited about a pressure defense after years of "bend don't break" read and react packages. Jackson was quick to point out the Browns only blitzed 14 percent of the time on third downs last year and that number is going way up. He realizes every person on the defense will get their shots to sack the QB and he's working overtime to make sure all the young players know this defense well enough to gain the confidence of defensive coordinator Ray Horton.
7. The work horse. Trent Richardson was labeled a disappointment last year by some observers, which I don't understand when you consider he touched the ball 318 times for 1,317 yards and 12 touchdowns. Turner will use Richardson like he used Emmitt Smith back in his Cowboy days. I expect Richardson to get 300 carries, catch 60 passes and crack the 1,500 total yards mark this season.
8. Rookie report. There are only five rookie draft picks on the roster and they may not make as big an impact as some rookie groups around the league. Mingo will play a lot and be a big success in pass situations. CB Leon McFadden is competing for the starting CB job opposite Joe Haden but could start the season as a backup because Buster Skrine and Chris Owens are having a good camp. S Jamoris Slaughter, DT Armonty Bryant and Garrett Gilkey are all backup candidates and maybe even practice squad for one or two of them.
Brock Osweiler is the Broncos' backup quarterback

A decision is expected to come down on Tuesday

Nick Kostos, a.k.a. 'Mr. Monday Night,' has a bold pick for Monday Night Football
Burfict, who has a lengthy history of suspensions, could still be fined for his actions

The Giants aren't happy about a controversial call that went against them

The Jaguars racked up 10 sacks on Jacoby Brissett in a 27-0 blowout loss