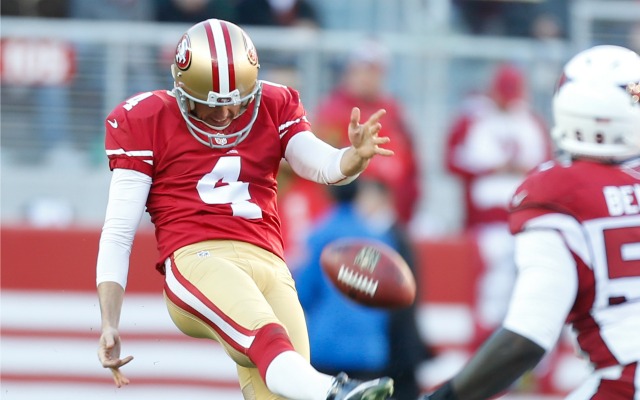 Andy Lee, the punter who was traded to the Cleveland Browns last week after spending 11 years with the San Francisco 49ers, is changing his uniform number from No. 4 to No. 8.
Ordinarily, this would not merit a story, but Lee is changing his number for a very specific reason. Back in January, Lee and his wife, Rachel, lost their daughter, Madelyn, due to post-birth complications just eight days after she was born.
Madelyn swallowed fluid while being delivered via C-section, after which she struggled to breathe and thus was given a breathing tube and was placed in the neonatal intensive care unit (NICU). A few days later, she contracted an infection. "From there," Lee said, per the team's official web site, "the infection just pretty much took over her body and she passed away."
Obviously the pain of losing their daughter will not go away, but "I feel like turning over a new leaf here, and honoring her with that number is the best thing I can do," Lee said.
"I think sometimes, not necessarily by me and my wife, her life can get overlooked. She was here, she was a person but nobody got to meet her, nobody got to see her. She was really alive and really a person. It's a way to honor her and kind of just give her some glory she deserves."
Here's hoping the Lee family finds some peace in due time.