Browns QB Johnny Manziel: 'I need to earn my keep'
New Browns quarterback Johnny Manziel seemed sufficiently humbled when talking to the media Saturday.
• 2 min read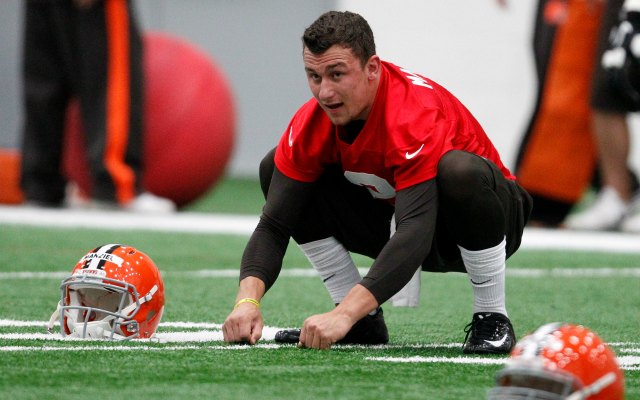 More Draft coverage: 2015 Mock Drafts | 2015 Top 100 | 2014 Draft Grades | News
Ever since the Browns traded up in the first round to grab quarterback Johnny Manziel with the No. 22 overall pick, the management seemingly has gone out of its way to hurl venom at him.
The owner of the team, Jimmy Haslam, made sure to tell Manziel, through the media, that he wasn't in Hollywood anymore and that he was only a backup quarterback, and the team's decision-makers thought it best to bar the national media from this weekend's rookie mini-camp.
The way the Browns have handled Manziel thus far is head-scratching, unless they're really trying to buck up quarterback Brian Hoyer and keep him confident and happy. Another consequence, though, is that Manziel probably isn't looking to make waves at this point. Thus, when he talked to the media Saturday (with reporters barred by the team from snapping any photos of the rookies who were being interviewed), Manziel was sufficiently humbled.
"I'm a rookie," Manziel said Saturday, via the Cleveland Plain Dealer. "I need to earn my place. I need to earn my keep. I don't need to be treated based off what I did in the past because that doesn't mean a thing at this level. I was completely OK with hearing that from everybody. I don't want to come in and have anything handed to me that I don't deserve."
For now, Manziel will be behind Hoyer on the depth chart, and perhaps, that's not inappropriate. Before he was lost for the season, Hoyer went 3-0 for Cleveland in 2013 and looked like the Browns best quarterback in ages. Maybe he will start at the beginning of 2014. Or maybe Manziel will beat him out anyway. But that's not necessarily Manziel's focus right now.
"I got passed up 21 times, so that says something," Manziel said. "Getting passed up 21 times is never fun and obviously some of those teams weren't going to take quarterbacks and we knew that going into it. But still, it's even humbling to be the second quarterback off the board, so for them to come in and say that, I don't think I need to be humbled. I realize where I'm at in this organization and what I need to be doing, and that's all I'm really focused on."
Manziel also was asked about the text he sent to Cleveland quarterbacks coach Dowell Logains during the draft, asked him to "hurry up and draft me" and that Manziel wanted "to wreck this league together."
Said Manziel, who claimed that he might not have used the exact words of "wreck the league":
"This was a place I felt comfortable with and liked coach [Kyle] Shanahan and liked the situation here and I wanted to come here and if they wanted to take me and were trying to get me earlier, I said, 'let's do it.' I don't know what kind of influence that had or what exactly that did, but this was a place I wanted to be and ended up here. Whenever it is I get a chance to play, I don't want to come in and be mediocre.
"So to have success you need to do some good things and that's more what I was talking about than coming in and dominating as a rookie. It wasn't that talk at all. It was coming in and trying to win some games if I'm going to be here and if I get the opportunity to play.''
Breaking down why the underdogs are very dangerous against the Patriots

All of the information you need to know about the 2018 Super Bowl

Here's all the details you need to know on watching Super Bowl LII between the Patriots and...
No one wants to give the Eagles any respect

Here's a look at the NFL's entire postseason schedule for 2018

Here's everything you need to know about Super Bowl LII