Browns re-sign kicker Billy Cundiff to one-year deal
The Cleveland Browns re-signed kicker Billy Cundiff to a one-year deal on Thursday.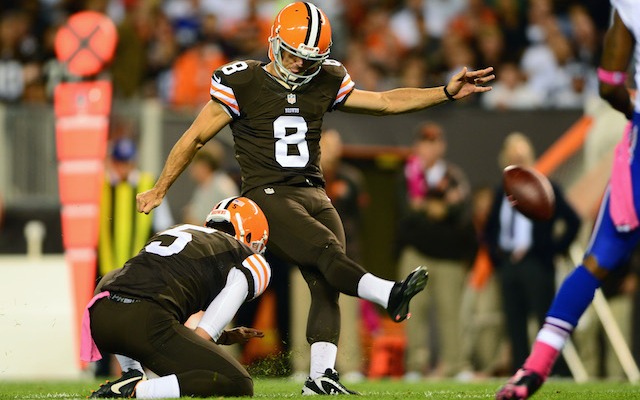 The Cleveland Browns will be keeping kicker Billy Cundiff around for another season. Cundiff signed a one-year deal with the team on Thursday, the Browns announced. That deal will pay the veteran $1.02 million, according to ESPN.com. 
The Browns originally signed Cundiff in September and it was a much needed signing for Cleveland because before Cundiff came on-board, the Browns had zero kickers. That's because during final cuts in late August, the Browns cut every kicker on their roster, meaning Cleveland had no kickers only eight days before the 2013 regular-season opener. That's when Cundiff came in to save the day. 
The 33-year-old Cundiff hit 21 of 26 field goals for the Browns in 2013, an 80.8 percent conversion rate that ranked 25th in the league. The 2013 season was Cundiff's second stint with the Browns, he also spent five games with Cleveland during the 2009 season. 
The former Pro Bowl performer has played for five different teams and seven different coaches in his 10-year career. Mike Pettine will be the third Browns coach Cundiff has played for following Eric Mangini in 2009 and Rob Chudzinski in 2013.
The Patriots quarterback has been listed as questionable for Sunday's AFC Championship

It appears the Raiders didn't break any rules during their hiring of Jon Gruden

Jacksonville cornerback does not lack confidence heading into AFC Championship
Payton was seen mocking Vikings' fans at the end of the Saints-Vikings game on Sunday

Tom Brady didn't really feel like talking about his hand injury on Friday

Anderson was also arrested in May