Browns shielding Michael Lombardi from media, outside criticism
When Michael Lombardi was an analyst at the NFL Network, he clearly had no problem speaking his mind while talking about NFL players and teams.
• 2 min read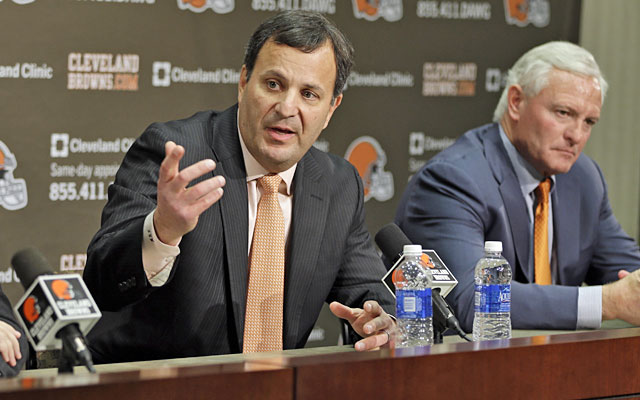 When Michael Lombardi was an analyst at the NFL Network, he clearly had no problem speaking his mind while talking about NFL players and teams. That, of course, was his job.
In fact, after the Browns drafted quarterback Brandon Weeden in the first round last year, Lombardi proclaimed the move a "panicked disaster" (for the record, that analysis wasn't necessarily incorrect).
But since the Browns hired Lombardi as the vice president of player personnel in January, we haven't seen much of Lombardi's face or heard his voice.
And there's a good reason for that: because team CEO Joe Banner is shielding him from the media. That's why Lombardi  -- who now is the team's general manager -- wasn't present for the recent news conferences of newly-signed linebacker Paul Kruger and defensive lineman Desmond Bryant.
"I'm just being very honest," Banner said Monday at the NFL owners meetings, via the Cleveland Plain Dealer. "Mike is a little bit of a lightning rod. Distraction won't serve anybody's interests. He's got a tremendous amount of work to do right now. And whether that's good, bad or fair or not, it doesn't really matter. It's just the reality of the situation."
When Lombardi was at the NFL Network, he also didn't have kind words for Browns receiver Josh Gordon. Thus, when Lombardi was hired, Gordon playfully tweeted out, "Uh oh.. Am I in trouble??"
Lombardi hasn't only antagonized the players that he has spoken about. The first time that he was in Cleveland, from 1990-95 as the director of player personnel, he also made enemies with some in the media and some of the fan base.
"Yes, he got criticized. But I don't think anybody would deny that whether people are for him or against him, he's a lightning rod at the moment,'' Banner said. "It attracts a lot of attention, and it gets a lot of strong reaction, and I think it's better for us right now and better for him to keep things calm, low key, focus on his work and then kind of more gradually let that situation take care of itself in terms of his availability to you all."
But … but … who are we going to blame if things go to hell in Cleveland?
"You can blame me," Banner said. "There won't be a shortage of someone to hold accountable. This is gradual and I think makes more sense obviously from our perspective to kind of let this happen. Evolve into it as opposed to jumping into it.
"He's not going to be hidden. He's not going to be somebody over time you won't have an opportunity to talk to. But as I say, there are certainly no accountability issues. I'm sitting here, and you can hold me accountable for whatever we do."

For more NFL news, rumors and analysis, follow @EyeOnNFL on Twitter, and subscribe to our Pick-6 Podcast and NFL newsletter. You can follow Josh Katzowitz on Twitter here: @joshkatzowitz.
Breaking down why the underdogs are very dangerous against the Patriots

All of the information you need to know about the 2018 Super Bowl

Here's all the details you need to know on watching Super Bowl LII between the Patriots and...
No one wants to give the Eagles any respect

Here's a look at the NFL's entire postseason schedule for 2018

Here's everything you need to know about Super Bowl LII