Browns thought Manziel was turning a corner before his latest slip-ups
Manziel's time in Cleveland looks like it'll come to a close, but it wasn't long ago that the Browns thought he'd shown the proper growth.
The Cleveland Browns are reportedly "so done" with Johnny Manziel in the wake of his latest transgressions -- sipping on Four Lokos on video, heading to Las Vegas (and wearing a blonde wig and fake mustache?) the Saturday night before the team's season finale against the Steelers and not showing up for a Sunday morning check-in with the team doctors, getting stopped for a traffic violation Saturday morning, showing up during the week prior to the game looking "disheveled and unkempt," and possibly more -- to the point that owner Jimmy Haslam alluded to the fact that the team has the No. 2 pick in the 2016 draft when asked about Manziel's future with the team. 
But it wasn't all that long ago that a bunch of people within the Browns' organization thought Manziel was turning the corner, per a report from ESPN.com. As recently as the team's Week 16 game against the Kansas City Chiefs, there were some that thought Manziel was the future of the team's quarterback position.
After that game, safety Donte Whitner proclaimed, "I think we have a starting quarterback for next year," per ESPN. Head coach Mike Pettine, who was fired shortly after the team's season finale, said of Manziel after the loss to KC, "I think he took a step forward."
A couple weeks before that, even, during a game against the 49ers, the Browns felt he was making progress.
But Manziel is locked in. He completes passes of 8 yards, 9 yards, 23 yards to start the game. He slaps his hands together in frustration when he misfires on third-and-9. The Browns are up 10-3 in the second quarter when he's chased toward the sideline. Manziel throws across his body, is intercepted by Jaquiski Tartt and is so angry at himself that he slams a blue Microsoft Surface tablet against his head repeatedly.

It was a play the Browns had talked about during the week, and it went down exactly how they expected, minus the interception. Browns quarterbacks coach Kevin O'Connell, sensing his frustration, calls down to Manziel. "How's your head feel?" O'Connell asks.

"It hurts," Manziel replies.

O'Connell will later say that the incident was actually a sign of growth. Manziel recognized his mistake and learned from it. He throws for 270 yards, and the team seems energized. A defense that has put up only 17 sacks in the first 12 games collects nine against San Francisco, and the Browns win 24-10.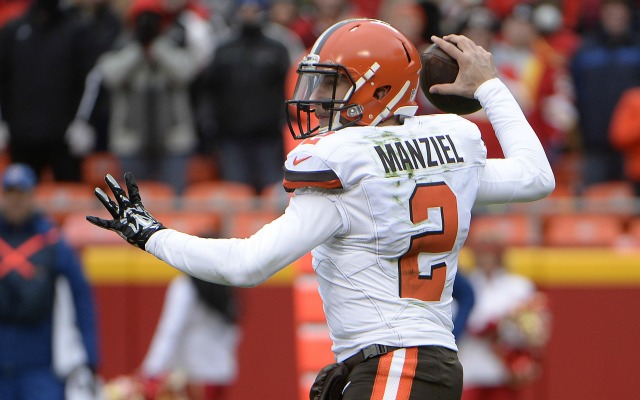 Josh McCown, whom the Browns signed in part to be their starter and in part to mentor Manziel, echoed McConnell's sentiments. "He wants to win, and he's going to play hard, and he's going to lay it out there for his guys," McCown said. "You bang your head against the Surface (tablet) because you put in so much time during the week. It bothers him because he cares."
Even Joe Thomas, one of Manziel's harshest critics last season, seemed to think Manziel had shown some degree of maturity and improvement. "His dedication was never questioned between the stripes on the football field," Thomas said. "But when you're in the NFL, winning doesn't just happen when you cross the white stripe coming out of the tunnel. Winning happens during the week when you're watching film, when you're studying your playbook, when you're practicing a certain way. And at times last year, he didn't show that commitment to winning and the competitiveness you see on the field, off the field. But this year he is."
And then everything that reportedly happened last week reportedly happened, and it sure looks like Johnny Football's time in Cleveland might now be up. But don't worry, Jerry Jones and the Cowboys are apparently ready to give him -- or at least, because Jerry doesn't want to incur tampering charges, someone like him -- a chance, because of course they are.
Here's an up-to-date look at the 2018 Pro Bowl roster

New England is 3-0 wearing white in Super Bowls under Bill Belichick

Bettors are favoring the Eagles to keep Super Bowl LII close, but the Patriots remain clear...
No one wants to give the Eagles any respect

The three-time Grammy winner will sing before Super Bowl LII on Feb. 4

Here's a look at the NFL's entire postseason schedule for 2018