Bruce Arians' Cardinals have sights on making Super Bowl history
No team has ever played a Super Bowl in its home stadium. The Arizona Cardinals seem to think they'll be the first.
More NFL: Photos |  Videos & GIFs |  Training Camp updates | Manziel watch
GLENDALE, Ariz. -- No NFL team has ever played a Super Bowl in its home stadium. The only team that can do it this season is the Arizona Cardinals, with a coach who has already publicly said that it's more than possible.
"There's no reason we can't be the first team to play a home Super Bowl," Arians said in March at the NFL annual meeting. "Absolutely no reason."
When pressed on it, Arians didn't flinch or back down. That's why his players love him.
Arians isn't your typical NFL coach. He didn't get his first head-coaching job until he was 60. He does things his way, such as honestly giving out injury information, a rarity in the NFL. So it's probably not a shock he isn't afraid to prop up his football team in public like he did in March.
"He's one of a kind," Cardinals running back Andre Ellington said. "That [saying it] should tell you all about him.  He's confident in everything he does. That swagger that he presents rubs off on the team. We play with confidence."
"We believe it can be us," Cardinals corner Patrick Peterson.
Believing it and claiming it are two different things.
"We can do it," Peterson said.
It would mean coming full circle. After years of training up in Flagstaff, the Cardinals now hold their camp at their University of Phoenix Stadium. So it would mean starting the year on the same field they would end it if they were to make it to the Super Bowl.
You get the idea this team really believes it can. It is a team that went 10-6 a year ago, but failed to make the playoffs. The Cardinals went 6-2 down the stretch, and beat the Super Bowl-champion Seattle Seahawks, 17-10, in Week 16 and then lost a tough one, 23-20, to the 49ers in the final week.
Those two games will give the team confidence heading into this season because many consider the Seahawks and 49ers to be the best two teams in the league. So to even talk about playing a Super Bowl at home seems illogical when you look at the power of the NFC West. The bullies are in that division, but this is a Cardinals team that thinks it can do some bullying of its own.
The Seahawks-49ers talk doesn't seem to bother this group. When the late victory in Seattle is brought up to Ellington, he said, "We didn't even play a good game."
Last summer, the Cardinals had a new coach in Arians, a new quarterback in Carson Palmer and a lot of questions. They lost two of the first three and then were 3-4 and seemingly going nowhere before they turned it around.
A lot of the younger players now have matured and there is a lot of talent on both sides of the ball. That doesn't mean there aren't questions, but you sense they think they are ready for more.
"We have a certain swag that we didn't have at this time last year because we saw ourselves do it," Palmer said.
They've upgraded on the offensive line. They should be explosive on offense with Ellington, Michael Floyd and Larry Fitzgerald joined by rookie receiver John Brown, who has showed off his explosive speed the first few days of camp.
The defense has added corner Antonio Cromartie to go with Peterson, who I consider the best in football. There is the issue of pass rush with John Abraham away from the team after his recent DUI arrest in Georgia, but he is expected back at some point.
Add it all up, and that's why Arians can make the claim about playing at home in a Super Bowl.
"That's who he is," Peterson said. "We believe in what he says. It's so different here now with him. He is so confident and we feed off that."
Consider Seattle and San Francisco warned. There might be a tough guy ready to take on the bullies of the division.
One thing is for certain: They aren't going to just back down and take it anymore.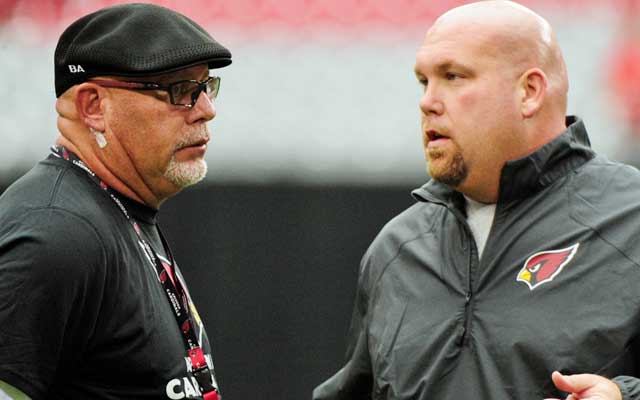 The Vikings' receiver is wearing his heart on his foot

The Ravens need help on the offensive line after dealing with injuries and a surprise reti...

The new Dolphins quarterback offered high praise for his receiver after his first preseason...
LeSean McCoy was probably a pretty popular person in the Bills locker room on Thursday

Kaepernick is unsigned, but he is continuing to make waves off the field

A report Friday said that Bell's agent agreed to a five-year deal right before the deadline...