Buccaneers cut Josh Freeman, zero players left from 2009 draft class
The Tampa Bay Buccaneers 2009 draft class is now a distant memory after the team cut quarterback Josh Freeman, leaving no one from 2009 left on the roster.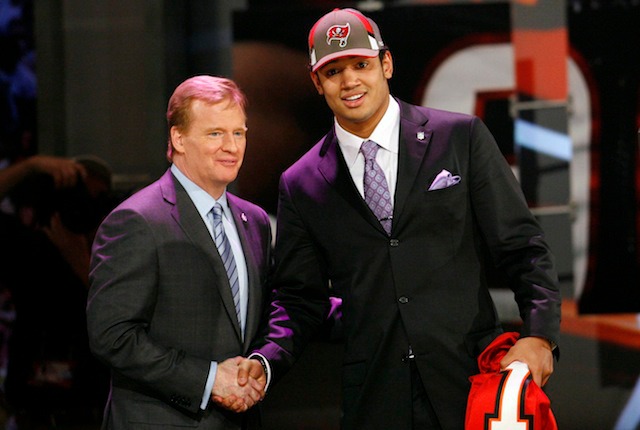 When the Buccaneers cut Josh Freeman on Thursday, they didn't just end the Josh Freeman-era in Tampa Bay, they closed the door and nailed it shut on their 2009 draft class. That's right, with Freeman gone, the Buccaneers now have zero players left on their roster that they drafted in 2009. 
Freeman was one of six selections the Bucs had in the 2009 NFL Draft. Tampa Bay had one pick in each of the first-, third-, fourth- and fifth-rounds and two picks in the seventh-round. 
Of the the six players drafted, only third-round pick Roy Miller and seventh-round pick E.J. Biggers remain on NFL rosters. Miller, a defensive tackle, started in 34 games for Tampa Bay from 2009-2012, but left the team in March to sign with Jacksonville. 
Biggers also left the team in March when he signed with the Redskins. Biggers, a seventh-round pick, started 24 games at cornerback in his Tampa Bay career. 
Another seventh-round pick, wide receiver Sammie Stroughter, spent four seasons with the team (2009-12), but wasn't re-signed after last season. 
Fifth-round pick Xavier Fulton only lasted one year in Tampa Bay. Fulton tore his ACL during the 2009 preseason and was later cut before the 2010 season started. The offensive lineman's football career isn't over though, he's currently up in Canada playing for the Saskatchewan Roughriders. 
Finally, there's fourth-round pick Kyle Moore. The defensive lineman played in a total of 15 games over two seasons for the Bucs before being cut in 2011. Moore went to training camp this year with the Bears, but was cut in August. 
The 2009 NFL Draft was current Buccaneers general manager Mark Dominik's first draft with the team. Dominik was hired in January 2009. Dominik wasn't the only first-timer in the Bucs war room, then-coach Raheem Morris was going through his first draft as an NFL head coach. 
The Blair Walsh revenge game got out of hand

The Seahawks just took a serious hit to their offensive line

Let's call it the Blair Walsh revenge game
Jeremy Lane also stood near Bennett along with pass rushers Cliff Avril and Frank Clark

Bennett also dedicated it to 'all of the other athletes using their platform to promote ch...

The Patriots quarterback shows commitment from Day One