Buccaneers QB Josh Freeman likely to seek a trade
As the rift between Josh Freeman and the Bucs grows, Jason La Canfora expects the young QB to request a trade in the coming weeks.
• 3 min read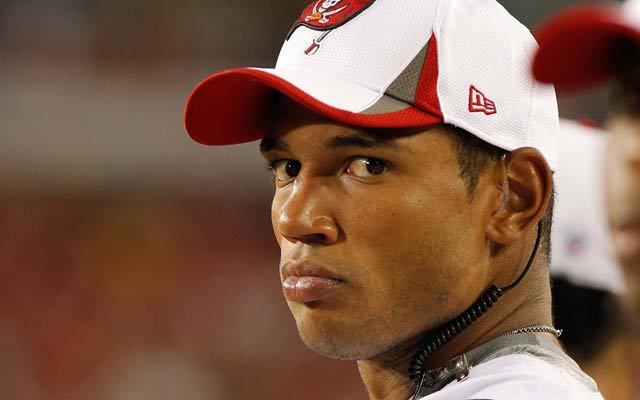 With the relationship between Tampa Bay Buccaneers starting quarterback Josh Freeman and coach Greg Schiano seen by league and team sources as beyond repair, Freeman is likely to ask for a deal ahead of next month's trade deadline. Schiano, whose tenure already stands at a perilous point despite coaching just 17 NFL games, further alienated the quarterback by revealing why he was absent for a team photo, and the lack of trust between the men has long been no secret in that locker room.
Furthermore, several executives on other clubs believe Schiano's refusal to ever really endorse Freeman is an attempt to undermine general manager Mark Dominik, who drafted Freeman in the first round prior to Schiano's arrival from Rutgers and who has also worked diligently to add talent to that roster in recent years. Many around the league believe Schiano would like to have full roster control as well, viewing Freeman -- who threw for over 4,000 yards and nearly 30 touchdowns last year -- as a pawn in a would-be power struggle.
Tampa's drafting of quarterback Mike Glennon in the third round this spring -- Glennon is clearly seen as "Schiano's guy" within the organization -- is just another indication that Freeman's future is elsewhere. In the final year of his rookie deal, with his value being undermined by the head coach, and with the Bucs making no attempts to extend him, a trade request by Freeman is one of few options available to the youngster.
Freeman has been as good as any quarterback in the NFL for stretches at times, but has also struggled with consistency, Still, with his position still in need and him standing 6-5 with some unique athletic traits, a big arm, and still just 25 (younger than Colin Kaepernick and Andy Dalton, for example), there is surely a market for the player, though the Bucs would likely seek a lot in compensation should they actually shop him.
Of the teams in need of a quarterback upgrade, Minnesota, Tennessee and Oakland leap to mind as potential candidates for a trade, though the possible strength of this upcoming college quarterback class could mitigate demand via trade. Still, it wasn't that long ago Carson Palmer was dealt from the Bengals to the Raiders in-season. So while it is hardly a regular occurrence in the NFL, there is some precedent.
Freeman is just entering his prime and set most of Tampa's single-season quarterback marks a year ago (he also holds many of the all-time franchise marks). Through his first four years in the NFL, he has thrown for more yards, more touchdowns and less interceptions than Joe Montana and John Elway, to name a few, and fewer interceptions (18 fewer) than Peyton Manning. And, furthermore, Freeman has done it despite playing with a new coordinator almost every year. And his win-loss record would look decidedly better if not for the 10 fourth-quarter leads Tampa has blown since he arrived.
Freeman, it should be noted, was not the problem in Tampa's woeful Week 1 loss at the Jets. He actually rallied the team to take the lead in the fourth quarter, only for Schiano's defense to once again display its issues with discipline as Lavonte David's personal foul allowed the Jets to kick a game-winning field goal with time expiring. Four times last year Freeman rallied the Bucs late, only for that defense to hand the game away. The timing of Schiano's remarks about the quarterback this week were seen as curious by several rival team officials. Officials perceived the remarks as a diversionary tactic to get the local media writing about the quarterback instead of about another collapse by Schiano's defense. A defense reinforced this past offseason with the arrival of Pro Bowl corner Darrelle Revis and Pro Bowl safety Dashon Goldson  
Schiano has struggled to connect with his players, sources said, and is seen as being inflexible and rigid, characteristics that players are generally more willing to endorse if the coach has a pedigree of winning at this level (like Bill Belichick). But Belichick is also not known for talking publicly about his quarterback, of all people, the way Schiano has, and the Bucs situation -- which also includes players contracting MRSA at the team facility, and them bristling at the way Schiano characterized their condition afterwards -- could well further implode.
Perhaps it will do so without Freeman on the roster, as the situation between him and the coach is likely to continue to fester, with a formal trade request expected.
In the past week, Marshawn Lynch and Michael Bennett have both sat during the national ant...

As expected, the internet had jokes about the Chick-fil-A at Mercedes-Benz being closed on...

Harrison is the franchise's all-time leading sacker, but J.J. Watt's brother will get the starting...
More than 17 percent of fans say they would never consider dating a Pats fan

Brady said that his lack of speed is why he fell so far in the draft in the first place

If Thomas is right, that means it's bad news for DeShone Kizer's chances of starting early