Bucs camp observations: Schiano is easing up some
After a first season tightening up a loose ship, second-year coach Greg Schiano changes his ways. He won't be loose, but there are changes.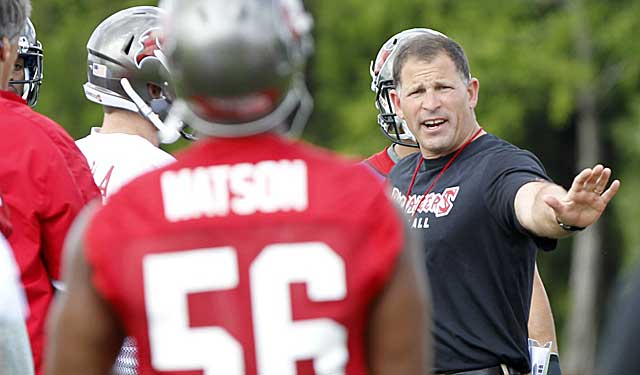 TAMPA, Fla. -- When Buccaneers Greg Schiano took over the Bucs in 2012, he inherited a team that needed discipline in the worst way. The ship was loose under previous coach Raheem Morris. So Schiano instilled his ways. Players had rigid times for everything: Eating, interviews, lifting, everything. Now as he enters his second year, Schiano has eased up some. Players used to have to sign in for every meal. Not anymore. He trusts his players more. He believes in them.
"If they don't go eat, they'll feel it out there," he said pointing to the practice field.
I told him how when Tom Coughlin was coach of the Jaguars his first year he beat his team to death. In the second year, he eased up some.
I also told Schiano about a story involving Coughlin and donuts in his second season. One Saturday, the players were eating donuts in the locker room when Coughlin sat down. One by one, the players got up and left, leaving Coughlin alone. Coughlin later said it was a turning point of sorts for him. Schiano, who reminds me of Coughlin, seemed to take in that story. It will be interesting to see how he eases up now as he gets to know his team better. I can tell you this: He definitely thinks he has more of his guys on this roster.
• The Bucs spent a ton and gave up a ton to get corner Darrelle Revis from the Jets. But they also spent big to land free safety Dashon Goldson from San Francisco to pair him with second-year player Mark Barron. That sounds good, and it looks good on paper, but I see two safeties who are better against the run than they are against the pass. Both have strong safety looks about them. Goldson had trouble against Atlanta in the NFC title game with passes going over his head. I always thought his aggressive nature worked against him with the 49ers. He's an upgrade from Ronde Barber, but the Bucs have spent a top-10 pick and a big-money deal to land two safeties whose strong points aren't against the pass in a pass-happy league.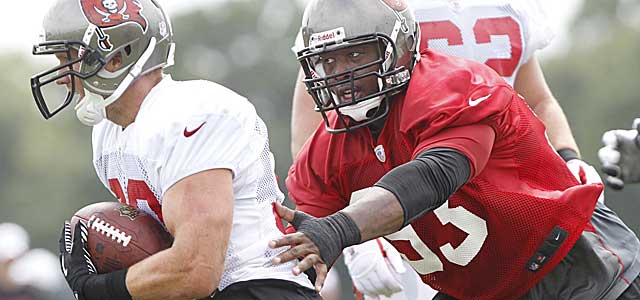 • Bucs defensive tackle Gerald McCoy, who had his breakout season in 2012, reported to camp significantly slimmer than he was a year ago. McCoy won't give out specifics on his weight, but he looks to be about 275 pounds, down some 20-25 pounds. Schiano said he's OK with the weight loss, and McCoy indicated to the coach that he could handle it. "I got reports this summer he was running with a helmet and a weight vest," Schiano said. "He tells me that's the way you play the game. Why would you train in shorts and a t-shirt? I love it." Schiano also said that if McCoy can't handle the doubles, he will be asked to gain back some of the weight.
• Keep an eye on Tampa Bay's third-round pick Akeem Spence. He is likely going to start next to McCoy. Spence played well in 2011 at Illinois, but tailed off last season. The Bucs are raving about his strength in the weight room. "He may be the strongest guy on our team," Schiano said. "I want to see him in the fire."
• The Bucs have two top-level receivers in Vincent Jackson and Mike Williams, who just agreed to a contract extension this week. But it appears there will be a new No. 3 receiver. Kevin Ogletree, who comes over from the Cowboys as a free agent, is the likely No. 3. He should be an upgrade over all the players who were used in that spot a year ago.
• The Bucs are lacking at tight end. Dallas Clark, the starter a year ago, is gone. That leaves an open competition from a group that is underwhelming to say the least. Luke Stocker, the projected starter, is on the PUP list. That leaves Tom Crabtree, who comes over from Green Bay, Zach Miller and Nate Byham as the tight ends in the mix. Like I said, it is an underwhelming group. You wonder if there won't be a few moves made at this spot when cuts are made from other teams.
• The Bucs have to get pressure from their defensive ends. But Adrian Clayborn, their best pass rusher, is coming off an ACL injury, which landed him on the PUP list. The Bucs expect him for the opener. Da'Quan Bowers has a ton of talent, but he has to be more productive than he was his first two years when he had 4 1/2 sacks. Those ends will make life a lot easier for the secondary if they can get some pressure. If not, even a top-notch secondary won't matter.
• Running back Doug Martin looks even better. After a sensational rookie season, Martin is running even better than a year ago. His patience is better. He is setting up his blocks better. The Bucs have a star back on their roster. Expect him to be even more involved in the passing game too.
There, I said it
• The Bucs will regret not giving Josh Freeman a long-term deal before the season.
• Tampa Bay will push for a playoff spot.
• The Bucs fans are on the clock. Buy tickets this season, or else.
• Darrelle Revis will be good. Not great.
• Schiano will regret doing the attack on the kneeldowns at the end of games. Why? He can't turn back now, even if he wants to do so.
John Elway addresses the Broncos' major need at quarterback by drafting the Oklahoma State...

The QB carousel could spin more than usual in 2018 with some big names likely on the move

The Pro Football Hall of Fame is one step closer to announcing the Class of 2018
Grab some turkey and get ready for this NFC North showdown

SportsLine's top NFL and college football experts pick a 4-team parlay that pays 10/1

After an epic collapse against the Saints, the Redskins are hoping to right the ship