Bucs, Dolphins in position to add diversity to NFL front offices
New Bucs coach Lovie Smith will have a large say in hiring the team's next GM. There is no shortage of qualified black candidates. The Dolphins need to pay attention, too.
• 6 min read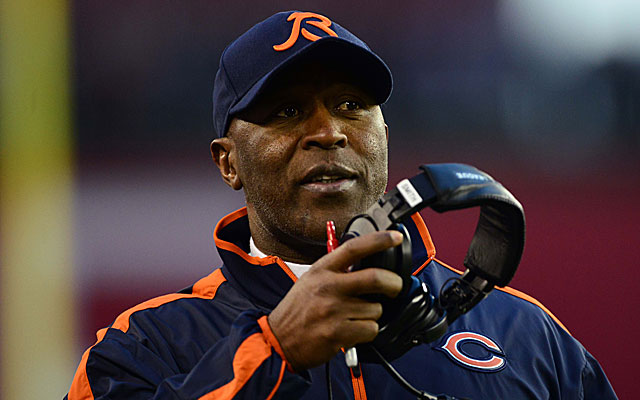 Much is made about the NFL's lack of diversity in its coaching ranks, an obvious problem that apparently has no easy solutions. Far less talked about is the league's whitewash in its front offices, with white males almost exclusively the final decision maker for their team.
The lack of African-American general managers is striking, and with so little movement thus far in the management ranks and only two current openings, it's hard to see much changing in the near future. As it stands, the fate of one, in Tampa Bay, will be to great degree in the hands of newly hired head coach Lovie Smith, himself an African-American. And the Dolphins, playing in the multi-cultural tapestry of South Florida, have not gotten much right under owner Stephen Ross, and it would behoove them to conduct a GM search that reflects the community they represent.
While it would be ideal if we were in a post-racial NFL, with a full spectrum of representation in positions of power and no need to count coaches and GMs along color lines, sadly we aren't even close. So, fairly or not, many in the coaching and front office community will be watching closely to see who Smith in particular is aligned with as his general manager, and whether he quickly goes with a candidate he might already know and be close with, or whether he meets with multiple candidates, including some of the many highly qualified African-Americans.
The Tampa Bay process is already complicated by the fact that Smith will have final say over all matters in football operations, so this GM will not have the final word on trades and draft picks. Thus, per NFL rules, teams could block candidates already under contract from interviewing. Smith has long considered Chiefs pro personnel director Chris Ballard, whom he knows well, for this job. Ballard spent 12 years with the Bears, where he worked with Smith -- 11 as a college area scout and one as director of pro scouting. Now in his role in Kansas City for only one season, the Chiefs could opt to retain Ballard's services.
As for the Dolphins, do they reach back for someone like Mike Tannenbaum or Scott Pioli, who have ties to some in their front office, or do they turn over the reins to a new, fresh voice as Ross aims to finally have at least a winning season, if not a playoff berth (Dolphins assistant GM Brian Gaine would be an internal candidate worth strong consideration). If any organization needs some new blood, with the Jonathan Martin/Richie Incognito thing the latest unusual event to tarnish the once-sterling franchise, the Dolphins are certainly right there.
In conversations with current and former NFL execs, some of whom happen to be African-American, at a time when there are only six black GMs in a 32-team league, and coming off a 2012 in which several African-American coaches were fired (Smith included), and eight white males filled all vacancies -- to say nothing of the firing of African-American GM Rod Graves in Arizona -- I can assure you all eyes are on these GM searches and how thorough and diverse they will be.
While the debate continues about what exactly the NFL could and should be doing to address this dearth, beyond just the Rooney Rule, the larger reality is there is no shortage of black candidates and Smith would be remiss not to explore them. Here are merely a few:
Lionel Vital, Falcons director of player personnel: Vital is a former NFL player, he has over 20 years of scouting and personnel experience, and has helped find players for some of the premier organizations in the NFL, including the Patriots and the Ravens. He has been a part of multiple Super Bowl franchises and has spent the past six years under Atlanta GM Thomas Dimitroff, who continues to develop top personnel execs who go on to become GMs (Les Snead to St. Louis and Dave Caldwell to Jacksonville most recently). Vital began his scouting career in Cleveland under Bill Belichick, and was with him in New England from 2000-04, in college scouting, and thus has vast experience on the pro and college side. And he knows Smith's division, the NFC South, inside and out from his time in Atlanta.
Morocco Brown, Redskins director of pro personnel: Brown was one of the few people at Redskins Park whom departed coach Mike Shanahan seemed to trust and respect, but in that totalitarian regime, opportunities for input were limited. Redskins GM Bruce Allen wants to retain Brown, and as of now he is the most experienced pro talent evaluator at Redskins Park. So Washington could fight his move if it desired, but Brown is qualified, with him leading advanced scouting of opponents, and evaluating free-agent and trade prospects already. He has been with the Redskins since coming over from Chicago in 2008. He spent seven years moving up the ranks with the Bears and he is thought of highly by his peers for both his acumen and attitude.
Ray Farmer, Browns assistant general manager: Farmer is a former NFL linebacker who completed his first season with the Browns after a long stint in Kansas City having a key role in player personnel. He has received consideration for GM jobs in the past. Before that, he served as a pro scout in Atlanta for three years. He is a product of Duke University and, still under the age of 40, he has impressed many GMs and team presidents with his sharp eye and understanding of team-building concepts.
There are plenty of other younger guys on the rise, like Will Lewis (Chiefs), Lake Dawson (Titans) or Jimmy Raye (Colts). Furthermore, at the other end of the spectrum, former Bucs personnel executive Doug Williams has a lifetime of experience as a player, coach and evaluator, he knows the team and the area very well and would be another highly qualified candidate for a role in the scouting/personnel department or as a top adviser to Smith, in particular. The options are by no means limited. Smith need merely call over to John Wooten at the Fritz Pollard Alliance to get a detailed and diverse list of men up to the job.
At some point, it would be refreshing if the boardrooms of the owners meetings and GM meetings and head coaches meetings resembled, at least somewhat, the demographics of the average NFL locker room.
Some progress has been made, ever so slowly, but not at all the past few years. If anything, it has been reversing, and, for now, in terms of GM jobs, Smith has the only game in town. Considering that GM jobs usually produce a much longer regime than that of NFL head coaches -- in fact, the general manager often gets to hire two or three coaches himself -- this can have a lasting impact on the league's diversity at both the coaching and front office level. 
Given Smith's lack of an evaluating pedigree, and the degree to which this new job will stretch him, he will need all the help he can get. And given the plight of the Dolphins under Ross, change from the outside is mandated.
The 3-7 Broncos are not in a good place right now

This young fan wins Thanksgiving

Pete Robertson ran a downed punt into the end zone, costing his team 13 yards
The Chargers are finally looking like a playoff team after a 28-6 win over the Cowboys on...

The Vikings, led by Case Keenum, are one of the NFL's best teams

The Vikings' pass rusher revealed the latest addition to the family after sacking Matthew...