Bucs go bold in free agency and score big under new management
The Bucs' new duo of Jason Licht and Lovie Smith agreed: their roster needed an overhaul. Going big and bold in free agency accomplished that.
• 11 min read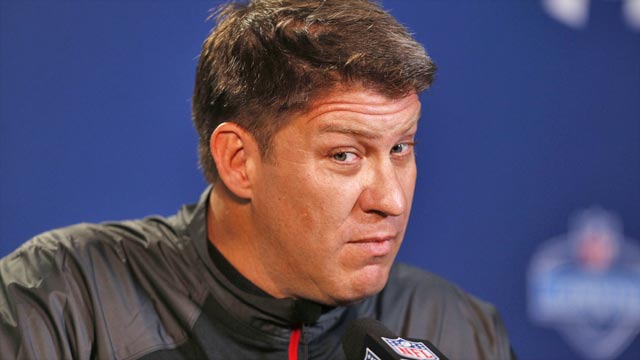 More NFL offseason: Mock Drafts | Prospect Rankings | Pro Days | Top free agents
Jason Licht knew he would be busy. Crazy busy. And he prepared for a whirlwind rush unlike anything he had ever experienced in his professional career.
The rookie general manager of the Tampa Bay Buccaneers was as mentally prepared as he could be for the first week of free agency, and, after weeks of consultations with his staff and coach Love Smith, Licht braced for some never-ending days and long nights as he sought to remake his team's roster on the fly. If he was going to put the organization's plan into place -- ultimately parting with perennial Pro Bowl corner Darrelle Revis, signing a few top-of-the-line free agents on defense and reconfiguring his club's offense line all at once -- it would take no small amount of guts, and a bold streak befitting two of his team-building mentors, Patriots coach Bill Belichick and Cardinals GM Steve Keim.
And, as we stand just over a week into the NFL's free-agency period, with the first wild wave of signings and trades complete, Licht has done his teachers quite proud. No team has been as active as the Bucs, and, the first-time decision maker has been cool under fire, showing the requisite aggression when necessary as well as a steady pulse and patient bent when needed, with every negotiation taking on its own ebbs and flows. Licht had the gumption to part with Revis after worthy trade offers failed to materialize and also parted ways with offensive line mainstays Donald Penn and Davin Joseph within weeks of taking over the team, and, at the same time signing a host of free agents to team-friendly deals -- quarterback Josh McCown, defensive lineman Michael Johnson and Clinton McDonald, Pro Bowl corner Alterraun Verner, offensive linemen Anthony Collins and Evan Dietrich-Smith, linebacker Dane Fletcher, and tight end Brandon Myers -- while re-signing offensive line Jermon Meredith and linebacker Jonathan Casillas.
It was quite the haul, in all, in a very short period of time, and with some order and normalcy restored at the Bucs training facility, Licht is quick to joke about how mundane things are these days (while readily admitting his work is anything but done).
"Really, I've been bored these last few days," Licht deadpanned, reflecting on a wild beginning to his tenure, and then quickly acknowledging that his team is far from done evaluating free agents, preparing for the draft and mulling trade possibilities as well. "But in reality, part of our plan to do this was to make a lot of changes to upgrade our roster -- starters and depth -- and we knew that in order to do that it was going to be frantic and frenzied, and we had to have a lot of balls up in the air at the same time. I can't say it was surprising, no, because that was part of our plan."
Trust me, he has been anything but starved for action.
Since being hired Licht and Smith have crafted a plan that has required assistance from varied members of the football operations and coaching staff. Not wanting to hand anything to second-year quarterback Mike Glennon, the front office looked for ways to add competition and quickly honed in on McCown, who played previously for Smith. With Revis -- a press-man corner -- not the greatest fit in Smith's cover-2 zone scheme and carrying a massive $16M salary, Licht had long debated whether it be best to turn that singular investment into multiple starters should be the corner be let go. And, with the bulk of Tampa Bay's offensive linemen nearing the end of their contracts, their age becoming advanced and their production in decline, Licht and his staff decided that being proactive now rather than reactive later was the appropriate action to take.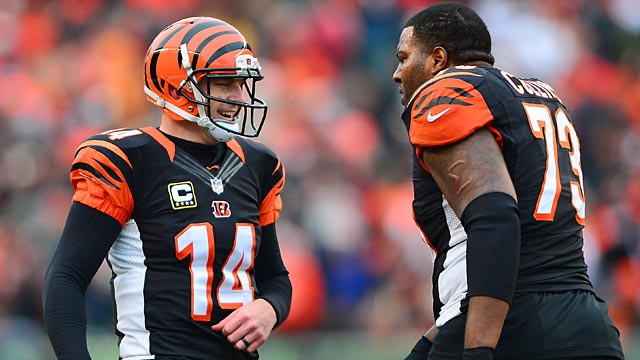 Orchestrating all of that, simultaneously, required a group effort, and Licht quickly learned the need to delegate and aggregate.
"We had eight, nine or ten irons in the fire at once," Licht said, "and we were working on all of them at the same time. It required a lot of teamwork ... from the coaching staff, and obviously Lovie, and from myself and the scouting staff. One of the hardest things I had to learn to do in my first year in the chair was delegating. It's not hard because you are picking someone you hired and trust to do something, but I was always the person in a role before doing an assignment -- here is your task, do this -- and now you are in charge of all 10 of these tasks and the only way to do it is to trust the people working with you and for you, and after having to do that initially it got easier and easier."
Smith and Licht had to be simpatico from the start, and they have been so far. Never is that more important than at the quarterback position, and Smith was very comfortable with McCown coming in as a veteran and getting first shot at the starting job. Licht and Smith both believed Mike Glennon, for all he flashed as a rookie starter in 2013, would benefit by competition and perhaps the chance to learn from osmosis. Licht was willing to give McCown, coming off a superior 2013 in Chicago, a deal that could max out at $15M over two years. That's no small investment.
"Lovie expressed his belief in Josh's ability to start at the press conference (when McCown was signed), but that does not mean we are giving up whatsoever on Mike Glennon," Licht said. "Because we believe on our staff that Mike has tremendous upside, and probably the best thing that can happen in for Mike is for Josh to be here and for us to continue to develop Mike's upside."
In a perfect world, Licht would have secured a draft pick for Revis, but, as Tampa reached its deadline last week for having to pay the corner a $1.5M roster bonus, as well as send the Jets a third-round pick in 2014 (instead of a fourth-round pick if Revis was no longer on the Bucs' roster), it became clear to other clubs that he would simply be released. Many GMs assumed Revis would land in New England on a short term deal worth about $12M -- he did just that -- and while Licht did speak to a few teams (Cleveland and Oakland among them), Revis' desire to go to a winning team and his unwillingness to restructure his contract made a trade difficult, according to league sources.
"We prepared for both scenarios -- keeping Darrelle and parting with him," Licht said, "and it really came a little bit closer than what many might think. But we prepared for both scenarios and we were willing to go with either scenario, and we felt like either way we were going to have a better football team, whether it's with Darrelle or without Darelle. We still had a couple of moves that we could have made with him, but obviously we had a lot more flexibility to make roster moves with his release."
As for the trade options, Licht said: " ... we had several discussions and it just never happened. But there were several discussions."
This dilemma alone would be daunting for any GM, much less one who had never been through the rigors of the job before, and the move to retool the offensive line, and part with some long-time stalwarts, took some chutzpa as well. Both Penn and Joseph had been a part of some strong units in the past, but the Bucs, in the new regime's estimation, had become too vulnerable at the point of attack last season, and major changes would be best be in order now. It would have been easier to let some of these veterans play out their contracts, perhaps, but instead Licht recommended immediate action.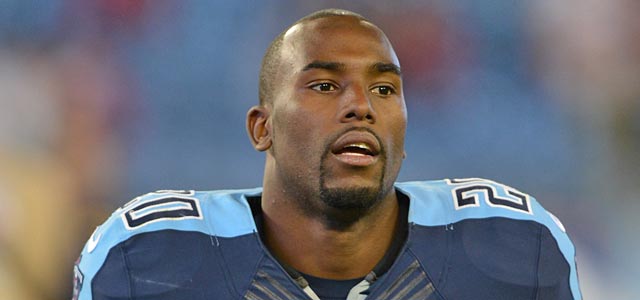 "There were two things that really went into it," Licht said. "Number one, both Lovie and I shared the same philosophy that you build a team from the front to the back. And number two, we thought that this year, with it being the first year for the coaching staff and Lovie and myself, that if we wanted to inject younger, fresher blood into those important positions. We wanted to all grow together and we felt like these players added -- Evan Dietrich-Smith, Anthony Collins -- were young, hungry guys that were chomping at the bit to show they were top players at their positions, and we wanted to have them as part of what we were building here."
Amid all of the change, however, Licht also recognized what the prior regime in Tampa, under former GM Mark Dominik, did best. Specifically, with the structure of contracts. In recent years the Bucs had acquired stars like Revis and receiver Vincent Jackson on what were essentially a series of one-year, pay-as-you-go contracts, with the players getting very high annual compensation, and carrying significant cap numbers, but getting no money up front and having to earn their deals every year.
In other words, they received no signing bonuses and their fully guaranteed money was tied up primarily in the first year of the deal. So, if things did not work out due to injuries or production or just the overall market at a player's position, Tampa could move in another direction without owing the player a chunk of money, and without future salary-cap ramifications. Rather than mortgage the future with big credit card payments down the line, and Bucs dealt much more with their fiscal realities in the here and now.
It was that salary structure that allowed Licht to part with Revis just one-year into a new contract with Tampa, and the Bucs stuck to it religiously this offseason, giving out no signing bonuses even to top free agents like Johnson and Verner, and most of those players signing what amount to one-year deals. Johnson, Myers, McCown, Collins, McDonald, Verner, Dietrich-Smith and Fletcher, combined are owed less than $45M in true guarantees, and none of those players received even $10M fully guaranteed individually.
With his owners, the Glazer family, already ahead of the curve in the way they balanced contracts, Licht wisely became a strong proponent of the system himself. "The way things were set up, it did make it easier to swallow when you part with of a player of Darrelle's caliber," Licht said. "And he did remain an asset and we were able to do lot of things after he was gone because of that, and I'm fully appreciative of the way Mark Dominik set up these contracts and I have a lot of respect for Mark in a lot of different regards.
"It's a structure that provides flexibility, and I don't think you ever want to make a decision down the road based on money -- whether to keep a player because of cash or cap. And you don't want to be forced to keep a player because it hurts you and if you are set up correctly, like the Glazers and the former regime have practiced, it just makes for better business."
The idea of no signing bonuses is an established precedent by now in Tampa, which works in the team's favor. And, having accomplished so much already in free agency, the Bucs don't have to lock in on a dire position of need in this very deep draft, and can instead focus on the best player available and continuing their upgrade across the roster.
Licht will continue to cull from the lessons learned studying under Belichick -- the venerable old guard of NFL knowledge and talent evaluation -- as well as what he gleaned from Keim, who made an immediate mark himself as a rookie GM last year. Licht is already crafting his own image as a bold, imaginative young executive, and thus far his execution has been deft and keen. The Bucs have been as forthright as any club in the NFL since the league year began, and with Licht culling the market for value signings and preparing for his first draft as a general manager, one gets the sense this franchise is not done making a splash.
"The two guys you mentioned [Belichick and Keim], I really look up to," Licht said, "and they've always been of the opinion that it's better to make a move a year too early rather than a year too late. And you also have to be bold and tell players the honest truth, and in our situation when it was time and we felt collectively that it was time move on in the best interest of the player and the Bucs, it afforded us the ability to go out and sign all these other players that we feel are either going to be starter or quality depth.
"And our roster in the past had been composed of a lot of upper class -- for lack of better term -- players in terms of compensation. And then a lot of the minimum types. And we felt like the middle class was ignored, and that was a part of our roster we needed to address now."
Thus far, I would say mission accomplished.
The study, published on Thursday, found that even at younger levels football can be danger...

The Eagles and Vikings have two of the best defensive fronts in the NFL

Starting left guard Stefen Wisniewski says the Eagles' success is about more than just one...
Kaepernick made the pledge in October 2016 in the middle of his campaign for social equali...

These prospects aren't first-round locks now but could be in for a rise after the Senior B...

Newman was the oldest defensive player in the league to get regular snaps this season