Bucs' Schiano, Freeman don't need to love each other, just win
After whispers of a rift between Greg Schiano and Josh Freeman, Pete Prisco wrote about it. Now he's at Bucs camp looking for an update, and the coach and QB put on happy faces.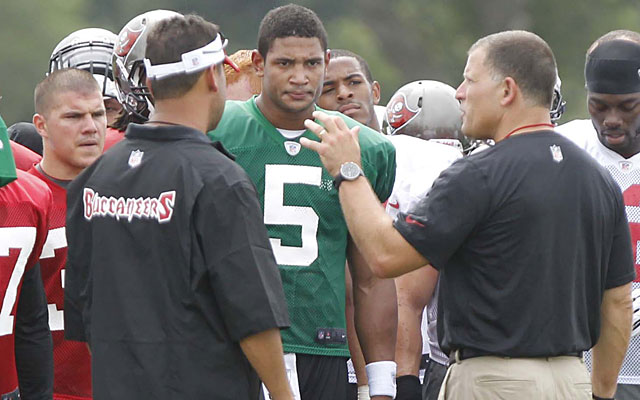 TAMPA, Fla. -- Does Tampa Bay Buccaneers quarterback Josh Freeman like coach Greg Schiano? Does Greg Schiano like Josh Freeman? Can they coexist? Can they win together?
During the offseason, I talked with several sources who said that the two didn't exactly get along in 2012. The way I understood it, Freeman lacked the fire in the belly that Schiano wants from the position, and Freeman sensed it from the coach. One is a coach with pent-up energy, nonstop, all-out all the time. The other is easy going. He is not exactly an in-your-face quarterback like others in the NFL.
I wrote something about the friction during the spring. From what I was told, it didn't go over well inside the building. So when I went to Tampa this week for training camp, it was going to come up. I actually brought it up.
And what did I find out? It sounds like the two men have actually formed a closer bond. Or at least that's what they're saying.
"We were close last year, but this offseason I spent a lot of time talking with him about a lot of stuff," Freeman said. "About life. We're really close.
"It's kind of funny, but when the article came out we had a good chuckle about it during the offseason. You wrote the first article, and then there was a trickle affect. I didn't even know the article was out. And I had friends telling me, 'Don't let your coach bully you.' I didn't even know what they were talking about. As far as I know, we're great. I think Coach Schiano would let me know if he had a problem. We have a straightforward relationship."
Schiano, sitting at a table in his office Thursday, seemed to chuckle some when I brought up his relationship with Freeman and the talk of tension. He focused on their time together this spring and summer getting to know each other a little better.
And what about the "fire in the belly" talk? Schiano said it's not an issue, even if Freeman isn't one of those in-your-face quarterbacks.
"They're not all going to be that way," Schiano said.
Schiano inherited Freeman when he became the Bucs coach before last season. The coach came from Rutgers, and he came with a disciplined approach to the game that Bucs players needed, but also seemed to chafe some as well. Freeman is California-style laid back. Naturally, there might be some growing pains, even if neither admitted to them.
The signs after the season pointed to the notion that Schiano wasn't a big Freeman backer. For one, at the scouting combine in February he said he wasn't married to him. Then Schiano backtracked and said he wasn't married to any player. What followed was the Buccaneers drafting Mike Glennon in the third round, and then Schiano praising the heck out of the pick.
The thing that stands out most about this relationship is the fact Tampa Bay has not offered Freeman a new contract. He is in the final year of his rookie deal, a five-year contract, and there is no sign of any extension coming. The Bucs can let it play out and put the franchise tag on him if he plays well, but that would be a huge cap hit. If he struggles, they can let him go as a free agent.
What I can't understand is why there isn't more appreciation for Freeman, not only by the fans, but also by the team. He threw 27 touchdown passes last season, five more than Joe Flacco, who won the Super Bowl. Schiano isn't the general manager, but he has a lot of input into the football decisions. General manager Mark Dominik drafted Freeman, so he is tied to him. But that doesn't mean he will just go out and throw a big deal his way.
"Regardless of whether I have an extension, it doesn't change anything for me," Freeman said. "I just try to be the best I can be. Try to get better. I am content living in the moment. Let everyone else speculate about next year. I know the type of player I can be. I am not worried about anything outside of that."
There are worse things than being a 25-year-old free agent if it came to that.
"You said it," Freeman said.
The Bucs obviously want to see him play it out, to show he's ready to earn the deal. They have to be concerned with the 39 interceptions he has thrown the past two seasons.
There are reasons. Freeman has had three different systems, three different coordinators and four different quarterback coaches. That can wear on a guy. The 2012 system featured option routes for the first time, which meant receivers reading coverage on the run and making their decision on the route. That led to miscues.
Against the Saints late in the season, Freeman threw four picks. Two of them were his fault. Two were the fault of the receivers.
"I've learned a lot of football, and seen football from a lot of different perspective and overall that has helped my knowledge of the game," Freeman said.
And being in the same system two years in a row should help.
"Today was Day 1, and if you look back to last year on Day 1, [this] was a lot crisper," Freeman said.
Now comes the big question: Will he be there on Day 1 of 2014? I find it almost impossible to think he won't be. He's 25. He has thrown a combined 68 touchdown passes the past three seasons.
He does need to get his completion percentage up and he has to stay away from the streaky moments. But I think he has what it takes to be a franchise passer. It's too early to give up on him, no matter what.
The coach-quarterback relationship seems to be thawing out. And I came away believing it. Schiano is a smart man. He knows if Freeman doesn't get it done, it could mean he's on the hot seat. If that happens, even warm, fuzzy talks in his huge office overlooking the team's practice field won't matter to either of them.
It's all about what happens on the field, friction or not.
Freeman might not be Schiano's handpicked choice, but they are both smart enough to know that for at least 2013 they are linked together -- no matter how they feel about each other, good or bad.
Check here for the latest news, rumors and updates for NFL coaching changes and searches

The Titans have tapped Texans defensive coordinator Mike Vrabel to take over as head coach

The government shutdown has come at a horrible time for NFL fans in the U.S. military
Bengals owner Mike Brown seems to be a huge fan of continuity

Our computer model simulated the AFC and NFC title games 10,000 times with surprising resu...

The people of Philadelphia now have two reasons to root for the Eagles this week