Bucs taking major risk with Revis
Trading for a shutdown corner is one thing. Trading for a shutdown corner coming off an ACL and paying him a big contract is another. That's what Tampa Bay is doing by acquiring Darrelle Revis.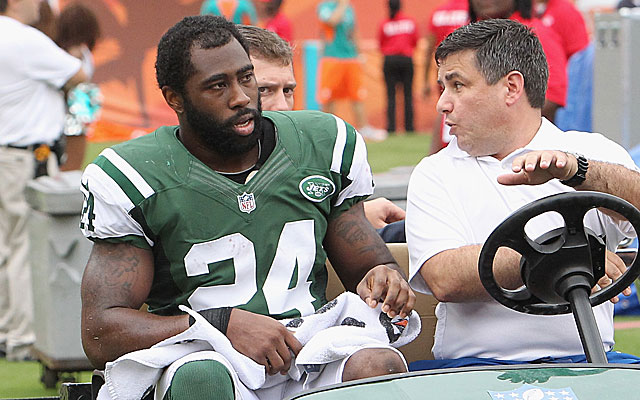 The pending Darrelle Revis trade from the New York Jets to the Tampa Bay Buccaneers can be reduced to this: young, healthy, cheap, inexperienced but talented vs. older, super talented, wildly expensive and injured.
I know which way I would lean.
The Bucs leaned the other way.
Tampa Bay is sending the 13th pick in the first round of this week's draft -- the young talent -- plus a conditional fourth-round pick (probably a third) in 2014 for the rights to sign Revis. They also signed him to a deal that will pay him $16 million a year for this season and for the next five. All this for a guy who turns 28 in July and is coming off ACL surgery.
Are you kidding me? 
When I asked five general managers if they would make the deal, they all replied with an emphatic no. They pointed at the risk of paying and trading to get a player coming off an ACL. Revis is in Tampa Sunday to take a physical, but a doctor's check of a knee won't tell them if he can plant and cut and do the things corners need to do.
"You have to trust your doctors," one Tampa Bay source said.
When healthy, Revis is special. But he's not healthy. No matter how the spin doctors -- see agents -- spin it, they can't for certain say he will be the same player.
He might be -- but no guarantee.
If Revis becomes a shutdown corner again, the Bucs will have a nice secondary with safeties Dashon Goldson and Mark Barron and fellow corner Eric Wright. But the Ravens won a Super Bowl with Cary Williams and Corey Graham starting at the corners.
It's a passing-pass rush league.
That's why even with Revis the Bucs will go nowhere if quarterback Josh Freeman and young defensive ends Da'Quan Bowers and Adrian Clayborn -- also coming off an ACL -- don't improve.
I just don't like the idea of paying and giving up picks for a guy coming off an ACL. Medicine has improved a ton, and Adrian Peterson showed you could come back, but there are other guys who have struggled to come back from ACL injuries.
The Bucs should have held on to the No. 13 pick and taken a corner, maybe Xavier Rhodes from Florida State or Desmond Trufant of D.J. Hayden. That would have been cheap labor for a while.
That's what this trade boils down to for Tampa Bay: Revis vs. a young corner. For the Jets, it means they are getting rid of a player who could leave with no compensation next year, a player seemingly always unhappy with his contract. Oh, and he's also coming off a torn ACL.
So it's a win for the Jets -- who are in rebuilding mode. 
Even with Revis, the Bucs are the third team at best in their division. Is it worth it? 
The Steelers' most dangerous player went down in the second quarter

Shazier suffered a scary injury a couple weeks ago, but appeared to be in good spirits at Heinz...

With their 2017 season basically over, it's time for Cardinals fans to turn their attention...
All of the best highlights from Week 15 are right here

With their 2017 season basically over, it's time for Jets fans to turn their attention to the...

With their 2017 season basically over, it's time for Bengals fans to turn their attention to...