Bucs training camp: Hard look at Incognito doesn't mean deal's coming
The Bucs bring in oft-troubled guard Richie Incognito for a look, but expect soul-searching and researching to go down before a deal is done.
• 10 min read
TAMPA, Fla. -- Troubled offensive lineman Richie Incognito was scheduled to land in Tampa on Monday night and begin would could be an extensive visit with the Buccaneers as the team weighs whether to sign the veteran, who was at the center of the NFL's probe into allegations of bullying and hazing among Miami's offensive linemen last season.
Since that investigation, Incognito -- often suspended in his career -- has gone through a few meltdowns on social media, and at one point entered rehab after smashing his Ferrari with a baseball bat. Incognito maintains he has learned from his mistakes. And the Bucs, who have had issues with their guards this preseason after general manager Jason Licht was able to upgrade other spots on the roster, have been exploring this move for quite some time, according to league sources.
The team already had thoroughly investigated Incognito's background (ex-teammates by and large continue to rave about Incognito), and have monitored him this offseason. They plan to have lengthy discussions with him. Even bringing him in for a visit would not occur without ownership's backing, given the baggage that comes with him. But coaches and the front office would have to be totally comfortable with his presence as a player and teammate -- on and off the field -- and be convinced the behavior that has led to past discipline would not occur in Tampa.
"This isn't about a lack of faith in our offensive line," Licht said, "but it's our responsibility to check out all options when players are available, and even if we did go this route it wouldn't keep us from continuing to see what might be out there on the trade or free agent market."
The Buccaneers haven't determined if Incognito will end up going through a full workout here, wanting to take the visit incrementally and allow ample time to have deep discussions with players. He's scheduled to take a physical and meet with team officials, and there have been no contract negotiations yet. It's unlikely anything formal would come together until Tuesday at the earliest, sources said.
Obviously, the specter of Incognito visiting made for a big story here, with players questioned about their feelings about the physical guard, how he might be welcomed and his baggage. But like everything else, these things have a way of dying down as long as the player stays on a positive path. And, as has been the case throughout Incognito's career, if his teammates believe he is fighting for them every Sunday and helps their ability to win games, they generally are cool with having him around. That could be the case in Tampa, with journeyman Oneil Cousins and second-year guard Patrick Omameh (signed off San Francisco's practice squad last season and yet to play a regular-season game), failing to establish themselves this preseason.
Center Evan Dietrich-Smith said he would give the front office the benefit of the doubt if it signed Incognito and would judge him on his actions in this locker room, and not on his past.
"If they bring him in, I will get to know him personally and take it from there," Dietrich-Smith said. "I would rather know someone before I judge him."
Right tackle Demar Dotson said, "I'd shake hands with him like anyone else."
Coach Lovie Smith was peppered with questions about Incognito during his post-practice media briefing Monday, and continued to stress this meeting with Incognito is part of an evaluation process. Smith said he had not read the entire Wells Report that detailing the NFL's investigation into Incognito and other Miami Dolphins, but was familiar with it. Rather than rely solely on outside information, "I would like to talk to him myself," Smith said. "I do believe in second chances."
Smith wants the chance to form some of his own opinions on Incognito and hear from him first-hand what he did in the past. He's aware of the sensitivity of the matter. "You think I'm going to bring someone in who's going to hurt what we have in our locker room?" Smith asked, adding he would caucus his players before signing Incognito. "I would consult our team leaders, that's a part of the process."
If Incognito is able to impress the Bucs organization-wide, then there is certainly potential for a deal. Also, having not played a football game in close to a year, he will have to indicate sufficient conditioning, too. There is no reason why he would have to be signed immediately, if he were not able to play. Plus, league sources continue to maintain the Bucs have been one of the most active teams monitoring the 49ers' situation with standout holdout guard Alex Boone. Sources say the Niners are asking for a second-round pick in return for Boone but generally have given interested teams the impression they aren't really interesting in dealing.
Tampa feels very good about three-fifths of its O-line, so this isn't a team in panic. But after alertly overhauling the unit in the offseason, with age and injury conspiring with bloated contracts to create a difficult situation, rookie GM Licht displayed a willingness to make tough decisions regarding the roster. So I wouldn't anticipate him altering that aggressive willingness to make bold moves in an attempt to help the team anytime soon, which will naturally lead to him exploring various options.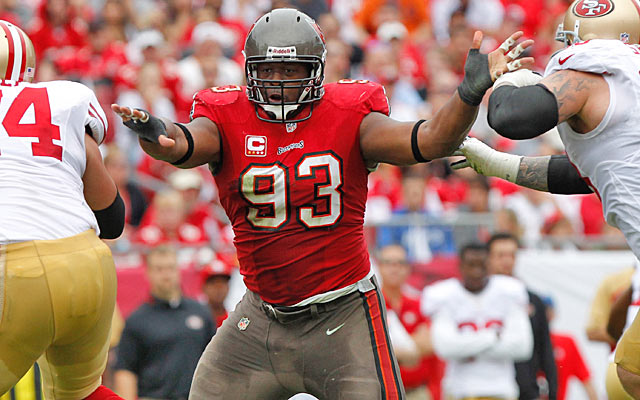 Bucs, McCoy still talking: The Bucs continue to maintain steady dialogue with the representatives for stud defensive tackle Gerald McCoy and I wouldn't be surprised a bit if a deal got done in the coming weeks. Unlike many teams, the Bucs do not have a mandate against negotiating contracts in season, so there aren't any artificial deadlines. The Bucs realize he is on the cusp of even greater things, so being proactive with a deal is in their best interest. And the team has the wherewithal to get something done. They've also done an excellent job in structuring their bevy of other recent contracts to provide for maximum flexibility from a cap and cash standpoint, which allows them to absorb a mega-contract like McCoy's. As I spin this one forward, I see something getting done before the end of this season, the last on McCoy's rookie contract held over from the old collective bargaining agreement.
There isn't anything more McCoy, already a dominant player, could have done to make a better impression on this new staff.
"When the face of your franchise is Gerald McCoy," Smith said, "and yeah he's a great player, as good of an interior lineman as there is in the game. But then you look at how he works, and you hear him verbally and its what you see on the field from him. He's the first guy at the start of every line. No one works harder than him. As a coach, leadership, my message going from me to him and throughout, all of that says we're headed in the right direction and there are good days ahead."
Disappointment over Sims: There is still a real sense of disappointment among players and coaches over rookie running back Charles Sims requiring ankle surgery after making such a strong impression in camp. Internally, there is hope he could be back around Week 8. However, they'll think long and hard about putting him on the IR -- Designated to Return, list. In fact, barring any other significant injuries between now and when the 53-man roster is set, I expect Sims to get that designation. Waiting until later won't make much sense -- most injuries occurring by October of that severity would eliminate the player's return anyway, and the team is incredibly enthused about the boost he could provide down the stretch complimenting Doug Martin.
New targets helping McCown: Quarterback Josh McCown is having a strong camp by all accounts, and the work of rookie receiver Mike Evans ("Mike has done this all offseason long," Smith said, pointing his hand in an arrow upward) and rookie tight end Austin Seferian-Jenkins ("I couldn't be more pleased with him," Smith said) has plenty to do with it. Evans has grasped this pro offense more quickly than some coaches expected, coming from a rudimentary system at Texas A&M. And Seferian-Jenkins has made eye-popping plays with regularity.
"There is so much value in draft picks and hitting on those guys," McCown said. "That's huge. And to get those two guys in here, and Charles Sims, too, before his injury, all are projecting the way you'd like and even ahead of schedule. You feel really good about where they're out and how much they'll help us and what the future holds for them."
McCown's easy nature and natural communication skills have been huge for coordinator Jeff Tedford, whose background is in the college game. A bond has quickly formed between them, and how they complement one another has been noticed throughout this facility. There is a comfort level in what they have had to work on to install a baseline offense, but also wrinkles they refuse to give away in the preseason.
"We feel good about the direction we're going as an offense," McCown said. "The other things we're holding onto we feel good about now, because we've seen these things play themselves out the way they were supposed to."
This offense has the potential to pick up yards in big chunks, and I wouldn't be surprised if McCown picks up where he left off in a similar situation -- equipped with huge-target receivers -- in Chicago last season. "I knew what we were getting all along with Josh, and he's been that everyday he's been in the building," Smith said. "Great leader. He's comfortable at any table of men we have and that's exactly what you are looking for in your leader." Throw in the ability of Martin to make big gains on the ground, and I continue to believe this offense will be elite.
Still kicking work to be done: The fourth preseason game usually is a slow slog, but in the Bucs' case it remains a critical element in the evaluation of their kickers. Patrick Murray is very much pushing Connor Barth for the job, and at this point I don't expect money or contracts to matter. It will be a football decision. There has been a movement in the league to young kickers. Murray is an unproven free agent out of Fordham. Barth, 28, is set to make a $2M base this season with the chance to earn another $1.15M in per-game roster bonuses. This decision could come down to the wire.
Casillas returns: Linebacker Jonathan Casillas was back with the team today after missing Saturday's preseason game for violating team rules. Casillas intimated the infraction was relating to being late and/or missing something mandatory, which resulted in the starting linebacker not travelling to Buffalo with the team.
"I take full responsibility for everything I do," Casillas said, saying it would not happen again and calling it "a bit of a misunderstanding on my behalf."
Casillas said he had a positive meeting with coach Lovie Smith. The Bucs are counting on Casillas being a big factor on the strong side with emerging star Levonte David now playing weak side linebacker in Smith's Tampa-2 defense.
McDonald emerging: It's been couched as a competition, but the sense I get is defensive tackle Clinton McDonald has emerged as the clear-cut guy to start alongside McCoy. He's had an excellent camp and Akeem Spence is primed for a role in the rotation behind the starters. Free-agent signing Michael Johnson hasn't exactly dominated thus far at right defensive end, but veterans attack the preseason in different ways and there is every expectation the former Bengal will be an impact player once September rolls around.
More observations: The Bucs feel very good about having top corners Alterraun Verner and Mike Jenkins healthy for Week 1 and have been pleased with how they are coming back from their absences.
• Smith says he is very pleased with the way his players are adapting to a new defensive scheme. "They have bought in completely," Smith said. "And we've seen them make steps along the way."
• Rookie receiver Solomon Patton is earning rave reviews in the return game, and there is an excitement that he could provide a spark there this season.
>> Want more NFL preseason? What's new for 2014 | All-Prisco Team
R.J. White, who nearly won the Las Vegas SuperContest, locks in his pick for the NFC Championship...

Mike Tierney has owned NFL totals and has a strong pick for the AFC Championship Game

The Saints coach wasn't in the mood to answer questions about Drew Brees on Tuesday
This is footage that you'll definitely want to see

It wasn't the matchup that we expected, but the Jaguars would argue that's everyone else's...

The Eagles quarterback and the Vikings quarterback have paths that have crossed many times