Bucs will 'welcome' any investigation into Josh Freeman leak
Tampa Bay general manager Mark Dominik says the Buccaneers will welcome any investigation into who leaked Josh Freeman's confidential medical information.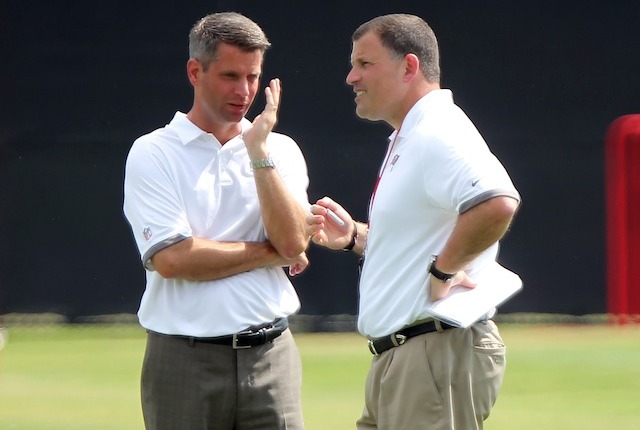 If the NFL Players Association wants to investigate Tampa Bay Buccaneers coach Greg Schiano, Bucs general manager Mark Dominik says the team would welcome it. The NFLPA believes that Schiano leaked Josh Freeman's confidential medical information and the union wants to jointly investigate the issue with the NFL.  
Dominik says the team has nothing to hide. "We're not afraid of an investigation," he said, via the Tampa Tribune. "We would welcome it."
The NFLPA wants to conduct the investigation jointly with the NFL because without the NFL's help, the NFLPA wouldn't be able to interview Schiano or any other Tampa Bay team officials. The NFLPA only has access to players covered by the union. 
The NFL released a statement on the NFLPA's request and it doesn't sound like the league is too interested in a joint investigation. 
"We take the confidentiality provision of the policy as seriously as the union and will vigorously pursue any leads the union provides," NFL spokesman Brian McCarthy said in a statement. "However, such information should be shared confidentially with our office rather than inappropriately leaked to the media before the investigation has been concluded."
Freeman's information was leaked in an ESPN report on Sept. 30. On Oct. 1, Schiano denied that he was the person who leaked Freeman's information. Freeman was released by Tampa Bay on Oct. 3 and eventually signed by the Vikings. 
On Sunday, Schiano echoed Dominik and said the Buccaneers would welcome any investigation into the Freeman leak. 
"We as an organization look forward to cooperating with the NFL and the NFLPA," Schiano said. 
Everything you need to know about the Packers-Panthers game on Sunday afternoon

The Lions will be wearing their Color Rush uniforms for the first time on Thursday

The Lions look to maintain playoff positioning while the Bears attempt to play spoiler
The Panthers have hired an outside law firm to conduct the investigation

Here's every official injury designation for each NFL team for Week 15

Bennett was one of the few players who escaped punishment after Sunday's melee in Jacksonv...