Buffalo Bills 2014 NFL offseason preview
After three-straight 6-10 seasons, can the Bills figure out how to get to, at the very least, the .500 mark?
• 10 min read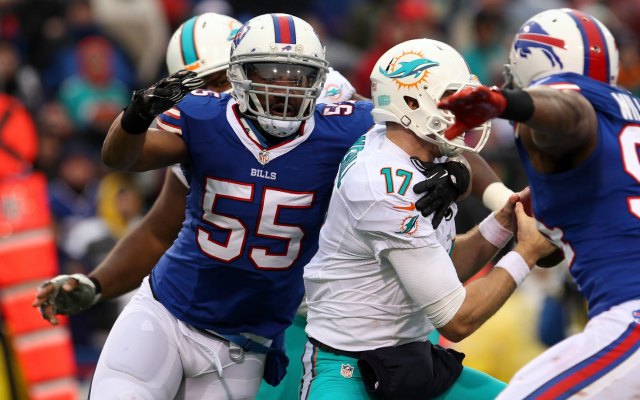 With the 2013 season officially in the books the Eye on Football staff is looking ahead to the offseason for all 32 NFL teams. From now until March 6, we'll put each team under a microscope as the NFL heads into free agency. Up now: The Buffalo Bills. If you missed an offseason preview, you can catch up here.
Despite the fact that franchise hasn't been to the playoffs since 1999, there was a sense of optimism at the beginning of 2013. With a new coach in Doug Marrone, a new first-round pick at quarterback in EJ Manuel, and a new rookie linebacker in Kiko Alonso, there was the thought that Bufffalo could sneak into the top half of the AFC East and, assuming that the Jets and Dolphins were to have mediocre or worse seasons, could potentially be in play for the postseason.
Before the season even began, though, there was immediate panic when Manuel injured his knee in the preseason and when the newly-signed Kevin Kolb suffered yet another concussion, and Marrone was forced to think hard about starting Jeff Tuel in the season-opener vs. the Patriots (leading, I'm sure, to the most page hits Tuel's Wikipedia page has ever received in a single week -- oh, just kidding). Things were so bad that the team went out and signed Matt Leinart from free agency (and later in the season signed Matt Flynn).
Anyway, turns out Manuel was healthy enough and his career was off to a good start when he threw for two touchdowns and led the Bills to a fourth-quarter lead vs. New England. Naturally, Buffalo couldn't hold the advantage, but you can forgive the fans for feeling that sense of optimism. In Week 2, Buffalo pulled off one of its most impressive victories of the season (though it didn't feel like it at the time) by beating eventual NFC South champ Carolina.
But in Week 5, Manuel sprained his LCL, and the Bills were beaten by the Browns, and from there, they won only one of their next five games and only two of their next eight. Basically, they were the Bills that we remembered from the days of Chan Gailey, Dick Jauron, Mike Mularkey and Gregg Williams. The question is: can Marrone be any different and turn the franchise around? Sure, the Jets were better than expected, and the Dolphins battled for the final AFC playoff spot (and yeah, maybe Buffalo's schedule could have been made more fair). But it shouldn't make the Bills fans feel confident that they finished with their third-straight 6-10 season.
What went right
Mario Williams broke the team's game sack record with 4.5 vs. the Panthers in Week 2, and a season after he disappointed in his debut with the Bills -- though he was better overall in 2012 than people remember -- Williams recorded 13 sacks in 2013, the fourth-best total in the league and his best performance since 2007. He also broke up four passes, and he played more than 1,000 snaps (one of only three 3-4 outside linebackers to do so this season, according to Pro Football Focus). Maybe he hasn't been worth the $96 million contract he signed before the 2012 season, but he was still strong this year. Who knows? Maybe a more stable personal life helped.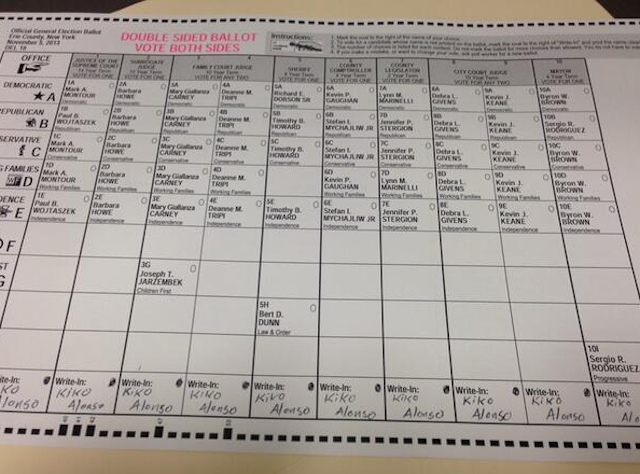 You know who was just as impressive on the defensive side of the ball? Second-round pick Kiko Alonso, who was one of the best rookies in the NFL this year. Though he tailed off a bit toward the end of the year, Alonso recorded 159 tackles, four interceptions, five pass deflections, two sacks and two fumble recoveries. You talk about a building block for the future on defense? Alonso is that man.
And though we weren't that shocked that Alonso was good (I voted for him as the preseason defensive rookie of the year), the season Jerry Hughes put together was rather surprising. He was taken No. 31 overall in 2010 by the Colts, and the defensive end put together just five sacks in his first three seasons. But Hughes had a revelation in Buffalo, recording 10 sacks in 2013 to go with a career-high 46 tackles.
While the jury is still out on Manuel, Thad Lewis proved his worth as a backup/spot starter by making five starts this season, leading the team to a 2-3 record and putting up statistics that were awfully similar to Lewis (in fact, Lewis' numbers were a little better). Unlike the No. 16 overall pick, though, Lewis was an undrafted free agent who's on his second team in three years. The good news, though, is that Lewis is a good insurance plan, and he's scheduled to make only $645,000 in 2014. That's pretty damn good for one of the better backup quarterbacks in the league.
That doesn't mean Lewis can't get a little frustrated, though.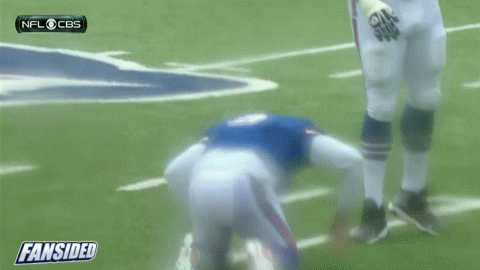 What went wrong
The Bills franchise-tagged safety Jairus Byrd in the offseason, and boy, that displeased Byrd. He reportedly asked for a trade, and then, while recovering from his foot injury, he missed the first five games of the season (to be fair, you could almost understand his rationale for not wanting to play on an injured foot when he had no guaranteed money coming to him after the season), but he still tied the team high with four interceptions. The Bills apparently want to sign Byrd to a long-term deal, but you have to wonder if he'll want to test the free agent market.
C.J. Spiller, a season after his breakout year in which he gained 1,244 yards, returned to his somewhat disappointing ways. He dealt with an ankle sprain for most of the season, and that's one reason why he didn't break the 1,000-yard mark. Spiller has so much talent and can be so explosive. And we see that some of the time. But he also seems to keep us wanting just a little bit more because we know that the ability is there. Fred Jackson is a solid running back, but at the age of 32, the Bills probably don't want him nearly outrushing Spiller.
Also disappointing was the season had by Steve Johnson. Coming off three-straight seasons of at least 75 catches, 1,000 yards and six touchdowns, he battled injuries and the death of his mother, and when he did play, he wasn't the superstar presence we've come to expect, catching only 52 passes for three touchdowns. There have been rumblings that the Bills could opt to cut Johnson before they'd have to pay him the final $15 million of base salary in his contract -- plus the approximate $2 million in workout and roster bonuses for next season -- but in 2014, they still would have almost $8.5 million in dead money because of his contract. It probably makes sense to keep Johnson around for another season to see if he can regain his form.
Although defensive tackle Marcell Dareus had a strong season -- Pro Football Focus ranks him as the sixth-best tackle -- he didn't endear himself to the new coaching staff with his chronic tardiness to team meetings. The team actually benched him for a quarter late in the season, and the next week, the coaches benched him for a half. It's simply not a good look for a talented guy.
MVP
Kiko Alonso was so good for most of the season, Buffalo's front office has to be pleased that it made the right selection with him. His 159 tackles were the third-most in the league. Somehow he wasn't elected to the Pro Bowl, but if he keeps playing like this, there's little doubt that he'll land in Hawaii more often than not going forward.
LVP
I looked hard for the team's least valuable player, and I didn't find any great candidates. But based on his salary and how it impacts the salary cap heading into 2014, I guess I'd hand this award to Steve Johnson. If Johnson isn't playing the role of the team's No. 1 receiver, that will make life tougher for Manuel. I'd guess Johnson will get another season in Buffalo, but if he doesn't play better in 2014, his tenure with the Bills likely won't last much longer.
What's happened since the season ended
Actually, January wasn't a great month for the Bills. Since the Browns coaching search was such a debacle, Cleveland eventually went ahead and hired Mike Pettine, Buffalo's defensive coordinator. Frankly, the hire came out of nowhere, because while Pettine has had success as an NFL defensive coordinator, I'm not sure I'd ever heard him mentioned as a head coaching candidate.
But there's no denying his impact in Buffalo. He turned a unit ranked 22nd in 2012 and 26th in 2011 into a top-10 defense with major contributions from Alonso, Williams, and defensive linemen Kyle Williams and Dareus.  
But after he left, the Bills made a pretty good hire in Jim Schwartz, who had just been fired as the Lions head coach. While Schwartz never could harness the Lions talent and turn Detroit into an annual playoff contender, he had success as a defensive coordinator in Tennessee that gives us confidence the Bills will continue to improve their defense.
Free agents to be
Byrd is the biggest free agent the Bills have to worry about, and though it sounds like the team wants to retain his services -- and for good reason; he has been one of the best safeties in the game -- it's unclear if Byrd wants the same. Either way, whichever squad signs Byrd could pay him the richest contract a safety has even seen. Depending on what the team does with Byrd, safety Jim Leonhard -- who also recorded four interceptions this season -- could be back next year.
It makes sense that the team wouldn't re-sign tight end Scott Chandler (the team recently signed Tony Moeaki) or linebacker Arthur Moats (who lost much of his playing time late in the season).
Considering kicker Dan Carpenter is coming off the best season of his career -- and one of the best kicking seasons in team history -- the Bills likely will look to return him to Buffalo next year.
Free agency gameplan
Assuming the team likes Manuel and wants to build the offense around him, the Bills could use a top-notch receiver. That could be Steve Johnson, or the Bills could look outside at a player like Eric Decker, Emmanuel Sanders or Andre Roberts -- somebody who possibly could be a No. 1 receiver type but wouldn't cost them that much money.
The team already has signed Moeaki, and if Buffalo decides to let go of Scott Chandler, the team could sign a player like Fred Davis to take his place. Yes, he fell out of favor in Washington, but he has the talent to make an impact on offense.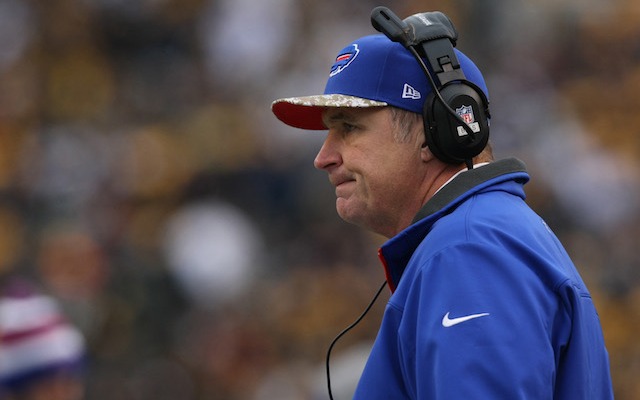 Draft gameplan
If the Bills can't find the receiver they want in free agency, they'll have an opportunity to take one in the draft. They pick ninth, and they could land a player like Clemson's Sammy Watkins or USC's Marqise Lee. But receiver isn't the only area of concern for Buffalo.
NFLDraftScout.com's Rob Rang thinks the team will take University at Buffalo outside linebacker Khalil Mack, while Dane Brugler predicts it'll draft North Carolina tight end Eric Ebron.
But I wouldn't be shocked to see the Bills draft a guard, particularly since Colin Brown and Doug Legursky didn't play well in place of Andy Levitre, who left via free agency last offseason. Only two guards project as first-rounders according to NFLDraftScout.com, but that could be a position the team could fill in the second or third round.
Ridiculously premature prediction for 2014
I wouldn't expect the Bills to finish in the top half of the AFC East next year. The Patriots will be the Patriots, and the Jets should have more talent than this year's squad. The Dolphins are a complete wild card from year to year, but it's not out of the realm of possibility for Buffalo to squeeze out an 8-8 record. There really aren't any huge holes on this team -- there would be, though, if Byrd leaves -- and assuming Manuel improves, this team should be decent enough.
Predicted record:7-9
Follow Josh Katzowitz on Google+
After an injury to Trevor Siemian, Brock Osweiler entered the game and helped the Broncos to...

The 32-year-old running back is done for the year

Brandon Williams was involved in a scary situation in the first half against Denver
The Broncos are turning back to Osweiler after an injury to Siemian

The Cowboys legend admits he's not on 'great' terms with the Cowboys suspended running bac...

Here's the latest information on injured Steelers linebacker Ryan Shazier