By the numbers: NFL cutdown day gives us fascinating figures
Here were some of the most interesting numbers to emerge from Saturday's cut day.
• 3 min read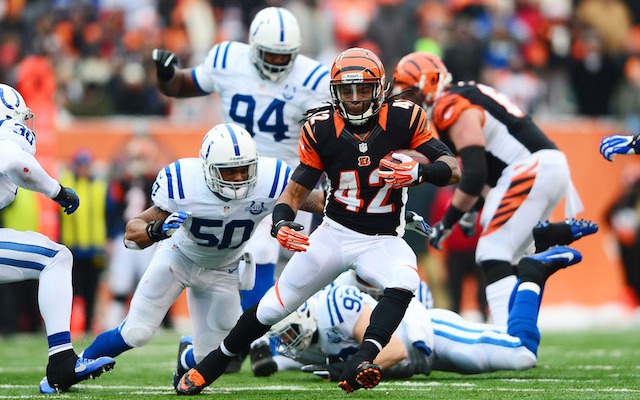 In case you somehow missed it, NFL teams cut down their rosters to 53 on Saturday, meaning 1) Week 1 of the regular season is officially here and 2) there are plenty of interesting numbers roaming around after 700-some players were cut this weekend.
Here were a couple from the inestimable Brian McIntyre, as of late Saturday night.
Of the 256 players picked in 2014 NFL Draft, 203 are on active 53-man rosters. 29 currently on waivers, 16 on IR, 6 on NFI, 2 on PUP

— Brian McIntyre (@brian_mcintyre) August 31, 2014
And ...
Buffalo Bills , New York Jets , Oakland Raiders & Pittsburgh Steelers have zero 2014 undrafted free agents. Of the 64 UDFAs on 53-man rosters, 36 weren't invited to the Combine

— Brian McIntyre (@brian_mcintyre) August 30, 2014
But that's not all the fascinating figures for which we foraged. Here were some of those numbers we found from Saturday's cut day.
0: The number of career punt returns for Seattle Seahawks safety Earl Thomas . As of now, he's the No. 1 punt returner on the Seattle depth chart, via Liz Mathews. Of course, this is what Thomas did in the preseason.
2: The number of Cincinnati Bengals No. 1 running backs in team history who have led Cincinnati to back-to-back playoff appearances. Via Bengals.com, the first was Pete Johnson in 1981 and 1982. The second was BenJarvus Green-Ellis, who was released Saturday.
5: The number of consecutive seasons the Baltimore Ravens have only kept two quarterbacks on their Week 1 roster after releasing 2014 sixth-round pick Keith Wenning on Sunday, via the Baltimore Sun. So far, it's been a good move, as Joe Flacco has started 96-straight games, dating back to when he was drafted in the first round in 2008. During that time, the only other quarterbacks to take snaps are Troy Smith and Tyrod Taylor , though receiver Mark Clayton, running back Ray Rice, receiver Anquan Boldin and punter Sam Koch also have tossed passes.
11: The number of consecutive years that at least one team per NFL season has gone from worst to first in its division. That, via the Boston Globe, is a record. Great news, then, for the Bills, Cleveland Browns , Houston Texans , Raiders, Washington Redskins , Minnesota Vikings , Tampa Bay Buccaneers and St. Louis Rams .
19: Where the Philadelphia Eagles rank in the league in regards to their youth. As in, Philadelphia is the 19th-youngest team. Which is quite a change from 2012 when the Eagles were the second-youngest team in the NFL, via Jimmy Kempski.
And just because this was so interesting, I've embedded this tweet from Kempski.
If you took the 20 oldest Raiders and shaved 5 years off each of their ages, their roster still wouldn't be as young as the Rams.

— Jimmy Kempski (@JimmyKempski) August 31, 2014
24: The number of players who will start the season on the suspended list, via Howard Balzer. Those two dozen players will miss a total of 87 games, and that doesn't include the year-long suspensions for players like Daryl Washington, Josh Gordon and Justin Blackmon.
52: The number of career interceptions recorded by cornerback Champ Bailey, who was cut Saturday by the New Orleans Saints . Even if Bailey retires, there's seemingly a strong chance he'll make the Pro Football Hall of Fame in five years.
147: The draft slot in which the Atlanta Falcons selected Purdue cornerback Ricardo Allen in the fifth round of the 2014 draft. Thus, with Atlanta cutting him, Allen is the highest draft pick not to make the team that selected him (excluding those who were placed on the IR list), via @tclessard.
2008: The year linebacker James Harrison won the AP defensive player of the year, which was six years after he entered the league as an undrafted free agent that had very little chance of making an impact in the NFL. But he retired on Sunday after 11 seasons in the league in which he accumulated 66 sacks (16 of which occurred in 2008) and made five Pro Bowl teams.
5,000,000: The amount of money Kyle Orton could make after signing a deal with the Bills. Considering he got to keep his entire $5 million signing bonus with the Dallas Cowboys after he won his stare-down with Dallas (the team released him instead of forcing him to retire and having to pay back some of his bonus), it's been a great offseason for Orton. And his financial future.
And perhaps the most important number of all ...
23: The number of consecutive Sundays after today that will feature at least one NFL game.
The next Sunday without @NFL football is February 8, 2015. #BackToFootball

— Randall Liu (@RLiuNFL) August 31, 2014
It sure looks like the former top pick will be benched heading into the regular season for...

Someone asked him to start the press conference of course

Derrick Johnson wants to discuss players' First Amendment rights amidst the protests
High praise from one of the most athletically gifted quarterbacks ever to step on a football...

Nobody will mistake Joe Looney for his star teammates

Osweiler is being benched in favor of DeShone Kizer