By the numbers: Nick Foles ties NFL record with seven TD passes
Nick Foles had himself a career day, and the Chargers and Redskins put together some interesting numbers.
• 5 min read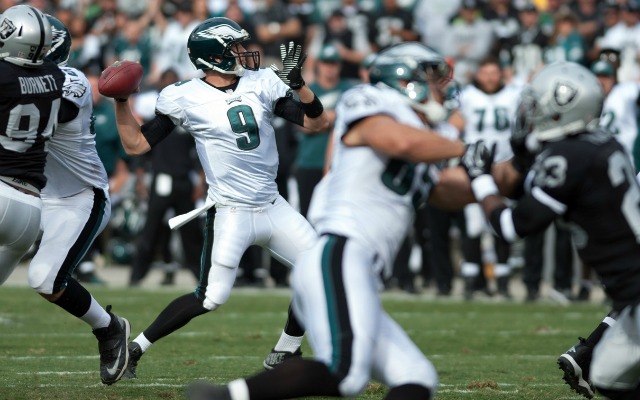 Assuming Nick Foles wants to take the Eagles starting quarterback job for good -- and perhaps fulfill his owner's wish of finding a franchise quarterback -- he went a long way toward doing exactly that Sunday. Foles, in fact, was historically good, tying an NFL record by throwing seven touchdown passes vs. the Raiders on Sunday.
With his performance in Week 9, Foles joined former Vikings quarterback Joe Kapp in 1969, former Bears quarterback Sid Luckman in 1943, former Eagles quarterback Adrian Burk in 1954, Broncos quarterback Peyton Manning earlier this season, former Oilers quarterback George Blanda in 1961 and former Giants quarterback Y.A. Tittle in 1962 by throwing for that many scores.
Seven TD Club
Player, team
Opponent
Date
Nick Foles, Eagles
Raiders
11-3-2013
Peyton Manning, Broncos
Ravens
9-5-2013
Joe Kapp, Vikings
Colts
9-28-1969
Y.A. Tittle, Giants
Redskins
10-28-1962
George Blanda, Oilers
Titans
11-19-1961
Adrian Burk, Eagles
Redskins
10-17-1954
Sid Luckman, Bears
Giants
11-14-1943
And apparently it's becoming quite a trend for modern-day signal-callers.
But here's something special for Foles. The previous best passer rating among those in the seven-touchdown club was Tittle's 151.4. Foles' rating for Sunday was 158.4, the highest possible mark.
Most disappointing of all, however, was that Foles tossed his seventh touchdown with 4:28 to play in the third quarter. But coach Chip Kelly inserted backup Matt Barkley into the game and didn't give Foles one last chance to break the record.
Entering Sunday's game, Foles had thrown six touchdown passes ALL SEASON. But he got hot Sunday as you can see by the scoring summary below and by his stat line (22 of 28 for 406 yards and zero interceptions):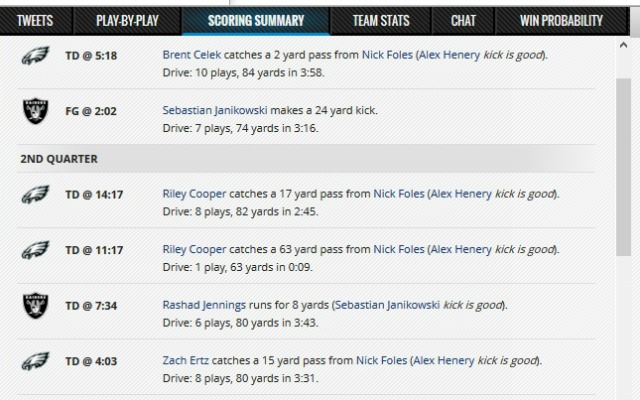 So yeah, a pretty good day for Foles, who had more touchdown passes than incompletions.
Meanwhile in Washington ...
The Chargers had won four-straight games in the Eastern Time zone, but clearly, the changing of the clocks screwed up their equilibrium even more than normal. Or, you know, maybe the Redskins are figuring out that the NFC East isn't lost and that maybe they're good enough to compete with the Cowboys for the division crown.
While we could talk about how the Chargers, who still have a chance to grab that second AFC wild card playoff spot, hurt themselves by dropping to 4-4, let's look at the Redskins and figure out what they did well.
For the first time this season, running back Alfred Morris got at least 20 carries, and he rewarded the coaching staff for doing so, as he gained 129 yards on 25 carries while scoring a touchdown.
For the first time this season, quarterback Robert Griffin III completed better than 70 percent of his passes, going 23 of 32 for 291 yards and an interception.
Fullback Darrel Young had two carries for 17 yards entering Week 9. On Sunday, he scored three touchdowns, including the game-winner.
The Redskins entered the game vs. the Chargers ranked No. 21 in the league in rush defense and No. 30 in total defense. They held San Diego's running game to 69 yards.
A few more numbers from the game.
--The Chargers blocked their first field goal in 11 years, via Grant Paulsen, when they batted down Redskins kicker Kai Forbath's 25-yard attempt in the first quarter. Later in the game, San Diego blocked another Forbath attempt -- this time a 59-yard opportunity with 5 seconds to play in the first half.
--The Redskins started their first two offensive series  on their own 1-yard line. On the first, they drove the ball 92 yards before Forbath's first field goal was blocked, and on the second, Griffin was intercepted in the end zone for a San Diego touchdown.
--Before Morris scored his only touchdown of the day in the second quarter, the Chargers set a team record by not allowing an opponent's touchdown in 12-straight quarters (via John Keim).
--Griffin's pick-6 was only the second time a quarterback has thrown an interception from his own end zone since 2006. Cincinnati's Andy Dalton threw one in 2012 (via ESPN Stats Info).

BY THE NUMBERS

0: The number of times before Sunday that the Eagles had beaten the Raiders in Oakland, losing all three previous matchups (via Paul Domowitch). Four of the previous five Philadelphia wins in this series came when the Eagles played at home. The other occurred when the Eagles visited the Raiders in Los Angeles.
1: The number of 100-yard rushing games for Titans running back Chris Johnson this season. Before Sunday, he had zero.
2: The number of rushing touchdowns scored by Chris Johnson this season. Before Sunday, he had zero.
2: The number of coaches who have faced off against a team that he once led for at least 17 seasons. That would be Rams coach Jeff Fisher, whose squad lost Sunday to the Titans/Oilers organization for which he coached from 1994-2010. The other was Curly Lambeau, who led the 1952 Redskins team into a game against the Packers -- whom Lambeau coached from 1921-49. Washington lost that game 35-20 to the Gene Ronzani-coached Packers.
5: The number of undrafted rookie quarterbacks who have made an NFL start in the past 20 years, including Buffalo's Jeff Tuel on Sunday, via Mike Rodak. Before Tuel, the last to do it was Max Hall in 2010 for the Cardinals. A word of caution for Tuel: Hall is no longer in the NFL (he plays in Canada now).
5: The number of times Rex Ryan has beaten his brother Rob Ryan when Rex was either a defensive coordinator or a head coach and Rob was a defensive coordinator. They've played five times.
8: The number of games this season that the Panthers haven't allowed an opponent to score a touchdown in the first quarter, via Jonathan Jones. Which means the Panthers haven't allowed a touchdown in the first quarter all season. In sad news, though, Carolina allowed Atlanta to score a first-half touchdown, the first time that's happened to the Panthers this season.
0:15: The worst time of any game for the Chargers, who have lost three of their four games in the final 15 seconds of the fourth quarter, via ESPN Stats Info. Two of those losses have occurred on the final play of the game.
19: The number of teams in the Super Bowl era that have started a season 9-0, including the Chiefs (via NFL communications). The other 18 teams all made the playoffs, 11 reached the Super Bowl and seven won the NFL title.
27: The number of NFL regular-season weeks that have passed since Jets receiver Josh Cribbs last threw a pass. That occurred in Week 17 of the 2011 season, and that was the last time until Cribbs completed a 25-yard pass to Zach Sudfeld with the Jets in Week 9.
32: The number of NFL teams since 2000 that have reached the midpoint of their season with a .500 or worse winning percentage before making the playoffs. Thus giving hope to teams like the Jets, Dolphins, Ravens, Raiders, Eagles, Redskins and Cardinals.
140: The number of rushing yards gained by Adrian Peterson on Sunday vs. the Cowboys. In his only other three games vs. Dallas, Peterson never gained more than 75 yards (via Stats NFL). And he never did this.
Follow Josh Katzowitz on Google+
He'll reportedly appeal the suspension

Rodgers is eligible to return after eight weeks and the Packers reportedly aren't giving up...

The Packers think the hit is dirty, but the NFL apparently disagrees
Here's every official injury designation for each NFL team for Week 7

If it wasn't already clear, the Packers are not happy with the hit that injured Rodgers on...

Passengers were treated to some explicit chants from the Oakland running back, too