By the numbers: Packers tie Vikings 26-26
The Vikings and Packers played to a tie on Sunday. It was only the fourth tie in the NFL since 1998.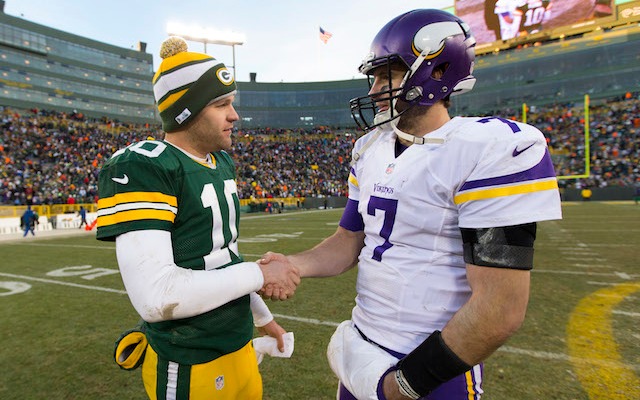 A game featuring Scott Tolzien and Christian Ponder as the starting quarterbacks ended just the way you thought it would: in a tie.
That's right, the Vikings and Packers played to a 26-26 tie on Sunday and that might not have been the weirdest thing to happen in the game. That honor goes to Matt Flynn coming off the bench in the third quarter and throwing for 218 yards and leading Green Bay from a 20-7 deficit to a comeback win not a loss. 
Ties don't happen often in the NFL, so here's a quick 'by the numbers' look at ties. 
2: The tie between the Vikings and Packers was the second tie since the NFL modified overtime rules in 2012. Before 2012, a team could win an overtime game on a field goal, now they can't, at least not on the opening possession. For a team to win on the opening possession of overtime, they have to score a touchdown. The Packers scored on their opening possession of overtime, but they only got a field goal, so the Vikings got a chance to match the score. Minnesota tied the game at 26 with a 35-yard field goal from Blair Walsh. 
2012: The last NFL game to end in a tie came in November 2012, when the 49ers and Rams tied at 24. That game's notable because that's when 49ers quarterback Alex Smith went down with an injury and was replaced by Colin Kaepernick. In case you didn't hear, Smith never got his job back. 
1987: The Packers last tie happened in September 1987 against John Elway and the Broncos. The game was played in Milwaukee and Elway threw three interceptions. Green Bay quarterback Don Majkowski threw for 121 yards in a game the ended 17-17.
1978: The Vikings last tie not only came against the Packers, but it was also almost exactly 35 years ago from Sunday. On Nov. 26, 1978, Green Bay and Minnesota played to a 10-10 draw. Vikings quarterback Fran Tarkenton threw four interceptions in a game played at Lambeau Field. 
If you did suffer through the tie on Sunday, at least you got to see this 6-yard touchdown run, which will probably go down in NFL history as the lone highlight of the Tolzien-era in Green Bay.
Everything you need to know about the AFC and NFC title games

The Jags were laughingstocks as recently as this summer; now they're 60 minutes from an AFC...

The Jaguars are poised for the biggest upset in recent playoff history
The Broncos might have tipped their hand as to which player they're targeting at No. 5

The Steelers didn't have to look far to find their replacement for Todd Haley

The pop superstar will seek halftime show redemption at Super Bowl LII