By the numbers: Rob Gronkowski returns, stars in 2013 debut
Here are some of the most interesting numbers to emerge from Week 7.
• 4 min read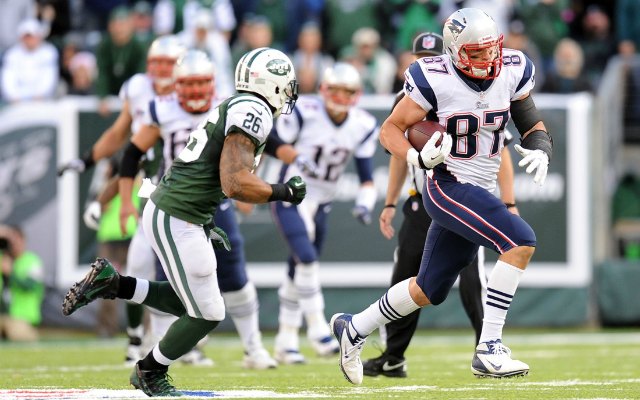 Rob Gronkowski was so excited about making his 2013 season debut on Sunday that he allowed you to buy his "GRONK IS BAAAAAACK" T-shirt for a reasonable $24.99 AND he put out a sponsored video documenting his comeback as he ingested some sort of sports drink. Not surprisingly, he was dominant Sunday, catching eight passes for 114 yards though the Patriots fell in overtime to the Jets.
Either way, it's got to be nice for Tom Brady to have Gronkowski back in the mix.
Before Sunday, Brady had to deal with the inconsistencies of rookie receivers Kenbrell Thompkins and Aaron Dobson while having very few tight end options to target. Danny Amendola had been good when he was on the field, but he's been injured much of the season, and it seems like the only reason Julian Edelman was getting plenty of looks was because there wasn't really anybody else Brady could target.
Now that Gronkowski is back, though, look for Brady to feel more comfortable and for the Patriots offense to be a little more varied. Well, after this week, I mean.
Until then, here are a few interesting stats that emerged from Gronkowski's return to the field.
• Patriots tight ends had caught a combined nine passes for 86 yards in the first six weeks of the season. As we mentioned earlier, Gronkowski had eight catches for 114 yards Sunday.
• Though he didn't catch one on Sunday, Gronkowski's 38 recieving touchdowns were the most in the NFL since his rookie season of 2010. Lions receiver Calvin Johnson was second with 37 entering Sunday, even though Johnson had played nine more games than Gronkowski in that time frame (via Fox Sports). But Johnson also caught two touchdowns Sunday vs. the Lions, so he's retaken the lead.
• It took the Patriots exactly five offensive snaps before Tom Brady tried to throw the ball to Gronkowski. The pass was completed.
•Sunday was Gronkowski's first game action in 280 days, via ESPN Boston.
BY THE NUMBERS
0: The number of wins for Chip Kelly this season when his team plays in Philadelphia. It should be noted that former Eagles coach Andy Reid has one victory this season in Philly (via CSN Philly). Also, the Eagles are currently on a franchise-high nine-game losing streak at home.
1: The number of times this season an NFL official has called a pushing penalty on a field goal attempt. The one and only time came Sunday against the Patriots, which extended the Jets eventual game-winning drive in overtime. Via the NY Post.
3: The number of defensive touchdowns scored in the NFL in Week 7 before an offense got on the board with one. Which is funny, because neither Matt Schaub nor Carson Palmer and their mind-numbing abilities to throw pick-6s were playing Sunday.
4: The number of consecutive games the Chargers have won when they've played on the East Coast, including San Diego's win Sunday against the Jaguars, via UT San Diego. The Chargers apparently know how to overcome jet lag.  
4: The number of neutral zone infractions or offside penalties thrown on the Jets in their win vs. the Patriots, via the Boston Globe. Another offside penalty was declined by New England.
7:49: The amount of time the Bengals held the ball on offense in the first half. Still, they held a 14-10 lead at halftime and went on to win the game with a time of possession of 25:29.
10: The number of 300-yard passing games allowed by a Bengals defense since Mike Zimmer began coordinating the defense, including Matthew Stafford's 357-yard performance Sunday (via the Cincinnati Enquirer). Just so you're aware of how ridiculous that number is, Zimmer has been the team's defensive coordinator for 87 games.
12: The number of consecutive games Bears quarterback Jay Cutler had tossed a touchdown pass before that streaked ended Sunday, via ESPN Stats Info. As you might know, Cutler had to leave the game with a groin injury.
18: The number of years since a Bears running back recorded three rushing touchdowns in one game. Matt Forte accomplished that today. The last to do it was Rashaan Salaam in 1995.
19: The number of career kick returns taken in for touchdowns by Chicago's Devin Hester. With his 81-yarder on Sunday, he tied Deion Sanders for No. 1 in NFL history. Hester's 13 punt returns for touchdowns already is the most in league history.
41: The number of points scored by the Bears in their loss to the Redskins. Chicago has never scored that many points in a game it didn't win (via ESPN Stats Info).
57.1: The percentage of Geno Smith's career starts in which he's led a fourth-quarter or overtime game-winning drive. He's started seven games. He's got four game-winners. Since the merger, no NFL quarterback has ever done that, via NFL Communications.
134: The number of receiving yards recorded today by Redskins tight end Jordan Reed, the most by any rookie tight end in team history (via John Keim).
158: The number of sacks taken by Jay Cutler since he joined the Bears, and he now holds the all-time club record. This is Cutler's fifth season in Chicago.
234: The number of minutes it's been since the Jaguars scored a touchdown at home. The last, via ESPN, was a Chad Henne-to-Justin Blackmon pass early in the first quarter in Week 16 of last season.
27,485: The number of career passing yards for Cowboys quarterback Tony Romo. Through 100 starts, it's the most passing yards by a quarterback in NFL history (via NFL Communications).
Follow Josh Katzowitz on Google+
The former Wyoming QB would welcome the chance to rescue the Browns from their pit of mise...

Baker Mayfield and Josh Allen took the field, but RBs and defensive front seven players stole...

Joseph cited Drew Brees when explaining why he's not concerned about the Oklahoma quarterb...
'She was dead serious,' Feely said

Place your bets, you proud and degenerate Americans

The Lions fired Jim Caldwell and kept some assistants in place, so Patricia is setting his...