Calvin Johnson: 2014 is Lions 'best chance' to win a championship
Calvin Johnson believes the Lions 'best chance' for winning a championship is 2014.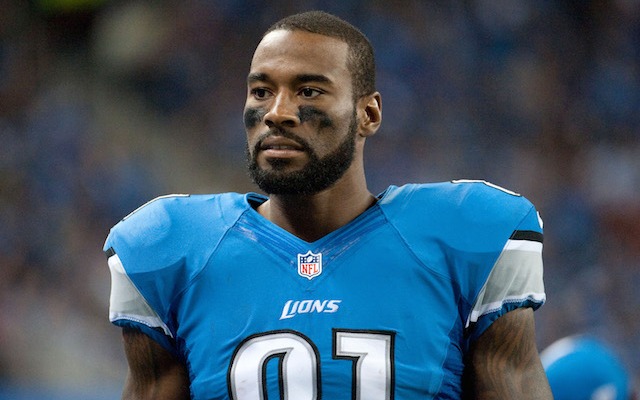 The Detroit Lions have only made the playoffs once since Calvin Johnson's rookie year in 2007. That playoff berth came in 2011 when the Lions went 10-6 and lost in the Wild Card round. 
Besides that, Detroit hasn't really come close to the postseason. The Lions recent struggles haven't done anything to deter the confidence of Johnson though. Megatron said on Tuesday that he believes this year 'is our best chance' to win a championship. 
"I honestly believe that," Johnson said, via the Detroit Free Press. "And you've got to buy in. You've got to buy into the coaches' philosophy, and we have. I believe that everybody is doing exactly what the coaches want us to do, and if we're not, if something is not like he wants it, he's going to tell us and we're going to get better at it and he only has to tell us one time."
The coach Johnson is talking about is Lions head coach Jim Caldwell, who will be the third coach Megatron has played for since 2007. However, unlike Johnson's first two coaches -- Rod Marinelli and Jim Schwartz -- Caldwell has a Lombardi Trophy to his name. 
Caldwell, who coached the Colts to Super Bowl XLIV, doesn't disagree with Johnson's assessment of the team, "I think we have the foundation to be champions," Caldwell said. "Without question."
Everyone in the country will get to decide for themselves this week if they think the Lions are any good when they host the Giants. It's not open the Lions get to open the season on a national stage. This will be Detroit's first Monday Night Football opener since 1971. 
This Monday's game is also the Lions first primetime season opener since 1991 when they lost to the Redskins 45-0 on Sunday Night Football in Week 1. That Detroit team went on to the NFC title game. 
The Jaguars' cornerback doesn't want the team's top receiver to depart in free agency

The Broncos are one of the favorites to land Cousins in free agency

Gathers flashed signs of promise in the preseason, but has yet to play in a regular-season...
Carruth wants custody of his 18-year-old son, who was born with brain damage after the slaying...

Why pay big bucks when you can gamble on Austin Seferian-Jenkins, Tom Savage or Donte Monc...

Running backs coach Duce Staley and wide receivers coach Mike Groh will reportedly interview...