Another day, another former NFL player talking about the negative consequences of playing football. Only this time, it's Calvin Johnson doing the talking.
Johnson, who retired this offseason at the age of 30 even though he just polished off a 88-catch, 1,214-yard, nine-touchdown season, told E:60's Michael Smith that he suffered his "fair share" of concussions during his nine-year career. He also spoke more broadly about just how frequently concussions occur.
"Concussions happen," he said, per ESPN. "If not on every play, then they happen like every other, every third play, you know. With all the helmet contact, guys hitting the ground, heads hitting ground. It's simply when your brain touches your skull from the movement or the inertia, man. It's simple to get a concussion, you know. I don't know how many I've had over my career, you know, but I've definitely had my fair share."
Johnson's response is problematic on multiple levels. Clearly, it's concerning that he believes NFL players suffer concussions every few plays. It's just as alarming to see him say he's suffered his "fair share" of concussions, because as Football Outsiders' Scott Kacsmar pointed out, the Lions never listed Johnson on the injury report with a concussion.
Calvin Johnson - 78 appearances on the NFL injury report, 0 relating to concussions. If he had them, they hid them. https://t.co/oGPxNgMOuX

— Scott Kacsmar (@FO_ScottKacsmar) July 6, 2016
As Kacsmar wrote, the Lions might've "hid them." Either that, or Johnson himself hid them so he could keep playing. That's exactly what happened this past season with Malcolm Jenkins, who admitted to not telling the Eagles about a concussion so he could remain on the field.
The first option, though, isn't a foreign topic for Johnson. Back in 2012, Johnson endured a brutal hit to the head in a game against the Vikings. On the sideline, he underwent what he called "the little test with the finger ... ask you what day, what game it is, stuff like that." Then, he returned to the field.
After the game, Johnson all but admitted to being concussed.
"He rung my bell pretty good, he got me, he caught me around the chin, that was a good hit," Johnson told CBS Detroit. "It's a part of football, you get concussed, you gotta keep on playing. You can't get afraid to go across the middle any more than you were at the beginning."
Later in the week, he completely admitted to it.
"Yeah, you could tell. It was obvious," he said, according to MLive.com.
He's right. You could tell. It was obvious.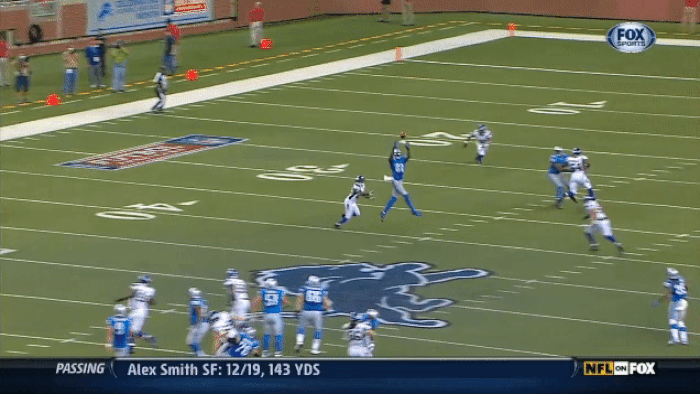 Still, Jim Schwartz, the Lions' head coach at the time, refuted Johnson's claim.
"Our evaluation was (that Johnson) was not concussed," Schwartz said, via NFL.com. "He was thoroughly checked. We were very strong in our evaluation. ... We're very strong in our evaluation, and as an organization, we have some credibility when it comes to concussions. So just leave it there."
What Johnson told E:60 sounds a lot like confirmation of the Lions covering up his concussions.
"The team doctor, the team trainers, they work for the team. And I love 'em, you know," Johnson said. "They're some good people, you know. They want to see you do good.
"But at the same time, they work for the team, you know. They're trying to do whatever they can to get you back on the field and make your team look good. So if it's not gonna make the team look good, or if you're not gonna be on the field, then they're tryin' to do whatever they can to make that happen."
Just in this past year, the NFL has faced heightened scrutiny about their handling of head injuries. In the fall, a Frontline study found that 95.6 percent of deceased NFL players tested positive for CTE. During the season, the NFL looked into the Rams' failure to recognize that Case Keenum suffered a clear concussion. Then, the NFL actually admitted that a link between football and CTE existed, only to watch some notable owners -- like Jerry Jones -- refute that admission.
In March, The New York Times reported that the NFL's research into concussions was flawed and that the NFL had ties to Big Tobacco. The NFL disputed that report and proceeded to spar with The Times.
In Johnson's interview, he also revealed how trainers handed out painkillers "like candy," shedding light on another issue that's been gaining momentum with some current and former players pushing the NFL to research into how marijuana can help players deal with the rigors of the game.
Johnson's entire E:60 interview will air on Thursday at 10 p.m. ET.