'Camp Kelly' off to slow start; so far, Eagles are paying attention
Injuries, controversy and questions about his system slow Chip Kelly's start as Eagles coach. Jason La Canfora says some in the league wonder how long the marriage lasts.
• 6 min read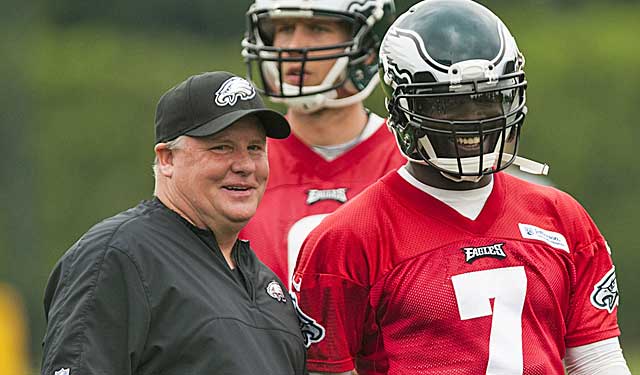 PHILADELPHIA -- Camp Kelly, Eagles coach Chip Kelly's first foray into the NFL at any point in his career, hasn't exactly been filled with happy campers. ACLs are popping like the night sky on the Fourth of July, one receiver already had to be sent home for a spell for bad behavior and Kelly himself must be wondering if the shadow of longtime Eagles coach Andy Reid will ever stop looming over this practice facility.
Hello muddah, hello fadduh, send a knee brace, that's an order. You remember, Riley Cooper, he got sent home for using language from the pooper.
Philadelphia has yet to play a preseason game, but the drama is already in regular-season form. On Wednesday, with the Patriots in town for a second joint practice session ahead of their preseason opener this weekend, the media stakeout focused on whether Kelly would name a starting quarterback (he didn't), and the daily deconstruction of how Kelly's hurry-up offense will fare at the pro level continues to roll on, along with the chase to chronicle whether LeSean McCoy (add him to the injury report with a knee knick picked up Wednesday, by the way) and other Eagles stars ever can embrace Riley Cooper again after he was caught using a racial slur at a Kenny Chesney hoedown.
All of it made the passing of a former team owner on Tuesday barely notable, with the rapid return of Cooper drawing the ire of some (it remains a mystery whether Cooper actually received racial sensitivity training, and how thorough such a course could have been). And, if there is one silver lining in all of this for Kelly, it's the fact that all of the injuries (receivers Jeremy Maclin and Arrelious Benn already lost for the season) and unrest has kept the fans and media so focused on his offense that serious issues about their viability on defense and what could be a very tricky transition to a 3-4 have gone largely overlooked.
The Eagles are coming off a 4-12 season, and there is a reason they were so desperate to land Kelly after he initially rebuffed their overtures. This is no small chore he is undertaking, and the climate around this team is in stark contract to the pom-pon culture and relative obscurity provided by, say, Eugene, Ore., for instance. Eagles fans grew restless with the regular playoff runs and five NFC championship games Reid provided during his 14 seasons, so patience with Kelly's regime is likely to be limited. The only thing that will placate this rabid bunch is the franchise's first Super Bowl.
One suspects that may in fact be a ways off.
Conversations with several general managers and coaches throughout my camp travels have invariably turned to the chore ahead of Kelly, who never has spent so much as a day as a quality control guy in the NFL before this job. There is very real interest in seeing how it works out.
Sentiments about Kelly have been largely the same -- he is obviously a brilliant offensive mind, but is he in this of the long haul? If the first few years in Philly are rocky, which hardly would be a surprise, will he jump back to college, where his ability to land superior athletes and run his offense at warp speed provide an inherent advantage?
No one I spoke to believed he would be able to operate his offense in the accelerated manner the college game allows ("He's just not going to be able to be that much faster than everybody else," said one GM who has studied Kelly's attack. "That's not going to work here."). The Eagles were making every effort at times Wednesday to get back to the line of scrimmage within 10 seconds, and their tempo should be impressive, but the Patriots players I talked to weren't exactly panting or blown away by what they saw (it's awful early in the preseason, so no one knows exactly how all of this will play out).
"It's still a work in progress," Kelly said after another practice that at times accentuated a pronounced talent advantage in New England's favor. "We're rounding into form."

If it wasn't already clear before this rash of injuries (a bunch of hamstrings went aching today) -- and more will surely follow -- Kelly also lacks personnel advantages in many key positions anywhere near to what he was accustomed to at Oregon (though the Eagles are rich with options at running back). "Injuries are a part of the game," Kelly said. "You've got to be able to deal with them."
Some expected Kelly might name a quarterback today, but he remains decidedly noncommittal. "They're both going to get reps," he said of  Michael Vick and Nick Foles, noting the evaluations are ongoing. "But we do have to have someone start the game."
I believe when that process eventually unfolds, Vick (who made a couple of eye-popping plays Wednesday) will be the guy. The ball surely doesn't explode out of his hand the way Kelly would love it (not that Foles is throwing a mean fastball himself), and the starting unit certainly was choppy during this session, but this is a man not too far removed from the MVP conversation. Receiver DeSean Jackson, who stirred things up early in camp when he gave his honest opinion that he thought Vick would win the job, stood by that assertion after today's practice.
"I think it'll still be the same," Jackson said, pointing to Vick's advantage in experience.
Kelly said he will be looking to see which guy "moves the team," even at times when the quarterback might not have be surrounded by first-team receivers, backs and tight ends. Vick, seemingly immune to these subplots given all he has been through in his career, is unfazed by the swirling quarterback competition, saying he "appreciated" Jackson's endorsement but realizes Kelly is calling the shots.
It would be natural to compare some of the ease with which Patriots quarterback Tom Brady was moving the ball for the better part of two hours today, in pretty much every special situation he was put in (even in one series with no timeouts and needing a touchdown), to the staccato nature of the Eagles' attack (there were plenty of drop offs to backs and incomplete passes). At times the contrasts were jarring.
Kelly's track record, however, is almost unimpeachable, and his offensive innovations in college have helped transform the NFL game. In time, he just might prove to be the figure to lead this franchise back to the league's elite. It's hard to imagine that happening overnight, but he certainly has the ear of the Eagles offense.
"We all love his football philosophy and the things he's trying to instill in us," Vick said. "We continue to embrace it, and continue to make strides."
No matter how this grand experiment plays out here, there is no doubt that any number of college athletic directors will be watching closely, with fat cat boosters falling all over themselves to lure Kelly back to the NCAA (Texas, anyone?) should the college game prove his calling after all, and this inauspicious start to camp a harbinger of what is to come.
The Raiders RB sat through the 'Star Spangled Banner' but stood for the Mexican anthem on...

Plus the Eagles' formula for winning late, the AFC playoff mish mash and a budding young Vikings...

Here are the Week 11 grades for every team that played Sunday
The Eagles move to 9-1 after beating the Cowboys by four touchdowns

Peterman threw five interceptions in the first half before getting yanked

The Vikings' coach addresses the team's cloudy quarterback situation after their eighth win...