Camp notes: Kansas City Chiefs, Alex Smith seeking contract middle ground
Does Alex Smith deserve a top-tier, $18M-plus per year QB contract? Or closer to the $10M tier? The Chiefs need to find middle ground.
• 9 min read
More NFL: Photos |  Videos & GIFs |  Training Camp updates | Manziel Watch
ST. JOSEPH, Mo. -- The negotiations between the Chiefs and quarterback Alex Smith are ongoing, with the dialogue maintaining on a regular basis and the team looking for creative ways to secure him for the future, according to several sources. To this point, however, they haven't been able to bridge a few gaps, but the Chiefs are willing to cut into their considerable cap space to strike a deal, and there are no plans to stop exchanging proposals.
Smith has said he would cut off negotiations if they became a distraction, but that's unlikely to be the case here. Smith is as smart as they come, and he has a power agent, Tom Condon, handling the business of the negotiations. Talks have remained cordial between Condon and general manager John Dorsey and there is an interest on both sides to find common group … that's just particularly tricky at the quarterback position.
There is a top tier of quarterbacks making $18M a year or more, and then a pretty steep drop to guys in the $10M range, and then a bunch more in the $5-7M range who are bridge starters (which is the kind of contract Smith was on with the 49ers when the Chiefs traded for him before the 2013 season). Smith likely merits something between those tiers, but, should he lead a team not overloaded with proven pass catchers back to the playoffs, he could boost his earning potential in a free-agent class that's likely to be short on established starters.
And, with Andy Reid so adept at developing quarterbacks, the Chiefs wouldn't want to overspend on Smith and potentially be stuck with him at some point while a youngster is ready to challenge for his job (Smith got surpassed by Colin Kaepernick in San Francisco and Reid traded Donovan McNabb to make room for Kevin Kolb; it happens). Hence the conundrum. There may be a happy medium here, despite it all, and the sides are certainly working at it.
The Chiefs have also reopened a dialogue with Justin Houston, who was mulling a holdout at one point. And Houston is a priority for them as well, sources said, but I don't have high expectations anything gets done before the season.
The sides have not been close financially and Houston is at a point where playing out the season and banking on big stats -- and big money -- could make the most sense. The Chiefs have only one franchise tag to use, and obviously this Smith situation could conceivably play out in a manner in which it gets earmarked for him. Regardless, the Chiefs would love to have both players under contract beyond 2014 when the season begins, but I'm not sure how feasible that will prove to be.
2011 first-rounders likely must keep waiting
After the two deals got done last week with 2011 first-round picks, I wouldn't expect another flurry for a while. There remains little progress with most of these players, who had their fifth-year options exercised, and there isn't much negotiation planned in many cases.
With some agents complaining to the NFLPA that there may be collusion going on, the union scheduled a conference call, which took place on Thursday and included many representatives who have players in this class. Sources said that given the off-field issues involved in many of these players, and the fact that two deals got done, the union saw no evidence of collusion, rather just teams being patient. No surprise given they control these players for two more years (and, remember, under the old system first-round picks were signing five or six year deals anyway).
So the slow pace of talks is not a surprise. There has been only one discussion between Cam Newton, the first pick in 2011, and the Panthers, sources said, and nothing planned until the team sees its roster come together and fully examines its cap situation. And with the price tag for pass rushers so high, there has been literally no movement for the group of those players who do not have any off-field concerns -- J.J. Watt, Robert Quinn, Cameron Jordan, Mo Wilkerson.
There haven't even been proposals exchanged in most of those cases and no real talks are scheduled.
"The money is going to be so high, these teams don't really have an incentive to do it now," said one agent for a prominent pass rusher who doesn't expect to get a deal done until 2015. "I'm not sure any of these guys get new deals this year. If there's any movement going on I'm not aware of it."
Keep an eye on Chiefs rookie running back De'Anthony Thomas in the preseason. I expect the 5-9 dervish to be featured quite a bit.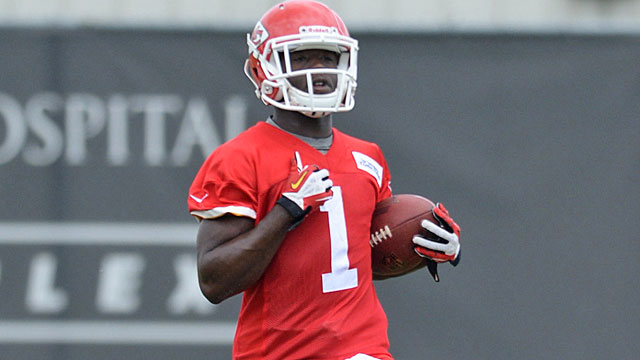 We know Jamaal Charles isn't going to see a lot of work, not wanting to risk the vital player to injury. Thomas was making plays all over the field when I was camp, he seemed particularly hard to cover underneath in the red zone, and he has done nothing but wow people to this point. Now, it's obviously a ways away from the regular season, but I figure Reid won't be shy in deploying him, and he may be able to more than replace the kind of stuff Dexter McCluster did here.
No one wants to see this kid in one-on-one drills. "You get nervous when you've got him," lined up across in drills, star linebacker Derrick Johnson said.
Agents wonder about Tyron Smith contract
There is a fair amount of outrage in the agent community over the deal that Tyron Smith (another player with the fifth-year option) signed with the Cowboys last week, with its eight-year term (10 years in total) coming as a total shock. Smith's age was a prime asset for him, being so young, but now he essentially gave the Cowboys two contracts for the price of one, locked up until age 32.
Agents have told me in the past that it is not unusual for Jerry Jones to communicate directly with players on deals and there is plenty of suspicion in the agent community that may have taken place here. Smith has told several people how big of a father figure Jones is to him, and how indebted he felt to him, and sources told me Jones has gone above and beyond in his mentorship and help with Smith, who has had to deal with volatile and serious family situations through no fault of his own.
But the fact is he could have gotten a deal with the $40M guarantee he received (really $28M as he still had $12M coming to him from his rookie deal) on the open market, and only would have had to have signed for four or five new years. There is a common theme going around the agent community that the Cowboys took advantage of Smith. Several agents said that they feel as if the Cowboys "backdoor agents and negotiate directly with players," and that was their immediate impression when they saw the details of this controversial contract.
The Cowboys denied any direct negotiating with Smith and said there was "constant" communication with Joe Panos, one of Smith's agents, throughout the negotiation. Per the NFLPA, there is nothing directly precluding such actions, and there is nothing pertaining to it in the CBA. As long as teams negotiate "in good faith" then there are no potential repercussions. Obviously, agents frown upon any such practice, however.
More notes
• Colts quarterback Andrew Luck stopped a little short of saying the team is in Super Bowl or bust mode when I was there last week, but he is certainly embracing the idea that the expectations are very high for this team. Luck remains disappointed by the club's postseason performances from a year ago, and few people seem as singularly focused on football and as driven as he is.
"Why else would you work and practice like this?" Luck said. "I realize 32 teams have expectations, too. Is the Super Bowl a fair expectation? I think that's more a phrase used by media, fans, outsiders of any team. Not everyone in our locker room has high expectations of each other, and as a team. But we have a lot of work to do."
I joked with Luck I was surprised that he didn't come back from his World Cup visit to Brazil looking like a bronzed beach God (he tends to be a little pale), but, alas, his trip wasn't long enough to hit the beach. It was all about soccer.
Luck said his favorite experience was the US/Belgium game, even though the US lost. "The last 10 minutes was pretty crazy," he said. Luck is no newcomer to soccer. He loves it and has been to a US World Cup qualifier in Mexico City, which is no joke. Fear not, Colts fans: He didn't sit with the masses in Azteca Stadium, where batteries and urine balloons are often tossed at visiting fans. "I was in a VIP kind of area," he said.
• I was impressed with Bengals defensive line coach Jon Hayes, who held court with the media for quite some time last week when I was in Cincinnati, with tackle Geno Atkins returning from the PUP list that day and all. He's a very engaging man who has a strong body of work and grasp of that defense. His years under Mike Zimmer will only help him and I can't help but wonder if he ends up as the next in a recent run of coordinators to rise out of that Zimmer Bengals defense, with Kevin Coyle in Miami and Paul Guenther going from linebackers coach to coordinator with Zimmer now gone. Hayes could be an intriguing candidate to rise up the coaching ranks.
• Colts star receiver Reggie Wayne told me he's given up trying to recruit future Hall of Fame safety Ed Reed, one of his closest friends, to this team. Reed, a free agent, would be a natural star in an analyst role if he opts to pursue a career in the media and ends his playing career, and Wayne isn't applying any pressure. "He's like a brother to me," said Wayne, well ahead of schedule in his comeback from an October ACL tear, "and if he decides to chill, I'm going to live through him," Wayne said.
• The Chiefs may have found a deep sleeper in first-year tight end Demetrius Harris. This could be the next college basketball player to make the jump to tight end, and the Chiefs don't have too many proven ones on the roster. And, "this is a very tight-end friendly offense," as Reid put it. Harris has great size (6-foot-7), obviously, and has flashed the kind of hands and catching radius that made him a big prep football prospect. No one is going to say too much publically about him yet, and they'd love to keep him a secret weapon, but the kid might have something to offer sooner rather than later. Reid was excited about the return of tight end Anthony Fasano to health after he was out in 2013, but Fasano's upside as an impact pass catcher is debatable, and outside of Dwayne Bowe, there aren't too many proven commodities on the entire roster. I'll be watching this kid closely in the preseason.
It had been rumored that the Jaguars might cut ties with Bortles, but instead he'll stay in...

Dez has struggled with injuries over the last few seasons

Cohen started last season red-hot before falling off dramatically but he has a ton of tale...
Beckham got injured during the 2017 preseason and then fractured his ankle after just four...

The Eagles were one of the most aggressive teams in the NFL in 2017, and it helped them win...

The ex-Dolphins offensive lineman was detained over a threatening social media post