Can a 'running' quarterback win the Super Bowl? We may find out soon
Pure pocket quarterbacks have seemed better equipped to win it all. That could change in this year's playoffs.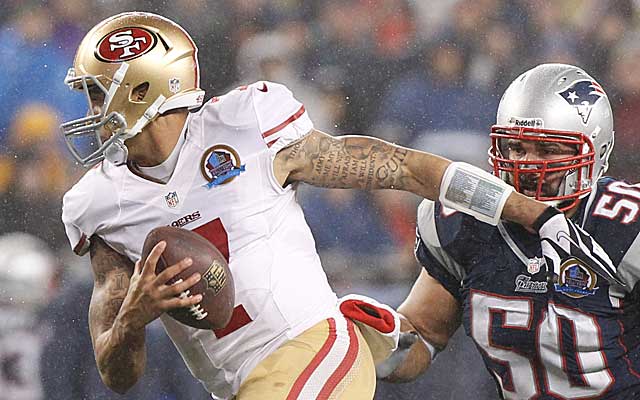 Will Colin Kaepernick's legs make a difference in the postseason? (US Presswire)
There are more and more mobile quarterbacks in the NFL who use their feet to win games. As Colin Kaepernick said to me this week, "I keep my run skills in my back pocket and use them when I need them."
To date, Super Bowls have been won by pocket passers. The best running quarterback in this year's tournament with a Super Bowl ring on his finger is Aaron Rodgers. This season Rodgers has rushed 54 times for 259 yards and two touchdowns, which ranks fourth among the 12 quarterbacks headed to the postseason.
In his six playoff games, including a Super Bowl championship, Rodgers has called 237 pass plays and run 24 times. In that Super Bowl he threw for 304 yards and three touchdowns.
The day will come when a running QB will win a Super Bowl, and this year could test the tried and true pocket passer model.
Will the winning QB come from the top three rushing quarterbacks -- Robert Griffin III, Russell Wilson and Kaepernick, who have a combined 1,719 yards rushing -- even though all work from the pocket?
Or will it come from the four true classic pocket QBs (Peyton Manning, Tom Brady, Matt Schaub and Joe Flacco), who have a combined rushing total of 51 yards?
There's a middle group that may have something to say about the style of QB that takes the championship -- Rodgers, Andrew Luck, Christian Ponder, Matt Ryan and Andy Dalton. They all have more than 120 yards rushing but mostly want to sit in the pocket and throw.
This year we find out just how far the "Pistol Offense" and the read option can go in the postseason.
SO MUCH FOR A DOMINATING SCHEME
There is a notion the NFL is turning to a 3-4 defensive scheme around the league. The Colts went to the 3-4, but the Patriots returned to a 4-3 defense. The truth is as we head into the playoffs there are six teams operating from a base 4-3 defense (Atlanta, Seattle, Minnesota,
Denver, New England, Cincinnati) and six lining up in a 3-4 (San Francisco, Washington, Green Bay, Houston, Baltimore, Indianapolis).
In the end all 12 teams have the ability to be a hybrid defense to handle situations, but I find it interesting no one scheme dominates the playoffs.
DOES EXPERIENCE COUNT?
Six quarterbacks come into the postseason with zero playoff experience, two other quarterbacks come in without a playoff win. That leaves four quarterbacks with real playoff experience -- Brady (16-6), Manning (9-10), Rodgers (4-2) and Flacco (5-4).
As for head coaches two have no playoff experience (Chuck Pagano, Leslie Frazier), and two more with no playoff wins (Marvin Lewis, Mike Smith). Gary Kubiak, Jim Harbaugh and Pete Carroll don't have winning records but have at least led a team to a win or two.
Belichick is so far out in front with a 17-7 postseason record that
Mike Shanahan (8-5), John Fox (6-4), John Harbaugh (5-2) and Mike McCarthy (5-2) seem too far back to ever catch him.
Four head coaches leading teams have been fired by other teams. Belichick, Fox, Shanahan and Carroll have a combined 46-18 record this year and there is something to be said for hiring an experienced coach. That's probably why Andy Reid is getting so much early action in the hiring process.
HOME-FIELD ADVANTAGE
For years there were plenty of numbers to back up home-field advantage in the first round of the playoffs. Wild-card teams heading into a division winner's stadium between 1990 and 2003 lost 41 times and only won 15 times. That meant there was a 73 percent chance the home team would win.
Starting in 2004 things started to change, and since then home division winners are 17-15 against wild-card teams. Seattle, Minnesota, Cincinnati and Indianapolis are counting on this trend when they walk into visiting stadiums this weekend. Keep in mind at least one Super bowl team in the last six years played on wild-card weekend.
Which of this weekend's eight teams is most likely to make it to New Orleans?
DON'T LIMP INTO THE PLAYOFFS
In the last 21 years, 26 teams got to the postseason going 1-3 in their last four regular-season games. Only one won a Super Bowl (2009 Saints). Eleven of the 26 lost in their first game played (42.3 percent).
This year the Ravens and Texans limp in to the postseason. I hope the reality of the past doesn't haunt these teams.
TURNOVERS
Nine of the 12 playoff teams finished in the top 11 in turnover
ratio. The only team with a glaring problem in this area is Indianapolis. It has a minus-12 turnover ratio.
The Jaguars' cornerback doesn't want the team's top receiver to depart in free agency

The Broncos are one of the favorites to land Cousins in free agency

Gathers flashed signs of promise in the preseason, but has yet to play in a regular-season...
Carruth wants custody of his 18-year-old son, who was born with brain damage after the slaying...

Why pay big bucks when you can gamble on Austin Seferian-Jenkins, Tom Savage or Donte Monc...

Running backs coach Duce Staley and wide receivers coach Mike Groh will reportedly interview...