Can Hoyer, Browns defense lead Cleveland to AFC North title?
With the way the Browns have played the past two weeks and with the rest of the AFC North not performing well, maybe this is Cleveland's year?
• 3 min read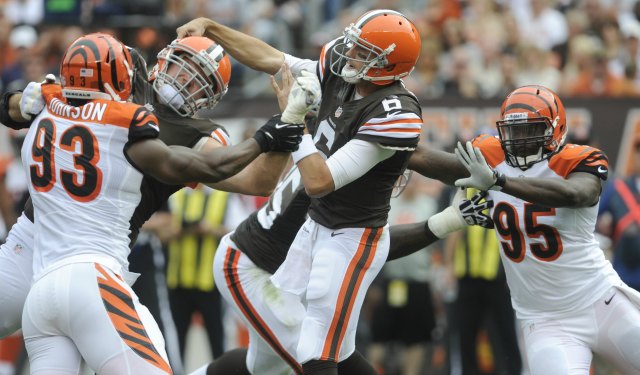 Whenever TV cameras showed Browns coach Rob Chudzinski on Sunday, wearing a short-sleeved windbreaker and sunglasses, it appeared, at first glance, as if Eric Mangini had taken over once again as Cleveland's head coach.
As shoulder-shuddering as that thought might be -- Mangini stumbled through a 10-21 record from 2009-10 -- the organization is in a much better spot these days with Chudzinski in charge of the on-field product.
And based on the way the entire AFC North looked Sunday, it's possible the Browns actually could compete for the division crown. Is that silly to write? Maybe. Do I believe it's possible? Absolutely.
For one, there's this:

See, the Browns are tied for first. OK, you need even more evidence? Here you go:
Browns: For the second-straight week, Cleveland played well. Quarterback Brian Hoyer lit up the Bengals secondary -- missing three key components in Leon Hall, Dre Kirkpatrick and Reggie Nelson -- going 8-for-8 for 80 yards in the first quarter while throwing a touchdown pass to give his team the lead. Overall, he completed 25 of 38 passes for 269 yards and two touchdowns. Hoyer is just playing with confidence, and at this point, it seems a strong possibility that Brandon Weeden won't be getting his job back. There were questions whether the team was trying to tank the season after dealing running back Trent Richardson to Indianapolis for a first-round pick, but the team is now 2-0 without Richardson on the roster. Is that coincidence? Probably so. But what's not a shock? Cleveland's defense, which has been built using smart early-round draft picks and intelligent free agent signings, has been stout. On Sunday, they held the Bengals to 269 yards and just six points Sunday. The improvement for Cleveland in the past two weeks has been impressive.
Bengals: They were coming off an impressive win against the Packers, but Cincinnati continues to look inconsistent. In reality, Cincinnati is probably the most talented team in the division, but when your quarterback doesn't play well -- and it's a real question about which version of Andy Dalton we'll see on a week-to-week basis -- it's going to be tough to beat anybody. On Sunday, the Bengals were hurt because they were missing those three secondary pieces, but they also couldn't get their running game going and because Dalton struggled. I still believe Cincinnati will end up winning this division. But a loss Sunday to Cleveland should worry the Bengals moving forward.  
Ravens: Joe Flacco has reverted to his normal role of being a quarterback that doesn't play as well as you would think he should. Just like most of the regular season in 2012. The difference this time is that he's a $100 million man with a Super Bowl ring. But none of that means much this season, particularly Sunday when he threw five (!) interceptions. Also, we wouldn't have guessed that the loss of Anquan Boldin to the 49ers would have had such an impact on the offense. But apparently it has, because Torrey Smith hasn't gotten much help from his receiver colleagues. And the run game, with Ray Rice and Bernard Pierce, has been less than impressive with both backs averaging less than 3 yards per carry.  
Steelers: It's not great when the team has to say, just four weeks into the season, that the team's offensive coordinator won't be fired before the end of the year. But that's life right now for Pittsburgh offensive coordinator Todd Haley, who's been criticized for the lack of running game and some unimaginative play-calling that has left the team looking lifeless. We've dissected this team quite a bit lately. And I've come to this conclusion: As the Londoners say, the Steelers have been rubbish this season, and I don't see that changing for now.

So, what does all of this mean? That the Browns actually will win the AFC North title outright the first time in history? No, not necessarily. But if I was a Cleveland fan, I would be awfully optimistic for the first time since the Browns began playing football again. Maybe this year will finally be their year.
Follow Josh Katzowitz on Google+
The Vikings and Chargers beat the Lions and Cowboys and cover plus more winners

SportsLine's Mike McClure, a DFS pro with more than $1M in winnings, gives optimal lineup...

R.J. White has his finger on the pulse of the Cowboys and made a play on the Thanksgiving Day...
And this is why Tyrod Taylor is now the Bills' starting quarterback again

Here are the picks and props you need to be a winner while watching all the football you can...

Freeney, 37, was impressive in Seattle before getting surprisingly released