Can Jake Locker lift the Titans to a playoff berth?
The Titans did a nice job adding important pieces to their team this spring, but if they don't get better play from Jake Locker at quarterback it won't matter.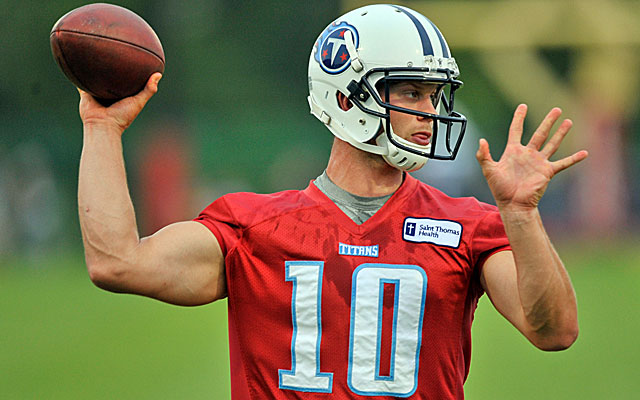 NASHVILLE, Tenn. -- I am here at yet another NFL camp where everything depends on the development of the quarterback. Can Tennessee's third-year passer Jake Locker get to a level to allow his team to compete for a playoff spot?
Let's just say this is a big year for Locker. The coaches like what they've seen from him some far. They've also added some good pieces around him to make it easier on him.
"We are talented enough around him now, he just needs to drive the bus and get the ball to our playmakers,'' offensive coordinator Dowell Loggains said. "He doesn't have to do anything on his own. He needs to use his legs when he has an opportunity to. He needs to be OK checking the ball down and not make bad decisions. We can be successful in the offense the way we are going to run the ball is we don't turn it over throwing it."
Titans Coach Mike Munchak said another positive is that this has been Locker's team for the entire offseason. 
"He hasn't the real chance to prove what kind of player he's going to be," Munchak said. "This is the first time he's had the chance to be the guy. That's important."
Locker battled through injuries in his second season in 2012. Now healthy, it's his team. One thing he has to do a better job of is taking what's available instead of holding the ball and trying to make every play a big one. His ability to run is as good as any quarterback in the league, making that a valuable asset.
If Locker doesn't improve, the Titans will be looking for a new quarterback next spring in the draft, and Munchak might be looking for work.
Locker was just so-so the first day I watched him practice. But he had a good night practice Sunday, hitting several passes, including a bomb to Nate Washington. On that throw, he looked the safety off to his left and came back right. That's what he has to continue to develop as he plays more.
The Titans were ninth in the league in sacks last season with 39, but they got only 12 1/2 from their starting defensive ends. Derrick Morgan had 6 1/2 and Kamerion Wimbley had six.  They have to do more. But Munchak thinks getting bigger and stronger inside will help those two on the outside. The addition of Sammie Hill as a free agent from Detroit will pay dividends. "He can really push the pocket," Munchak said. "And he's a big guy who will make it tough for quarterbacks to throw over." 
The Titans have two young, fast linebackers in Zach Brown and Akeem Ayers. Brown is freakishly fast for a guy who is 6-4, 255 pounds. As he learns the game more, he could be a special player at linebacker. Both are good blitzers, which is why the Titans had so many sacks last season. Brown had 5 1/2 sacks and Ayers had six.
The Titans have the makings of a nice receiving group. If Kenny Britt can stay away from injuries, he should team with second-year player Kendall Wright to give the Titans a nice 1-2 punch. Veteran Nate Washington and rookie Justin Hunter from the University of Tennessee will be in a battle to be the third guy. Hunter did some nice things when I was there, but he is light. He has his weight up to 200 pounds, but he is thin at 6-foot-4. One thing that is impressive about this group is the way Shawn Jefferson coaches them. He was the Lions receiving coach under Jim Schwartz and did a really nice job with some of those guys, including Calvin Johnson. He will not take crap from any player, which could be good for Britt. He's already helped Wright get 15 pounds off his body weight. Wright was too heavy last season as a rookie, and looks much quicker now
The Titans lost tight end Jared Cook to St. Louis in free agency and replaced him with Delanie Walker from the 49ers. Walker was the move or No. 2 tight end in San Francisco. It will be interesting to see how he responds now that he is expected to be the primary target at tight end. He's dinged up, so he didn't work the days I was with the team. One player who caught my eye was second-year player Taylor Thompson. He is a big tight end who has some ability to catch the football. It will be wise to keep an eye on his progress this summer. Veteran Craig Stevens will also get time. He is a scrapper, who gets into his share of training-camp tussles. Why? "He's a tough guy," Loggains said.
I know the Titans are excited about adding safety Bernard Pollard as a free agent. He comes over from Baltimore, where he helped the Ravens win a Super Bowl. Pollard, to me, is a box safety at a time when you don't really want those guys on the back end. He is a good run player. He will hit. But he is a liability in coverage. Teaming Michael Griffin and Pollard together on the back end will cause some issues in coverage for the Titans. They better hope their young corners are damn good. Veteran George Wilson is also on the team, and he might present a better option in coverage. One thing Pollard does bring is a swagger. His mouth goes non-stop during practices, which this team needed. And you can tell he's dying to hit every day. He thumped Chris Johnson on one play Sunday night, and then got decked by center Rob Turner, starting a scuffle of sorts.
Johnson will get the majority of the Titans carries. But what I can't understand is why the Titans went out and gave former Jets running back Shonn Greene a good contract? Greene is a solid back, but I think the Titans could have found a back in the draft they could have used to back up Johnson. What will be interesting is if Johnson gets taken off the field in goal-line situations, something that happened in the past with LenDale White. I don't get that type of thinking at all. 
Gregg Williams is now on the Titans staff. Yes, that Gregg Williams. I think he will help. His aggressive approach is what the Titans will use more of in 2013. Williams by the way, has turned down all media requests so far. Word is he's going to talk once and soon. There, I said it
The Titans will be better than I expected. They have talent.
Tommie Campbell will be name to know by October. The young corner is a rising player. 
Kendall Wright will do a much better job of yards after the catch this season now that he's trimmer.
Johnson will rush for 1,600 yards, but not get to 2,000, which is his goal.
Brown is on his way to the Pro Bowl.
Here's every official injury designation for each NFL team for Week 12

Larry Hartstein is on an 8-2 NFL run and gives his best three-team NFL parlay for Week 12

Plus baby names, kicker issues and other things of interest from NFL on Thanksgiving
It was foretold, and King delivered

Kareem Hunt has fallen off after a hot start, but he can get back on track against Buffalo

A Dallas Cowboys Salute to Service thermal pullover makes for the best early Black Friday...