Can WR Austin Collie help the Patriots with Colts information?
Patriots receiver Austin Collie used to play in Indianapolis. Can he help New England with preparation?
• 1 min read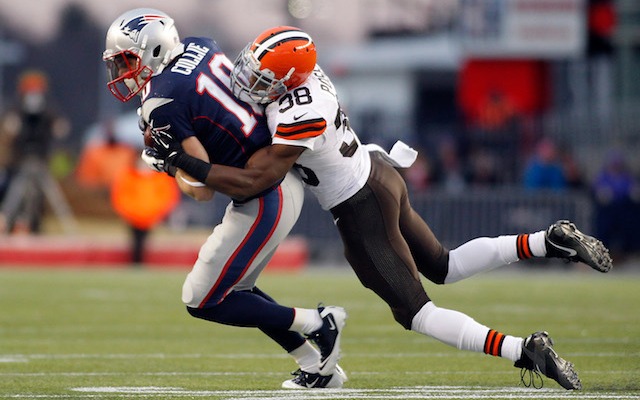 Eyebrows were raised this week when the Colts signed former Patriots receiver Deion Branch to a contract, just in time for Indianapolis to play New England in the playoffs Saturday.
Asked if Branch, who played with the Patriots in 2011 and 2012 (but not 2013), could provide his new team any intelligence on his old team, New England coach Bill Belichick said, "I think that's way overrated. A lot of time the information in those situations is misinformation, because things have changed from whenever that person [was on the other team]. I'm not saying that in any particular circumstance, I'm just saying in general, a lot of times a player who has been with another team tells you, 'This is what they do, this is their call, this is this, this is that,' and then it turns out that's really not what it is."
Austin Collie can relate. He spent 2009-12 with the Colts, and this season, the receiver has played seven games for the Patriots. He also was asked if a player could help his new team with info about his old squad.
"You know, I can give my two cents about different tendencies for different players, but as far as scheme wise, when they came with the new defense I wasn't there that long [in 2012] because I got put on the IR for the third week," Collie said, via the Boston Herald. "I didn't get to see a lot what they did. From that standpoint, from scheme, probably not."
But surely, one of his Patriots teammates is asking about the Colts and what to expect.
"No. I think it's one of those things where we're going to play our game and expect to win," Collie said.
Well, that's no fun at all.
Follow Josh Katzowitz on Google+
Brees is set to become a free agent next month but wants to stay in New Orleans

Gordon's various suspensions will once again prevent him from truly reaching free agency

The Colts traded for Brissett prior to the start of last season due to health concerns for...
Colvin was a big part of Jacksonville's defensive improvement but is likely moving on

Vinatieri is about to finalize a deal to return for his age-46 season

Freddie Roach is one of the most decorated boxing trainers there is