Caption this: Probably the best photo of 1990s QBs ever
Please help us caption this photo of 1990s quarterbacks. It's just too awesome for our simple language skills.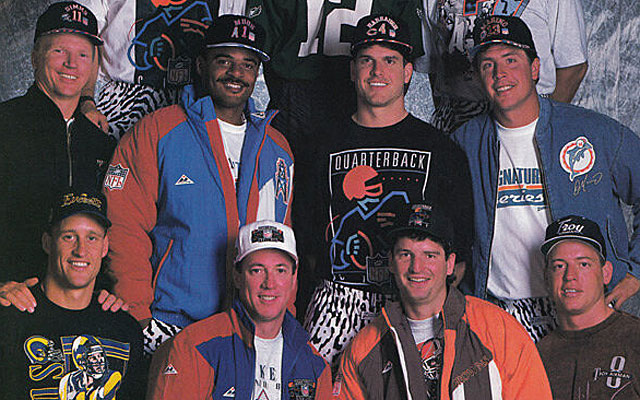 The 1990s brought us some fine quarterbacking. That's evident within the below photo. But what we children of the 90s didn't know was, how many important (or at least relevant) post-playing QBs we'd have.
First, the imagery. 
The most 1990s photo ever featuring Jim Harbaugh and other QBs pic.twitter.com/gwqap8qtIl

— Samuel Lam (@SamuelYLam) January 19, 2014
As Samuel Lam kindly points out, there's Jim Harbaugh, he of Niners -- and khaki -- fame. There's Phil Simms, lead broadcaster for CBS. There's Troy Aikman, lead broadcaster for Fox. There's Steve Young, ESPN guy. There's John Elway, architect of the Broncos. 
And there's Bernie Kosar. 
Novels could be written off this photo alone, but we ask you, kind reader, to leave your photo captions in the comments below. 
The youngest coach in NFL history isn't coming off as someone out of his depth -- just the...

Henry is ready to take on a more substantial role in the Titans' run-heavy offense

In the past week, Marshawn Lynch and Michael Bennett have both sat during the national ant...
As expected, the internet had jokes about the Chick-fil-A at Mercedes-Benz being closed on...

Harrison is the franchise's all-time leading sacker, but J.J. Watt's brother will get the starting...

More than 17 percent of fans say they would never consider dating a Pats fan