Cardinals DT Darnell Dockett out for 2014 after tearing ACL in practice
Cardinals defensive tackle Darnell Dockett is out for the season after tearing his ACL on Monday.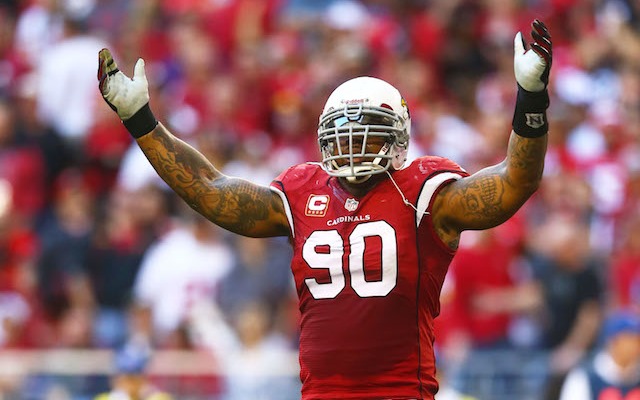 More NFL: Photos |  Videos & GIFs |  Training Camp updates | Manziel watch
The Arizona Cardinals lost a key cog in their defensive front on Monday when Darnell Dockett went down with a season-ending injury. The starting defensive tackle was carted off the field during practice with an injury that has been diagnosed as a torn ACL, the team announced. 
.@AZCardsFanClub Darnell Dockett goes down at #nfltrainingcamp leaves field on cart @AZCardsFanClub #azcphotos pic.twitter.com/1uwk3Fh6FT

— Rob Schumacher (@RobSchumacher1) August 18, 2014
Dockett grabbed his right knee after suffering the injury during an 11-on-11 drill. 
The 33-year-old has been one of the most durable players in the NFL over the past decade. Since being drafted by Arizona in 2004, Dockett has only missed a total of two games over the past 10 seasons. Dockett has played in a 158 of 160 career regular season games with Arizona and started in 156 of those. 
The three-time Pro Bowler tallied 4.5 sacks last season, his highest total since 2010. Dockett's play helped propel the Cardinals defense to a sixth overall NFL ranking in 2013.
The injury to Dockett means backup Frostee Rucker will likely move into the starting lineup. Rucker played in all 16 games last season for Arizona, but only started one.  
The Saints coach wasn't in the mood to answer questions about Drew Brees on Tuesday

This is footage that you'll definitely want to see

It wasn't the matchup that we expected, but the Jaguars would argue that's everyone else's...
The Eagles quarterback and the Vikings quarterback have paths that have crossed many times

The Bengals quarterback gives his side of one of the craziest stories of the NFL season

There are many confusing issues when it comes to Ben Roethlisberger's future