Cardinals go Beast Mode and eat Skittles after beating Seahawks
The Cardinals celebrated Sunday's win over the Seahawks by eating one Marshawn Lynch's favorite treats.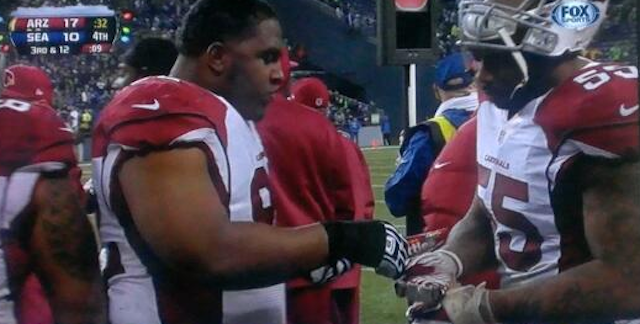 No one loves skittles more than Seahawks running back Marshawn Lynch and apparently the Arizona Cardinals are well aware of that fact. After beating the Seahawks, a few Cardinals players decided to celebrate by eating skittles and it doesn't look like they shared any with Lynch. 
The victory snack might have been Arizona's way of getting back at Lynch for something he did in Week 7. In a Thursday night game between Seattle and Arizona, Lynch was caught on camera eating Skittles on the sideline during the game. 
Marshawn Lynch was happy Russell Wilson threw that TD pass so he could get back to the sideline and eat more skittles pic.twitter.com/PaEBdceuGz

— John Breech (@johnbreech) October 18, 2013
Lynch also ate Skittles during a Thursday night game in 2011 and he was once fined $10,000 for wearing Skittles-themed cleats during a game -- which makes no sense, the NFL should have given him money for wearing such awesome cleats.  
Lynch didn't get to taste the rainbow on Sunday though, the Cardinals did and they deserved it after handing the Seahawks their first home loss since December 2011. 
The Giants got a scare in the second quarter against the Browns

Welcome to the NFL's version of a dress rehearsal

The Browns protested the anthem on national television
Beckham passed tests for a concussion but the Giants will do more tests on his ankle

The president has something in common with Vladimir Putin

The Seahawks are trying to beef up their offensive line with George Fant out