Cardinals LB Karlos Dansby: Dolphins were disrespectful to me
Cardinals linebacker Karlos Dansby went on the Jim Rome Show on Tuesday and said that the Dolphins were disrespectful to him when they released him in March.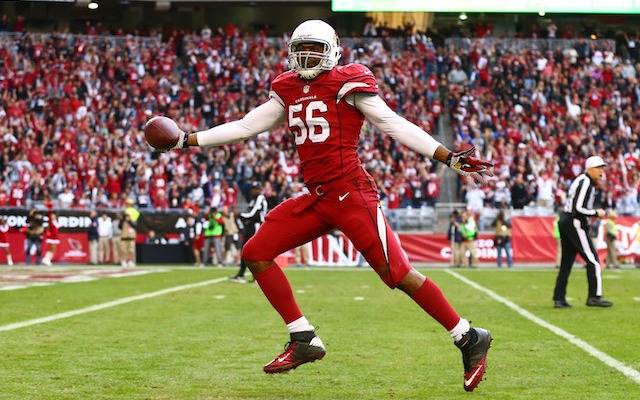 Through 13 games, Karlos Dansby and the 8-5 Arizona Cardinals have been one of the surprises of the NFL season. Dansby, who signed with the Cardinals in May, is the leading tackler for Arizona's fifth-ranked defense.
One of the things that seems to be driving Dansby this season is how his time in Miami ended. After leading Miami's defense in tackles in 2012, the Dolphins decided to save some money and move on without him. Dansby was cut by Miami in March, a move that he says was disrespectful to him and his family.  
"For someone to take money off the table, it was disrespectful," Dansby told the Jim Rome Show on Tuesday. "There was still money in Miami and they took it off my kid's table, so that's very disrespectful to me."
If Dansby hadn't been cut, he would have made a base salary of $6.05 million with the Dolphins this season. Instead, Dansby is making $2.25 million with the Cardinals. Dansby was also irked by the fact that the Dolphins cut him over the phone and not in person. 
"It would have made it ten times better, they would have shown me they respected me as a man, and not just a player," Dansby said. 
Dansby's also out to prove that he can still play. "I got to show the world what I got," Dansby said. "A lot of people questioned a lot of things. I played with a torn bicep last year, no surgery, no nothing, I had 134 tackles, had fun doing it showing people I can play the game with one arm. Now it's healthy, it's strong, and I'm up for the defensive player of the year."
The 32-year-old linebacker hasn't been mentioned too prominently in defensive player of the year conversations, but maybe he should be.
Dansby is tied for the NFL lead in defensive touchdowns (2) and he's tied for fifth in the league among linebackers with five interceptions. Dansby's 105 tackles ranks in the top-20 in the NFL and his six sacks ranks in the top-20 among linebackers. The Cardinals linebacker has also defended 16 passes, a number that ranks seventh in the league. 
Although he wasn't happy how his time in Miami ended, Dansby said he's glad he came back to Arizona, where he spent his first six seasons. Dansby was a second round pick of the Cardinals in the 2004 NFL Draft. 
"That was the whole game plan: get back and finish strong. Get your name in the [Cardinals] Ring of Honor," Dansby said. "I want to be in the Hall of Fame one day. These are goals I had set when I first got into the league."
Payton was seen mocking Vikings' fans at the end of the Saints-Vikings game on Sunday

Tom Brady didn't really feel like talking about his hand injury on Friday

Anderson was also arrested in May
Conspiracy theorists, your time has come

Galin Dragiev is on a piping hot run in NFL picks and just locked in a play for the AFC title...

Brady prefers not to wear a glove on his throwing hand