Cardinals place rookie WR Ryan Swope on reserve-retired list
Unable to overcome the concussions he suffered in college, it appears as though Ryan Swope's NFL career is over before it began.
• 2 min read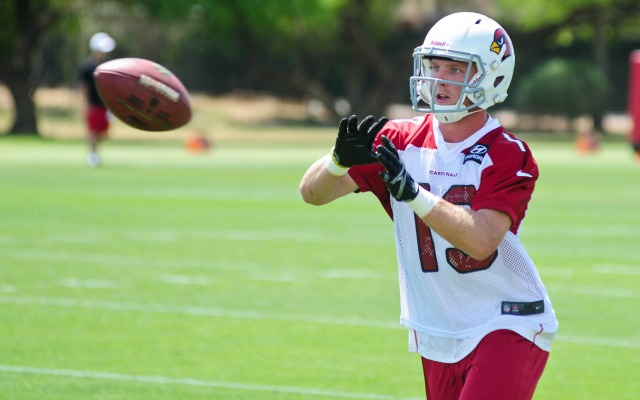 When the Cardinals drafted former Texas A&M receiver Ryan Swope in the sixth round of the NFL Draft, they knew they were taking a risk with a talented, yet fragile player who had good skills but who had apparently suffered four concussions in college.
In June, Arizona coach Bruce Arians was stunned that Swope was still suffering head injury symptoms, and on Thursday, the team relayed the bad news.
The Cardinals announced they had placed Swope on the reserve-retired list, meaning Swope's NFL career likely is over before it could even begin. Swope, though, said he would re-evaluate his options after this season.
"We knew Ryan has a concussion history in college and understood that it could possibly be an issue," said Cardinals general manager Steve Keim in a statement. "But weighing all the elements -- the medical information available, the particular position in the draft -- it was a decision we were comfortable making. As it turned out, he had a setback after he got here. Over the course of the subsequent evaluations, we all decided that Ryan's long-term well-being was the number-one priority and this was the best course to take."
Said Swope in a statement through his agency, Rep 1 Sports: "As a result of a concussion I suffered during OTAs, I was advised by doctors that there were serious risks in returning to play football at this point. It has been a lifelong dream to play in the NFL but my long-term health interests outweigh my current goals for football. Because of that, I am electing to retire from the game for now and then reassess my future after this season. In the meantime, I plan to return to Texas A&M to pursue my degree. I want to thank the Arizona Cardinals organization for the opportunity and their support. I wish the team much success this season."
In early June, Arians said he thought Swope would be fine, which is why he seemed caught off-guard when Swope couldn't shake the concussion symptoms.
"We were very, very, very surprised about it," Arians said in late June. "I'm not sure what he can do, I'm not sure what the doctors are going to do at this point. I hope ... because the kid is a great talent, and it would be a shame."
During his career at A&M, Swope set a school record with 252 career receptions for 3,117 yards. His 24 career touchdown catches was second-best in school history.
The Chargers, after starting 0-4, can take first in the AFC West with a win Sunday

The Fins wide receiver took a shot at the Pats with his touchdown celebration

Former Atlanta sportswriter Larry Hartstein knows the Falcons and locked in a pick for 'Monday...
The Patriots losing might be bad for New England but its great for watching Bill Belichick

The league-owned network suspended Marshall Faulk, Ike Taylor and Heath Evans as it investigates...

R.J. White has his finger on the pulse of Indy and made a strong play for 'Thursday Night...