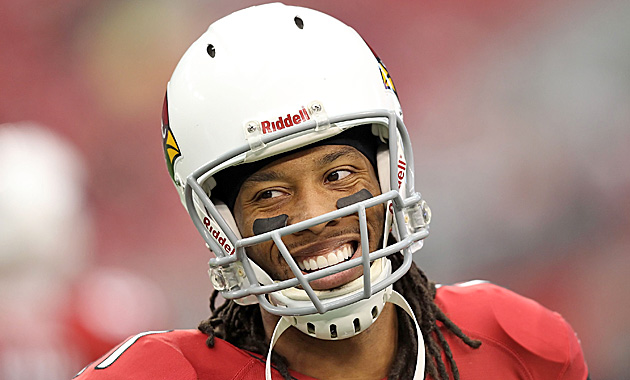 With Fitzgerald drawing rolled coverage, rookie Michael Floyd will get plenty of chances to catch balls. (Getty Images)
Call the Arizona offense West Coast, or East Coast, but what it really comes down to is getting Larry Fitzgerald the ball and the quarterback who does that wins the job. Opposing defenses have to roll coverage to Fitzgerald, creating opportunities to run the ball.

Ken Whisenhunt knows rolled coverage means no eighth defender in the box, so Beanie Wells and Ryan Williams need to take advantage. Arizona also knows Michael Floyd should see a lot of off and soft coverage until teams respect his game. When teams tilt the coverage to Fitzgerald, the corner on Floyd's side plays off and gets no help. The offensive line is a question mark, so expect a lot of shotgun fast passes and three step drops by the quarterback.

I like the Cardinals' '11' personnel package (one running back, one tight end, three wide receivers) with Early Doucet on the field for the full back or second tight end. The matchups favor Arizona.

As for the defense, they get better pressure from their ends then most 3-4 fronts and that takes pressure off the outside linebackers. It is very difficult to 'fan' protect against the Cardinals. Fan protection puts the offensive tackle on the outside linebacker and the guard on the defensive end. Outside linebacker Sam Acho will see more opportunities to rush against a running back, and that should mean a double digit sack year.

If nose tackle, Dan Williams improves to the point where he gets double teamed more, the whole defense will take a big step. Defensive coordinator Ray Horton was trained by Dick LeBeau, and that means pressure calls from everywhere. Opposing offenses have to figure safeties Adrian Wilson and Kerry Rhodes for 6-8 sacks between them.

The Cardinals special teams are all about their returners, Patrick Peterson and LaRod Stephens-Howling. Both can score, and that means teams kick away from them and give up field position to prevent returns which should shorten the field for the offense.