Case Keenum could get prolonged look as Houston Texans starting QB
Some were surprised when the floundering Texans tabbed Case Keenum their starting QB. But Jason La Canfora says there's a reason for it: the team is very intrigued to see what the young QB can do.
• 2 min read
For more news and notes from Jason La Canfora, tune into The NFL Today Sunday at noon ET on CBS.
Houston Texans coach Gary Kubiak "loves" Case Keenum, according to several people close to him, and has long been raving about the raw potential in the former un-drafted quarterback.
With Matt Schaub injured and unable to play -- and already losing his grip on the starting job anyway -- Keenum could end up starting more than one game, sources said, with the staff having been eager to get a look at him for quite some time.
Making the move from a quarterback making $15-million a season to a kid with zero NFL experience in a season that began with Super Bowl aspirations is beyond bold. And while patience has characterized Kubiak's long tenure in Houston, even had Schaub lost his job due to performance alone, sources said Keenum, and not T.J. Yates, the No. 2 quarterback on gamedays this season, would have gotten the nod.
Yates, who won a playoff game in 2011, is seen more as a Schaub clone, sources said, while Keenum, though lacking a big arm and experience, was seen as someone who might spark the offense in different ways, restore more emphasis on the boot action so fundamental to Kubiak's offense and perhaps bring a different pulse to the huddle. Keenum will be making his debut in a raucous Arrowhead Stadium against a menacing Chiefs defense, but the sense within the Texans (2-4) hierarchy is anything other than panicked with the youngster under center.
"Gary loves him," said one source close to Kubiak. "He's extremely cerebral. He doesn't have that big arm but he fits their mold -- he can extend plays and get out of the way. He understands the system. That's going to be a tough environment but he shows a pulse and moves the team some, I bet he sticks with him after the (Week 8) bye."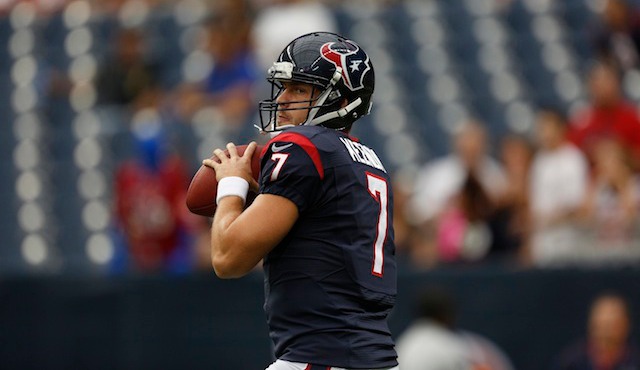 General Manager Rick Smith refused to make Keenum available to other teams in the preseason and the club prioritized keeping all three quarterbacks coming into the season. With the Texans season seemingly close to slipping away, and Schuab's contract one they can get out after the season without cap or cash ramifications, getting a look at Keenum before going into the offseason is imperative as the team figures out if or when it will be drafting a new passer.
Keenum is the NCAA's all-time leader in passing yardage, completions and touchdowns, but some have attributed that to the scheme being run by the University of Houston. His lack of size and arm strength led to him going undrafted, but he has continued to impress the Texans since joining that organization in 2012. He was a star high school quarterback in Texas as well, and if nothing else had a resume to this point filled with wins and production.
If he keeps some of that going this week, Kubiak will have an interesting decision, and one many who know him believe would lead to Keenum sticking with the job. Schaub suffered foot and ankle injuries in the loss to St. Louis last week.
Carolina will not be allowed to conduct an internal investigation

The longtime Bengals coach and the team are planning to part ways after the season ends

Everything you need to know heading into Week 15 is right here
Haden has been out since Week 10 with a fractured fibula

There's also the possibility Goodell steps aside early if his potential successor is progressing...

The league could return to its pre-2009 policy after a year in which pregame protests took...