Case Keenum gets benched for Matt Schaub in Texans loss to Jaguars
Case Keenum started the game at quarterback for the Texans, but he won't finish it. Houston coach Gary Kubiak decided to bench Keenum in the third quarter of Thursday night's game.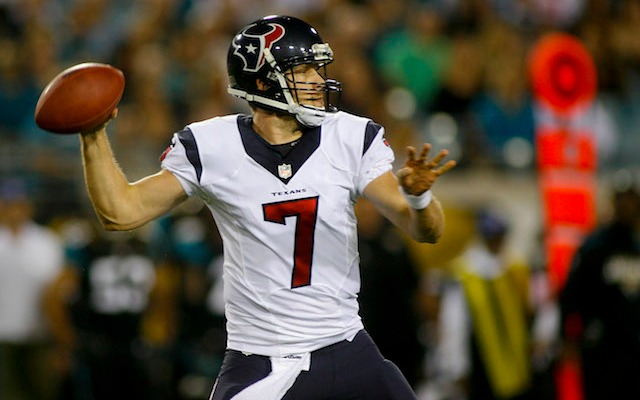 For the second time in four weeks, Houston coach Gary Kubiak has decided to bench his starting quarterback and this time, the move actually gave the Texans offense a brief spark. But then that spark turned into a housefire that kept Houston from winning on Thursday. 
Kubiak pulled starter Case Keenum in the third quarter against Jacksonville and replaced him with Matt Schaub. Keenum was 16 of 29 for 159 yards and a touchdown when he was pulled. However, the Texans offense was struggling and Houston was trailing Jacksonville 24-10 when Keenum was sent to the bench. 
Schaub came in and made a difference right away, leading the Texans on two straight scoring drives to cut the Jaguars lead to 24-20. However, the Schaub that Texans fans have come to love this season eventually showed up in the fourth quarter.
With Houston trailing 23-20 and under three minutes left, Schaub threw an ugly interception that all but sealed the win for Jacksonville. Schaub finished the game 17 of 29 for 198 yards and a touchdown.
Thursday night wasn't the first time Kubiak has benched Keenum in favor of Schaub. In a Week 11 game against the Raiders, Kubiak benched Keenum at halftime, only to watch the Texans offense actually play worse in the second half with Schaub under center. Keenum threw for 170 yards and a touchdown in that game, Schaub threw for 155 yards and no scores. 
You'd think Texans fans would be excited to see Schaub play well like he did for most of the night against the Jaguars, but they're not. Houston fans were worried that Schaub was going to lead a comeback and cost the Texans a chance at the No. 1 overall pick in the draft.
Schaub stop doing good. Houston wants the #1 draft pick.

— T. Reckling II (@TRthesecond) December 6, 2013
No one respects the Eagles apparently, plus Super Bowl LII odds for Pats-Vikings and all m...

Patriots, Jaguars, Vikings and Eagles bring (mostly) experienced leaders, old-school value...

Minnesota and Philadelphia are both built for the playoffs with defense, backup QBs and re...
R.J. White, who nearly won the Las Vegas SuperContest, locks in his pick for the NFC Championship...

Mike Tierney has owned NFL totals and has a strong pick for the AFC Championship Game

The Saints coach wasn't in the mood to answer questions about Drew Brees on Tuesday