Casting that Cleveland Browns movie
According to SI's Peter King, in a few weeks 'a major motion picture starring Kevin Costner' will begin filming. It's called 'Draft Day' and it's about the Browns, the first-overall pick, and the draft-day mayhem that ensues. We took it upon ourselves here at Eye on Football to cast the movie ourselves. It just seemed like the right thing to do.
So this is how Peter King started off this week's "Monday Morning QB":
On the night of the first round of the draft, April 25, at Radio City Music Hall in New York, a major motion picture starring Kevin Costner will begin filming. It's called Draft Day. It's about the Cleveland Browns dealing for the first pick in the draft, and the frenzied hours around the trade and the pick, and the drama includes Costner playing the general manager of the Browns (he's cuter than Mike Lombardi).

I asked a veteran NFL operative who has read the Draft Day script about the movie, and he said, "Pretty realistic."

The movie, with Ivan Reitman directing, will include action filmed at Radio City in the midst of the real action of the 2013 first round. There will be a series of meetings beginning this week between the movie people and the NFL people to figure out how the whole thing is going to work on draft night.
Sounds like a joke but it's not (here is the movie's IMDb page).
Anyway, we went ahead and cast the movie's major players. Sorry, Costner, you're out. Oh, and we've got our own working title, too (thanks to Will Brinson for that).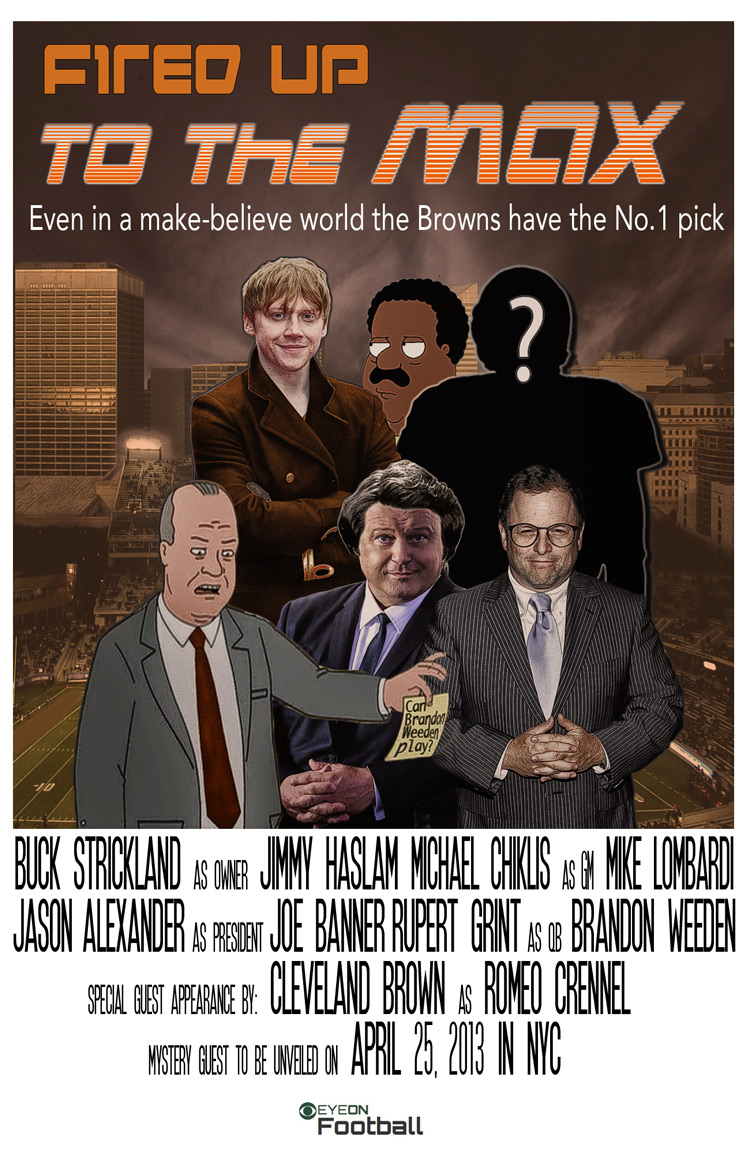 If the title doesn't sound familiar, here's a quick refresher from Aug. 2, 2012, when owner Jimmy Haslam spoke to the media about what he planned to do for the embattled Browns.
"We let the league know, that if we ever had a chance to become the majority owners of another team we would have interest," Haslam said at the time. "They called us in May and they said it looks like a team may become available. And in late June when they told us it was the Cleveland Browns, we were fired up to the max because we've had the opportunity to see how important football is to this community and how great and how passionate these fans are."
Of course, a few days later, Haslam asked then-president Mike Holmgren, "Can Brandon Weeden play?" And the answer to that question could go a long way in determining who the mystery guest is in the poster above.
Feel free to suggest other cast members in the comments.
(It should go without saying but this is the Internet, so just in case: This is satire. In no way does this reflect the reality of things in the Browns organization, and any similarities are strictly coincidental.)
Week 15 provided a lot of clarity to the NFL postseason

Here are the Week 15 grades for every team that played Sunday

The Steelers are trying to accomplish something they rarely do: Beat the Patriots
There's no need for eliminated teams to trot out veteran quarterbacks

All of the best highlights from Week 15 are right here

The Steelers' most dangerous player went down in the second quarter and won't return